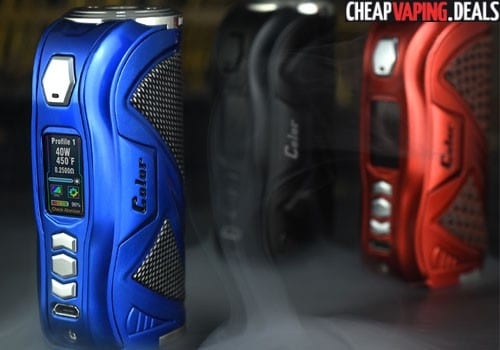 Here's a discount for the Hcigar VT75C 75W Box Mod that features an updated Evolv DNA chip.
Update: This Item Is Out Of Stock Everywhere So Check Out Other DNA Mods Deals Below
Overview
The VT75C  is the latest Hcigar mod and is built with an updated DNA 75C chip board.  The device features a small form factor, real leather, a third button for easy mod navigation, an improved 9V of output and a color screen with themes that can be customized via Escribe.
This mod is built with a  DNA 75C color chip board that gives you access to several themes.  Each screen can be customized to your liking via Escribe software.  You will also find a third adjustment button that was included specifically for easily selecting items.  Fonts on the full color display can also be changed.
The VT75C looks completely different from previous DNA 75 devices.  It measures 31mm x 44mm x 88mm and weighs 147g.  The mod is made with real leather and is available in black, red and blue.  At the top, you will find a standard 510 connection bezel that was designed to prevent leakage.  The control face features a hexagon-shaped firing button with a blue LED light.  Underneath, you will see previously mentioned large color display with indicators that include wattage, temperature, resistance, brightness, settings and battery bar in vertical formation. The up and down buttons are near the bottom and are the shape of an arrow.  In between is a third confirmation button that permits easier mod navigation.
For longer vaping times, the Hcigar VT75C utilizes a single 26650 cell, but is also compatible with 18650 batteries if you use the included adapter tube.  The cell is access via a rotating bottom battery cap  that is made of stainless steel for longevity.  On-board charging technology allows for charging an inserted cell at what is sure to be a fast 2 amps to top off the battery in no time.
Most of the specs for this DNA 75C mod have not been released.  What we do know is that the power range is 1 W to 75W and that temperature can be controlled up to 600 Fahrenheit with all coil types.  The minimum resistance is not listed but it is said to be in the range of .15ohm to 3ohm.  One technical aspect that the DNA 75C chip board is capable of 9 volts of output versus 6.2V of previous DNA 75 versions.
Video
Features & Specs.
Updated Evolv DNA 75C chip board
Dimensions: 31mm x 44mm x 88mm
Weight: 147g (without battery)
Colors: black, blue, red
Real leather
Hexagon fire button with LED indicator
Large full color OLED
Vertical menu
Upload/download themes
Change fonts
Fully customize via Escribe desktop software
Third adjustment button for easy navigation
Stainless steel threaded atomizer bezel with anti-leak design
Powered by 26650 battery
Easy access via screwed stainless steel battery cap
Compatible with 18650 batteries with adapter
Micro USB charging
Variable wattage: 1-75W
Temperature Control range: 100°C-315'°C or 200°F-600°F
Output modes: TC-Ni/TC-Ti/TC-SS/VW/TCR
Resistance range: 0.15Ω to 3.0Ω
Maximum output voltage: 9.0V
Pictures
Total Views Today: 1 Total Views: 314