Here are cheap deals for the Hellvape Seri RDA.  It features five color options, a series coil design, dual or triple series coil options, honeycomb adjustable airflow, a 6mL deep juice well, a BF or standard 510 pin, and the ability to handle 200 watts of power.
Deal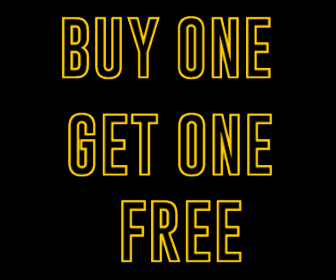 Overview
What sets the Hellvape Seri RDA apart from the crowd is the series coil design, which differs from similar RDAs that utilize a parallel configuration.   This means that the final resistance totals the sum of all installed coils.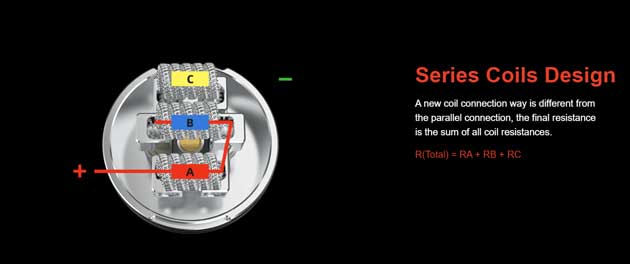 This series design is compatible with dual coils and triple coils.   But, to work with dual builds, a short circuit connector found in the package must be inserted into the build deck.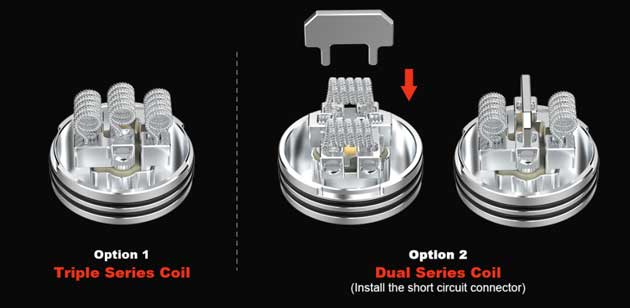 As a result of the series build deck, the Hellvape Seri RDA can handle up to 200 watts of power when used with three super low resistance coils.  This produces dense vapor in combination with the honeycomb adjustable airflow that funnels air directly to the deck.  13 air intake holes on each side of the chuff cap funnel the air directly to the deck.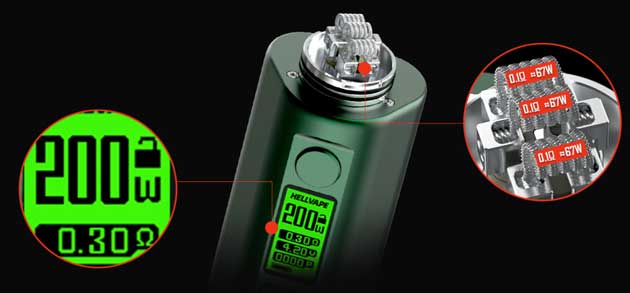 This RDA also has a massive 6mm deep juice well, thus reducing the need to drip or squonk continuously.  And the device features a standard 510 pin, but a squonk pin is also included in the package.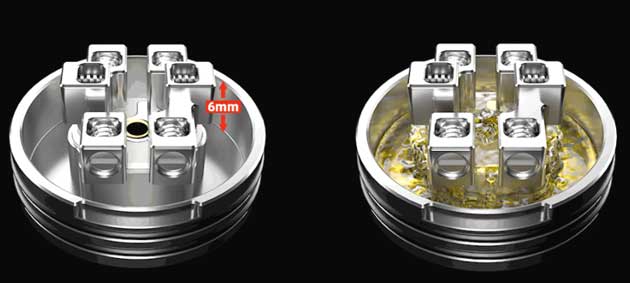 Colors
You may purchase the Seri RDA in the following colors: blue, rainbow, gunmetal, matte full black, or stainless steel.
Features & Specifications
Dimensions: 26mm x 39.1mm
Color options: SS, matte full black, gunmetal, rainbow, blue
Weight: 51g
Series coil design

Final resistance is the sum of all coil resistances
Handles up to 200W of power with low-resistance coils
Triple coil compatible
Dual coil compatible with a short circuit connector
Included: 3 x 0.2Ω Ni80 Prebuilt Coils

6mm deep juice well
Honeycomb  airflow control

26 adjustable external honeycomb air holes
Massive vapor
Delicate flavor production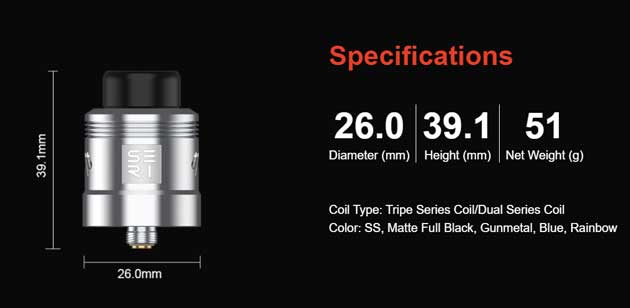 Package
With the purchase of the Hellvape Seri RDA, you'll also receive a BF pin, a bag of accessories, 3 x 0.2Ω Ni80 Prebuilt Coils, a coil cutting tool, a short circuit connector for dual coil builds, 3 pieces of shoelace cotton, and a manual.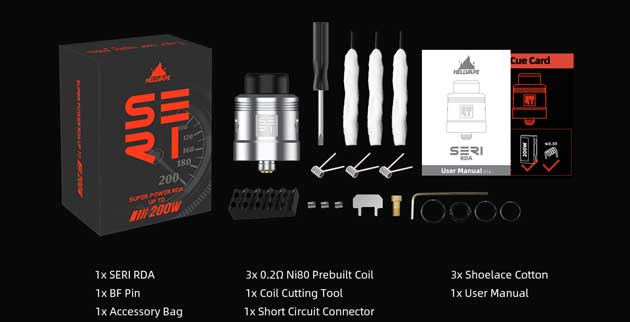 Similar Products
Total Views Today: 1 Total Views: 941