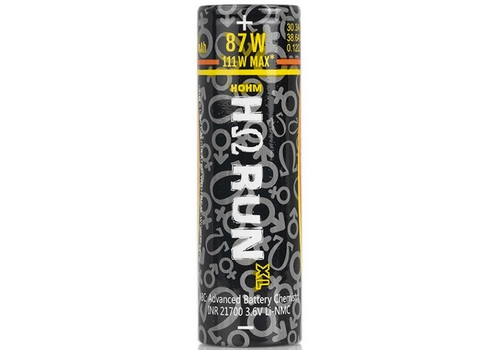 Here's a cheap deal for the Hohm RUN XL 21700. This new battery features a whopping 4007mAh capacity for long vape times on mods that require massive amperage.
Similar Products
Overview
Hohm Tech has made an amazing battery even more incredible using a previously solid foundation. Now using a new structure, top cap, and chemistry (QSP Li-NMC), it could be said that the RUN XL is the best battery in the vape marketplace.
The Hohm RUN XL 21700 cell is as amazing as its predecessors but features an improved threshold to amp loads, voltage sustainability under load, and better battery life. And it operates cooler than previous batteries thanks to new chemistry. For vapers who utilize mods that demand enormous amperage, but need a long battery life at the same time, the RUN XL 21700 series cell is simply the best of the best.
Features
Reduced internal resistance by a number of internal alterations
‌‌Altered cathode tag made  with better quality aluminum to lower internal resistance
Renewed poly seal with better bitumen is built into every battery to guarantee excess pressure is managed
Each battery is equipped with an exclusive EPTC (Enhanced Positive Thermal Coefficient) ring with a higher multiplier of resistance
Every battery is furnished with 2-stage CID (Current Interrupt Device) system to assist in overcharge protection
Specifications
Measurements: 70.65mm (L) x 21.56mm (D)
Weight: 74g
4007mAh Capacity
2.8V Cut Off Voltage
Output Voltage: 3.6V
Completely Charged Voltage : 4.2V
Max Continuous Current: 30.3A
Gallery
Total Views Today: 1 Total Views: 327