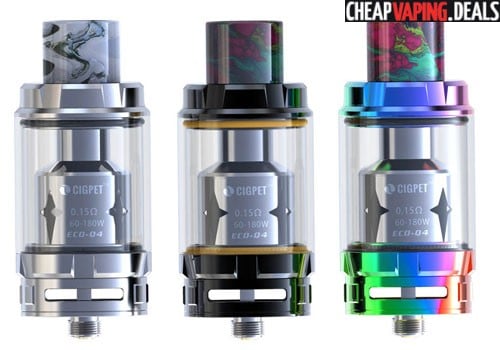 Update: The
Ijoy Cigpet Eco12 Tank
Has Been Discontinued – Check Newer Sub Ohm Tank Deals Below
Here's a fantastic deal on the Ijoy Cigpet Eco12.  This large 6.5ml sub ohm tank features T16 coils that can handle up to 400 watts of power and there is also an RBA head available.
Overview
The Cigpet Eco12 by Ijoy is pehaps the highest wattage tank ever to hit the market place.  It's flagship ECO T-16 coil can handle up to 400 watts of power and there's an RBA available for those who enjoy coil building.  The tank capacity is a massive at 6.5ml for less-frequent refills, a Resin drip tip is included and airflow is maximized for huge vapor with amazing taste.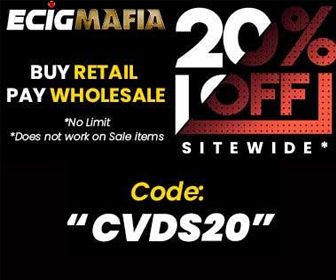 The Cigpet Eco12 tank measures 65.6mm x 28mm with a 6.5ml tank reservoir.  The device is made from stainless steel with glass tube and is available in rainbow, black or silver colors.  At the bottom, you will see a 510 connector with a gold-plated center pin to guarantee adequate electrical conductivity.  Included with purchase, you will find a resin drip tip that is unique for an amazing look.  Because of its materials, the drip tip is environmentally friendly and also enhances the performance of the tank.
To add juice to the tank, there's a top fill system that entails conveniently twisting off the top cap and squirting e-liquid thru either of two fill ports.  Smooth airflow control at the bottom occurs via two air intakes on opposite ends of the base.  The slots are completely adjustable from fully open to closed.
In addition to the large tank capacity, the Cigpet Eco12 has a wide range of high performance coils available.  Included is the ECO-T12 head that has a resistance of 0.12ohm and fires from 60W to 350W.  Or, you can use the included ECO-Q4 0.15ohm coil that operates in the range of 60W to 180W.  Other optional coils included an RTA deck, an ECO-X4 0.15ohm coil (60W to 200W), an ECO-T14 0.12ohm coil (60W to 360W) and the most powerful ECO-T16 0.11ohm coil (60W to 400W).
Overall, it will remain to be seen if the Cigpet Eco12 can match the performance of the Smoktech's TFV12 Cloud King that pumps out massive and dense vapor clouds.  After all, the Maxo V12, also by Ijoy, was very disappointing from a vapor production perspective.
Features & Specifications
Measurements: 65.6mm x 28mm
Constructed from stainless steel and pyrex glass
Environmentally friendly and unique resin drip tip
Colors: silver, black, rainbow,silver
Huge 6.5ml tank
Threaded top fill system with large fill ports
510 threaded connector with gold-plated pin
Smooth adjustable airflow control with dual large intakes
Massive vapor production
Included coil: ECO-T12 0.12Ω rated 60W to 350W
Included coil: ECO-Q4 0.15Ω rated 60W to 180W
Optional coil: ECO-T14 0.12Ω coil rated 60W to 360W
Optional coil: ECO-T16 0.11Ω coil rated 60W to 400W
Optional coil: ECO-X4 0.15Ω coil rated 60W to 200W
Optional RBA deck
Extra glass tank
Extra o-rings
Warranty card
Pictures
Video Review
Coming soon!
Total Views Today: 1 Total Views: 208