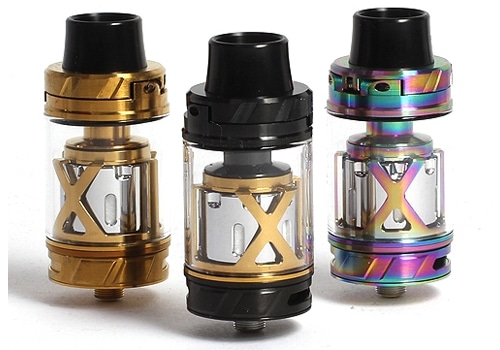 Here are fantastic deals on the Ijoy Maxo V12 Sub Ohm Tank.
Overview
The Maxo V12 features massive vapor production, a 5.6ml e-liquid reservoir, a 28mm diameter, a twelvefold 315W pre-built coil system, an optional triple post RBA deck and a convenient top fill system.
What really sets this new tank apart from similar devices is  the duodecuple (x12) coil system that is said to put out massive vapor to compete with, or perhaps beat, the vapor production of the popular TFV8 Cloud Beast Tank.  The flagship head of the Ijoy Maxo V12 is the V12-C12 coil that has a resistance of 0.1ohm and fires from 60 watts to 315 watts.  You'll also receive the XL-C4 0.15ohm head that fires with up to 215 watts of power at a resistance of 0.15ohm.  And, for RBA fanatics, there's  the V12-RT6 that features a massive triple post deck with large wire terminals for use with a wide range of builds.
From a design perspective, the device  is much larger, but looks very similar to the Limitless XL by Ijoy.  The V12 is available in many colors including silver, black, gold and rainbow.  It measures a whopping 28mm in width and 61.9mm in height, so it needs to be used with a mod that not only puts out high power, but also has a wide atomizer bezel.  The materials used are identical to previous Ijoy tanks with a stainless steel body with Pyrex glass tank tube.  At the bottom of the V12 tank, there's a spring-loaded 510 connection pin with gold plating for excellent electrical conductivity and tight/level installation on any box mod.  And, you'll get a heat-resistant Delrin wide bore drip tip to ensure maximum airflow and prevent burning of the mouth or lips.  And, you will receive an adapter for use with your own 510 drip tip.
The Maxo V12 tank is bound to guzzle a lot of e-juice, so it was designed with a large tank capacity. The e-juice reservoir can hold up to 5.6ml and is refilled by way of an effortless top fill system.  To add e-liquid, all you do is flip up the hinged top cap and squirt juice thru the fill hole.
Airflow also looks to be tremendous with dual adjustable intakes at the bottom to allow for enormous output and to keep vapor cool during high wattage operation.
Features & Specifications
Designed for immense vapor production
Measurements: 28mm x 62.9mm
Constructed from stainless steel (chassis) with glass (tube)
Colors: silver, black, rainbow, gold
Tank capacity: 5.6ml
Easy top fill system with flip-up top cap to reveal fill port
Gold plated/spring-loaded 510 connection pin
Delrin wide bore drip tip
Dual adjustable airflow control
1 x V12 pre-built coil: 0.1Ω / 60W to 315W
1 x XL-C4 pre-built coil: 0.15Ω / 50W to 250W
1 x V12 triple post RTA deck
Extra glass tank
510 drip tip adapter
Vape band
Screwdriver
Extra o-rings
Warranty card
Pictures
Video Review
Coming soon
Total Views Today: 1 Total Views: 430