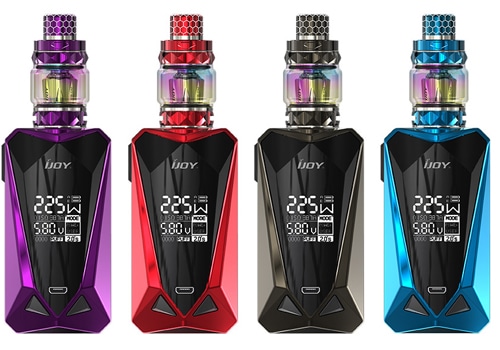 Here are cheap deals for the iJoy Diamond Mini 225W Box Mod or Kit with Diamond Baby Tank.
Overview
The iJoy Diamond Mini is not your ordinary portable mod. It features a massive 225 watts of power, versatile temperature control with TCR, customer user mode, low resistance capability, dual 18650 compatability, a diamond cut type fire button, an exquisite design and a myriad of colors.
Design-wise, this mod continues the legacy of the previous iJoy Diamond Box Mod with accent lines that result in a diamond-like appearance and a fire button that looks like a cut diamond's surface. This mod is also smaller than its predecessor with dimensions that come in at 87mm x 45mm x 32.7mm. Color options are bright and include mirror black, mirror stainless steel, mirror white, mirror gold, mirror rainbow, mirror green, mirror purple, mirror red, mirror gun metal and mirror blue. The control face of the Diamond Mini Mod also looks familiar thanks to the same large OLED display that shows vape data in white font. On the menu, you will see indicators for current power or temperature, dual battery bars, current mode, atomizer resistance, amperage, voltage, puff number and puff time.
Technically, this smaller mod has a massive 225 watts of output, temperature control modes (nickel, titanium, stainless steel, TCR) and low atomizer resistance capability of a rock bottom 0.05ohm. Additionally, there is a custom user mode so you may engage in ramp vaping by setting a higher initial wattage and ramp it down as you vape. The iJoy Diamond Mini gets power from dual 18650 batteries that are swapped out by removal of the back battery cover that utilizes four powerful magnets to stay in place. You may also recharge the cells via a micro USB port, so you don't need an external charger.
The Diamond Mini Mod is also available in a kit which means it includes the latest Diamond Baby Tank. It looks beautiful thanks to diamond accents on the top cap and AFC ring and amazing finishes that are mirror gold, mirror green, mirror purple, mirror red, mirror blue, mirror gun metal, mirror rainbow, mirror stainless steel, mirror black or mirror white. The tank's reservoir consists of a bulb-style pyrex glass tube which results in a decent 4ml capacity even though the tank is quite small at 52.7mm x 22.5mm. Refilling the juice reservoir has been made efforless due to a fast screw top cap that, when removed, exposes an easy fill port. Airflow is changeable at the bottom and occurs via two fully adjustable air inlets that are sure to help produce the max amount of vapor. What sets the Diamond Baby Tank in the Diamond Mini Kit apart from the crowd is the brand new mesh coils that heat uniformly to maximize both vapor and flavor production. These coils utilize flax fiber and wood pulp wicking to further enhance the already exquisite flavor production. There are four different heads available: the DMB-C1 coil (0.3ohm | 35W to 70W), the DMB-C2 coil (0.2ohm | 40W to 80W), DMB-C3 coil (0.15ohm | 40W to 80W), DMB-C4 coil (0.18ohm |40W to 80W).
Diamond Mini Mod Features & Specifications
Dimensions: 87mm x 45mm x 32.7mm
Colors: mirror black, mirror stainless steel, mirror white, mirror gold, mirror rainbow, mirror green, mirror purple, mirror red, mirror gun metal, mirror blue
Diamond theme

Diamond inspired accent lines
Diamond surface style fire button

Large front display blends into mod
Centered 510 threaded connection
Firmware upgrades
Utilizes dual 18650 batteries

Effortless magnetic back battery cover
Micro USB USB charging system
Also compatible with 18650 w/ included adapter

Maximum power output: 225W
Resistance range: 0.05? to 3.0?
TC with Ni, Ti, SS, TCR
Custom user mode for personalized vape experience
Diamond Mini Mod Kit Pictures
Total Views Today: 1 Total Views: 369