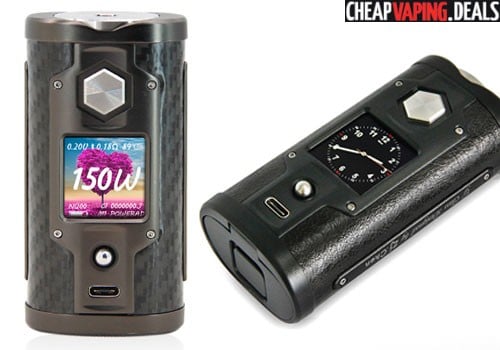 Check out this awesome price for the Yihi SXMini G Class SX550J.  We've seen this incredible mod retail for as high as $210, so don't miss out on the deals below.
Overview
The SXMini G Class SX550J looks like it may blow Evolv's DNA 200 mods out of the water.  This new device is said to perform as well as any 200W DNA mod, but also features a unique joystick controller, a USB 3.0 interface, a bluetooth app and a full color IPS display.
The mod has a premium design with a zinc/aluminum alloy construction with amazing carbon fiber paneling.  It is built with a hexagon-shaped firing button for easy operation and an amazing look. A stainless steel 510 connection at the top measures a whopping 30mm in diameter for large builds or tanks, is made with a gold-plated pin for conduction and is spring-loaded for flush installs.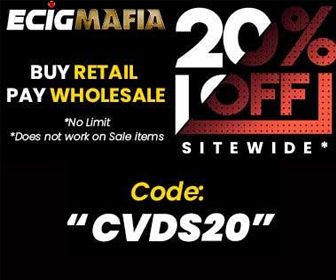 What really stands out on the SX550J is the TFT IPS screen on the front.  It provides a crystal clear display with optimum color and clarity, similar to an iPhone or other smart device. The screen was designed with an intuitive menu that allows for easily changing modes and settings.  The main menu shows indicators for current wattage, voltage, temperature, battery voltage, resistance, mode, time and battery life, all shown on a colorful background or in customized arrangement.  Controlling the mod is also easy because of a one-of-a-kind joystick controller that replaces the traditional adjustment buttons.  The Yihi SXMini SX550J can also be controlled via a bluetooth app available in Apple's App Store and Google Play Store.  The app connects to the mod via Bluetooth 4.0, the most advanced and optimized version of the technology.  When opening the app, there's icons that allow for connecting to the mod, upgrade the firmware, change settings, reset the mod or get statistics.
Technically, the SX550J box mod is state of the art with Yihi's latest chip that allows for precise temperature control, 200 watts of maximum output, 600 degrees Fahrenheit maximum temperature control, 0.05ohm low resistance capability and 5 presets to save your favorite settings.  And, there's temperature control compatibility with nickel, titanium and all types of stainless steel coil heads or use TCR for even more precise resistance settings. To ensure accurate output, the device is also built with the SXi-Q Intelligent Taste Curve system that uses state-of-the-art algorithms.  Plus, there's plenty of safety protections to keep your vape experience as safe as possible.  These include overheat protection, low battery warning, low resistance protection, short circuit protection and reverse polarity protection.
Powering the device are dual 18650 external batteries that can be charged via the USB 3.0 interface on the front.  It allows for fast 2 amp charging to top off the cells extremely fast. Included with purchase, you will receive a high quality nylon braided type C USB cable with gold-plated connectors.  The batteries can also be charged externally by opening the sliding battery access door at the bottom.
Overall, this mod looks amazing and unique.  Even though it is more expensive than any Evolv powered DNA mods, the Yihi SXMini G Class SX550J may well worth be the price because of its amazing color screen, bluetooth technology, joystick adjustments, accurate operation and premium design.
Video Review & Tutorial
Features & Specs
Made from aluminum alloy and zinc alloy
Carbon fiber panels
30mm stainless steel 510 connection
Spring-loaded/gold-plated center pin
Bottom sliding battery panel
Hexagon shaped fire button
Utilizes dual 18650 batteries
USB 3.0 allow for fast 2A charging
Firmware upgrades via app or USB
Crystal clear/full color TFT IPS display
Customize display background
SXi-Q graph
Various display arrangements available
Ergonomic joystick control for convenient mode switching and adjustments
Advanced bluetooth 4.0 technology
Customize mod with iphone or android app
Latest Yihi chip set with SXi-Q intelligent taste curve system
Input your favorite ramp curve
Customize 5 memory slots
Available modes: Joule, TC Ni, TC Ti, TC SS, TCR
Detect & lock resistance
Power output range: 5W to 200W
Voltage output range: 1.0V to 9.5V
Resistance range (all modes): 0.05Ω to 3.0Ω
Wide range of safety features including reverse polarity, low resistance, short circuit, overheat and low battery
Included: USB cable with gold-plated connectors
Pictures
Total Views Today: 1 Total Views: 598