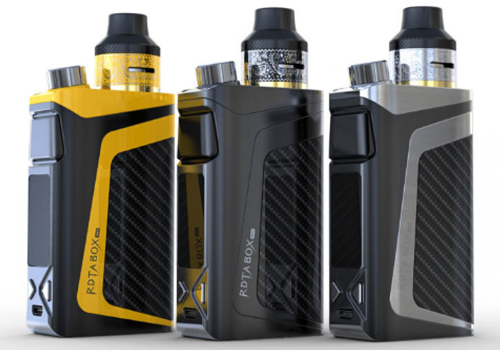 Here's fantastic offers on the Ijoy RDTA Box Mini Kit.
Similar Products
Overview
If you liked the RDTA Box 200W, but were looking for something portable, you're in luck.  Ijoy's RDTA Box Mini is finally here and it features a reduced height of 25mm , but still packs 100 watts of power, is built with a powerful internal battery and features a 6ml internal tank.
The RDTA Box Mini measures 100mm x 45mm x 25mm, including the RDTA, and is made from stainless steel.    The kit is only available in black or black with grey at this time, but future colors will include black/yellow, black/red, black/white, black/purple, black/teal and black/blue.  The internal tank that directs e-juice into the RDTA has a 6ml capacity and is effortlessly refilled thru a wide port that can be found under a threaded cap at the top.  The tank is removable for easy cleaning or replacement and  there's an LED light to monitor e-liquid levels so you'll never run out. The reservoir is also washable in case you change e-juice flavors.
The OLED on the control face measures 0.96 inch and features a menu with vertical orientation. Included indicators are current power, mode, voltage, resistance puff time, battery level, temperature and more. A secondary menu is also easily accessed to change operating modes and the screen may also be flipped for left-handed use
There's two deck/coil options you may use with the RDTA. With purchase, you'll get a pre-built RBM-C2 0.25ohm coil (30W to 60W) and also a dual post deck for those who enjoy coil building. The chuff cap that surrounds the deck is constructed from stainless steel and  Delrin materials resist heat.
Best of all, the mod can also be used as a standalone unit because the RDTA can be completely removed.  The Box Mini uses an IWEPAL chip board and, as a result, can can power atomizers up to 100 watts maximum, is able to be used with atomizers down to as little as 0.05ohm, features nickel/titanium/stainless steel support in variable temperature operation and has the ability for USB firmware upgrades.  The RDTA Box Mini mod utilizes an internal Li-Po 2600mAh battery for long vaping times at 100 watts of maximum power.  The cell is recharged via the USB port at the bottom of the control face.
Overall, the Ijoy RDTA Box Mini Kit seems like it's very versatile because it can be used as a standalone mod or as full RDTA kit with large e-juice capacity.  And, with low resistance capability, a full range of TC modes and plenty of power in a compact form factor, this kit will probably become a top seller, just like its predecessor.
Review
Features & Specifications
All-In-One RDTA kit
Dimensions: 100mm x 45mm x 25mm
More portable than the 200W version
OLED with vertical menu
Flip screen
Internal tank capacity: 6ml
Tank is removable and washable
Wide top fill port next to RDTA
Built with built-in Lipo 2600mAh battery
Micro USB charging
Made from stainless steel
Delrin/SS chuff cap
RBM-C2 0.25Ω pre-built coil30W to 60W
Dual post/dual terminals each RBM deck
Use mod with other atomizers by removing RDTA
IWEPAL chip board
Maximum power output: 100W
Resistance range: 0.05Ω to 3.0Ω
TC with Ni/Ti/SS
Firmware upgrades
Gallery
Total Views Today: 1 Total Views: 341