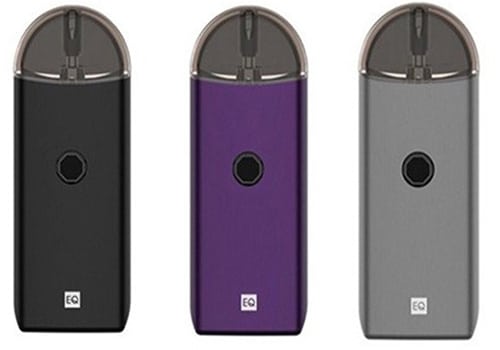 Innokin EQ Pod System
Here are cheap deals for the Innokin EQ Pod System Kit.  This kit utilizes 2ml refillable cartridges, an effortless fill system, Plexus EQ coils for superior flavor and durability, fast wicking, an 800mAh internal battery, a colored battery LED light, micro USB charging and the coils will last forever.
Ultra Compact Design
Design-wise the EQ Pod System is ultra-compact, althought he exact measurements are not yet available. Available color options include silver, purple, blue, red and black and the device weighs 120 grams. At the top of the Innokin EQ, you will notice the refillable pods which also double as the mouthpiece that looks to be ergonomic to use. A protective push cap is included to ensure your vape system never gets damaged.
2ml Refillable Pods
The pods can hold up to 2ml of e-liquid, stay in place thanks to a magnetic design and feature a bottom swivel cap that exposes a juice port when turned. Inside the EQ, you will notice the latest Plexus EQ coil heads that feature better flavor, lightning fast wicking, rapid heat diffusion and will last much longer than atomizers inside other pod kits. These coils fire with a 0.5ohm resistance, so they should not be used with high nicotine or nic salt e-liquids.
Powerful 800mAh Battery
At the bottom of the Innokin EQ pod system, there is a mod section that is built with an 800mAh capacity integrated battery for long vaping times at the unit's maximum output. The battery is recharged via a bottom micro USB port with an included cable and a battery LED inside the fire button on the front of the EQ will light red when a recharge is needed or white if the cell is fully charged. Three clicks of this button also turns the unit on or off. In regular mode, the Innokin EQ will work with 13.5 watts of power while boost mode tops out at 15.5 watts.
Innokin EQ Features & Specifications
Compact/Portable Pod System
Color options: silver, blue, purple, red, black
Pod juice capacity: 2ml
Easy bottom refills via swivel cap
Front fire button

Click 3 times to turn on/off

800mAh integrated battery

Micro USB charging
Battery LED

White: full battery
Red: recharge

Vape while charging

Adjustable output

Regular mode output: 13.5W
Boost mode output: 15.5W

Plexus EQ coils

0.5ohm resistance
Best possible flavor
Faster wicking
Prevents hot spots
Fast heat diffusion
Longevity
Total Views Today: 1 Total Views: 293