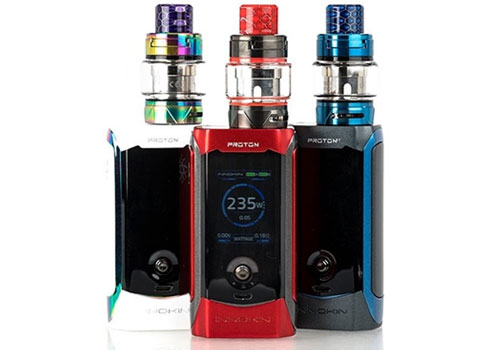 Here are cheap deals for the Innokin Proton Plex Kit 235W.  This setup consists of a 235 watt Proton Mod and Plex Tank. The box mod features a full color TFT display, joystick menu navigation, versatile temperature control, TCR, dual 18650 batteries and fast charging. The Plex Tank can hold 4ml of e-liquid, has an easy push top fill system, is built with dual bottom adjustable airflow and comes with an 810 wide bore drip tip.
Overview
Design-wise, the dimensions of the Proton Mod come in at 85mm x 44.6mm x 29.6mm so it is quite portable. The appearance looks to be high end thanks to quality finishes and a large fire mechanism with Innokin logo. You can get the Proton in rainbow, gun metal or black.
On the front, you will notice a massive 1.45 inch TFT display that can be customized to six colors via the settings menu. On the screen, there is vape data such as mode, resistance, voltage, power, temperature and more. Underneath, you will see a joystick type adjustment knob that allows for effortless navigation of the menu system. For maximum compatibility, there's a 510 threaded connection that should work with many other builds or tanks in the marketplace.
Technically, the Proton Mod in the Plex kit can achieve 235 watts of power with any atomizer down to 0.05ohm. A full temperature control system is compatible with stainless steel, nickel and titanium or you may choose to enter your own heating element TCR values. There is also a bypass mode to use the Proton as a mechanical mod. For safety, there's built-in reverse battery protection, low resistance protection and dual circuit protection on the software and hardware levels.
Powering the Proton Plex Kit are dual 18650 cells that are effortlessly recharged via a micro USB port with a fast 2 amps of current. Charging should be quite fast!
With purchase of the Proton Plex Starter Kit, you will also receive the Plex Tank. While the dimensions of this portable atomizer are not yet released, it looks to be small. This tank can hold up to 4ml of e-liquid (2ml for EU customers) and features an easy push top fill system. At the bottom there are dual air inlets that can be adjusted and provide airflow to the coils that power the Plex. You will receive two Plexus Scion heads with the Innokin Plex, one that fires with 0.13ohm resistance in the range of 80 to 110 watts and a 0.15ohm version that works in the range of 60 to 110 watts. These coils are also compatible with the Scion and Scion II atomizers by Innokin.
Proton Plex Kit Features & Specifications
Proton Mod
Dimensions: 85.0mm x 44.6mm x 29.6mm
Color options: black, rainbow, gun metal
1.45″ TFT full color display

6 color display themes
Dual battery bars

Large side fire mechanism
Joystick instead of adjustment buttons
Threaded stainless steel 510 connector
Works with two 18650 batteries

Easy access
Micro USB charging port
Fast 2A charging system

Operating modes: Power/TC(Ni, Ti, SS316)/TCR/Mechanical

Preheat function
Memory TCR
Material and mode selection

Power mode range: 6W to 235W
Temperature range: 300°F to 600°F or 150? to 315?
Max output current: 40A
Max output voltage: 9.0V
Resistance range power/variable temp: 0.05? to 3.5?
Safety features

Reverse battery protection
Dual circuit protection
Low resistance protection
Plex Tank
Dimensions: unknown
Can be disassembled for cleaning maintenance
Colors: match mod's color
4ml juice capacity
Easy push top fill setup
Dual bottom adjustable air slots
Plexus Scion coils

Pre-installed: 0.13ohm | 80W to 110W
Included: 0.15ohm | 60W to 110W
Total Views Today: 1 Total Views: 1,629