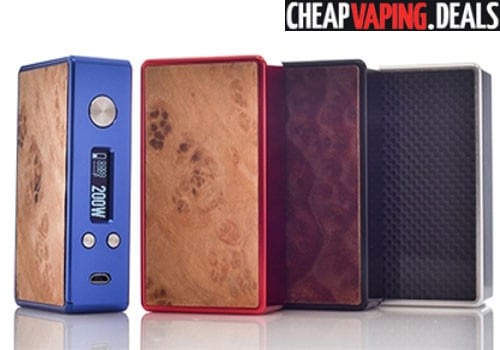 Update: The Lost Vape Efusion Mini DNA200 Box Mod Is Out Of Stock Everywhere – Check  Similar Evolv DNA Mods Below
Here's a great deal on the brand new authentic Lost Vape Efusion Mini DNA200 Box Mod.
Overview
The Efusion Mini DNA 200 is the portable version of Lost Vape's EFusion Box Mod.  What's amazing about the Mini is that Lost Vape was able to build the DNA 200 chipboard into a more compact chassis.
The Mini is light, ergonomic, and made from T6 Aluminium which is bright dip anodized and polished to produce an amazing look.  The device features a wide range of replaceable wood-grained and carbon fiber panels.   By swapping panels, you can easily change the look of the device to your preference.
Since the Efusion mini is a DNA200 box mod, it has a maximum output power of 200 watts and can control the temperature in the range of 200°F to 600°F.  It can also fire atomizers with resistance all the way down to 0.08Ω, ensuring it will function with your atomizer or a sub-ohm tank.
The Mini is powered by an internal FullyMax 900mAh 10 Watt Hour 11.1V 3 Cell LiPo.  The battery pack can be easily swapped because of its XT30 connection.  However,  this will void the box mod's warranty, so be sure you know what you're doing before proceeding.  The battery compartment also features  Nickel plated phosphor copper battery contacts to ensure maximum electrical conduction.
At the top of the mod, you will find a stainless steel 510 connection with a springloaded, nickel plated &  brass center pin.  This ensures that the majority of atomizers will fit tightly and sit straight.
The firing and adjustment buttons are also of high-quality construction.  They are made from precision-milled stainless steel to ensure responsiveness and an ergonomic feel.
Overall, the Lost Vape Efusion Mini seems like a fantastic box mod.  It is a very portable DNA200 device with an amazing design and panels that can be swapped out for a unique look.  And, at this price, it's a steal.
Gallery
Features & Specifications
Dimensions: 26mm x 50mm x 90mm
Compact, light & portable DNA200 box mod
Swap out door panel: wood and carbon fiber available
Constructed from aluminum
Stainless steel 510 connection
Springloaded, nickel plated, brass center pin
900 mAh FullyMax 3 Cell LiPo Battery
XT30 connection to replace battery
Power range: 1W to 200W
Voltage output range: 1V to 9V
Temperature range: 200°F to 600°F
Power mode resistance: 0.1Ω to 2.0Ω
Temperature control resistance: 0.08Ω to 1.0Ω
Cell by Cell Monitoring
Cell Balancing
USB charging
Safety features: low battery, temperature, resistance, overheat protections
Auto power down
Modify and personalize escribe desktop software
Lock mode
Power lock mode
Stealth mode
Resistance lock
Power lock mode
97% efficient
Video Review
Total Views Today: 1 Total Views: 147