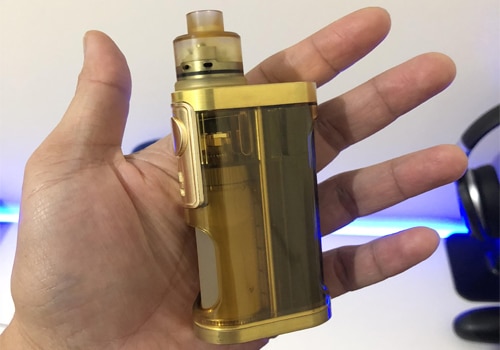 Here are cheap deals for the Lost Vape Furyan Mech Squonker Mod.  This mechanical squonker for high-end vapers features 18650/20700/21700 battery compatibility, a premium design, a massive 9ml internal juice bottle, a silver plated copper contact and a fire button lock mechanism. This item retails for $90!
Overview
In the design department, this mod is compact thanks to dimensions of 84mm x 50mm x 27mm and looks exquisite thanks to transparent amber brass (ultem) or black brass finish options. Inside the Furyan, you will find a 9ml silicone squeeze bottle which should allow for long vaping times and also be soft to push for effortless squonking. Two bottles are included with purchase. At the top of the Furyan squonker, you will see a stainless steel 510 atomizer connector, while a fire button with lock system can be found on the side.
Powering the Lost Vape Furyan is a single 21700 battery for long vaping times, but you may also install a 20700 or 18650 cell with the included adapter. With purchase of the Furyan, you will also receive a manual, a brass polishing cloth, two 9ml silicone squonk bottles and an 18650 battery adapter.
Furyan Mechanical Squonker Features & Specifications
Dimensions: 84mm x 50mm x 27mm
Mechanical mod
9ml silicone squonk bottle (2 included)

Large capacity
Soft to push

Utilizes a single 18650 (with included adapter), 20700 or 21700 cell
Silver Plated Copper Contacts
Fire button lock mechanism
Total Views Today: 1 Total Views: 1,682