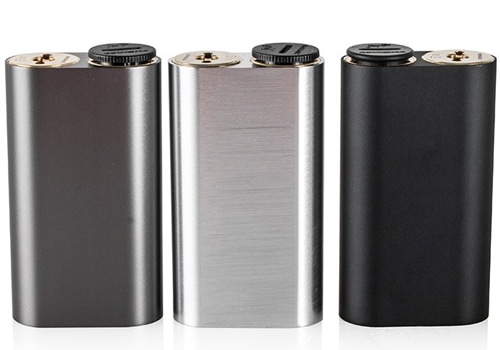 Here's a great deal to buy the Noisy Cricket Mechanical Box Mod at a low price.
Overview
The Noisy Cricket is a mechanical box mod created by Wismec in collaboration with Jay Bo Designs.  The latter is already well known for amazing atomizers and box mods and the Noisy Cricket certainly doesn't disappoint.  The mod was designed to work very well with newer type builds that utilize more wraps on larger surfaces.  And, it features amazing compatibility with all types of coils and builds, including alien and clapton wire.
The Noisy Cricket has a more simple, yet stylish design.   It is constructed from aluminium alloy which received a brushed treatment.   It is available in black, red, grey, blue or brown.
Although the device is quite simple in operation, it is not for the average vape novice as there are no regulators on this type of mod.  As a result, power output depends solely on coil resistance and battery level.    The Noisy Cricket is powered by two 18650 batteries which are setup in series to double the voltage, for higher power.   On the bottom of the Noisy Cricket, you will find an internal rocker which keeps both  batteries tightly in place and ensure proper connection.     As the bottom is screwed down, the batteries are also pushed into position.  The attached atomizer will have a direct connection to the positive side of the first battery, preventing a drop in voltage.  And, the insulated SMPL type fire button touches the other battery's negative side.  The recommended atomizer resistance for this unit is 0.25Ω to 0.50Ω.
The Noisy Cricket also features  6 ventilation holes at the bottom to keep the device cool.  In addition to the springloaded 510 connection, which is suitable for a wide range of atomizers, there's also a one-of-a-kind linkage set for additional versatility.
The Noisy Cricket deserves to be in any advanced vape enthusiast's mod collection.  It is perhaps the best unregulated mod with durable construction and maximum voltage.   Prepare for some amazing vapor clouds with flavor!
Check out the Noisy Cricket on the Wismec website
Features & Specifications
Constructed from aluminum alloy
Dimensions: 79mm x 40mm x 22mm or  3.11″ x 1.58″ x 0.87″
Weight: 130g or 4.59oz
SMPL style button
Bottom ventilation
Special linkage set
Recommended resistance range: 0.25Ω to 0.50Ω
Powered by two 18650 batteries in series
Screw-in battery cover
22mm connecting bezel
Springloaded 510 threaded connection
Review
Gallery
Total Views Today: 2 Total Views: 955