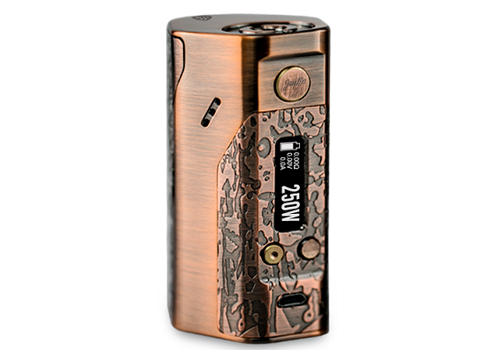 Here's your chance to get your hands on a Wismec Reuleaux DNA 250 Bronzed Box Mod at a cheap price.  
Update: This Item Is Out Of Stock Everywhere So Check Out Similar Deals Below Or Check Out Our Mod Deals
Overview
The Reuleaux DNA 250 by Jay Bo Designs is one of the few Evolv DNA 200 box mods that uses three 18650 batteries.  The device has an angular design and fits perfectly into the palm of your hand.  As is the case with most DNA 200 mods, the Reauleaux produces massive power that will maximize vapor production from any sub ohm atomizer.
This device has a spotless, clean design that is fingerprint resistant.  It's quite heavy, especially with the batteries installed.  Depending on your vape habits, this device will go for days without a necessity to recharge.
The buttons on the Reauleaux DNA 200 are rattle-free and super clicky.  On the front, there's a USB port for battery charging and to update firmware.  Above the port, the mini screen  is very bright and clear and menus are easy to navigate.  On the bottom, there's 20 air vent holes and 6 more on the side of the device.   The device features a stainless steel 510 connection with a gold plated, springloaded center pin.  On the backside, there's a magnetic battery panel with grooves for easy removal.
The mini screen menu displays battery level, resistance, voltage, temperature and wattage.  Wattage is adjustable in increments of 0.1W and power level can be locked.   Up to 8 custom profile settings can be saved using Escribe desktop software.
At $142.49, the Reauleaux DNA 200 is a steal.  As far as DNA 200 box mods is concerned, this one is said to be one of the best.
Wismec Reuleaux DNA 200 Limited Edition Video
Features
Designed by Jay Bo
DNA 250
Utlizes three 18650 batteries
Easy battery access
Battery reverse polarity insert design
Engraved Jay Bo logo on fire button
510 connector
Gold plated center pin
Power output: 1 to 250 watts
Voltage: 1 to 9 volts
Kanthal coil resistance: 0.10Ω to 2.0Ω
TC coil resistance: 0.08Ω to 1.0Ω
USB charging
Customizable with Escribe software
Autosense resistance
Modes: lock, stealth, power lock, power preset
Easy menu navigation
Video Review
Total Views Today: 1 Total Views: 638