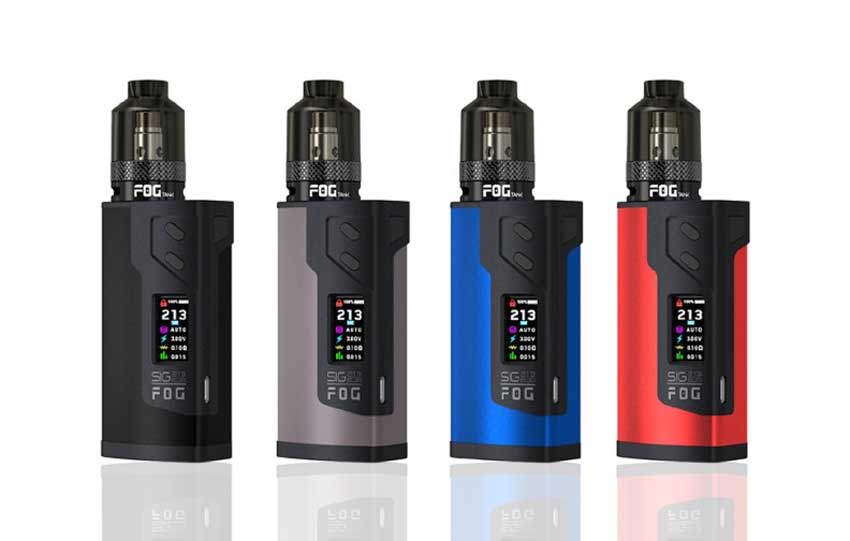 Sigelei 213 Fog: 213W Box Mod Kit w/ 5mL Pod Tank
Update: The
Sigelei 213 Fog Mod or Kit
Has Been Discontinued – Check  Newer 220W Box Mod
 Or
All Mod/Kit Deals
Here is a cheap deal to purchase the Sigelei 213 Fog, for sale as a box mod only or starter kit with pod tank. The mod features 213 watts of power, dual 18650 battery support, flash tech supercharging via a Type-C port, a full-color TFT display screen, and a myriad of safety protections.  The Fog Tank in the kit can transition between a tank and pod, has a 5mL juice capacity, and features four different coil options. This setup is for sale in a myriad of colors such as black, graphite, blue, and red. 
Deal
Review
Classic Design
When you first see the Sigelei 213 Fog Mod, you will immediately recognize the design as it looks almost identical to the Sigelei Fuchai 213 and 213 Plus.  Available in the same colors you have seen before, the new device also features an almost identical 0.92 inch TFT display screen, but the menu on the UI is now vertically oriented for easier viewing.  On the screen, there are indicators for current wattage, current mode, current voltage, atomizer resistance, puff time, and also a battery bar.  And, the Sigelei 213 Fog is constructed from zinc alloy with aluminum alloy, so it remains light while still feeling comfortable in the hand.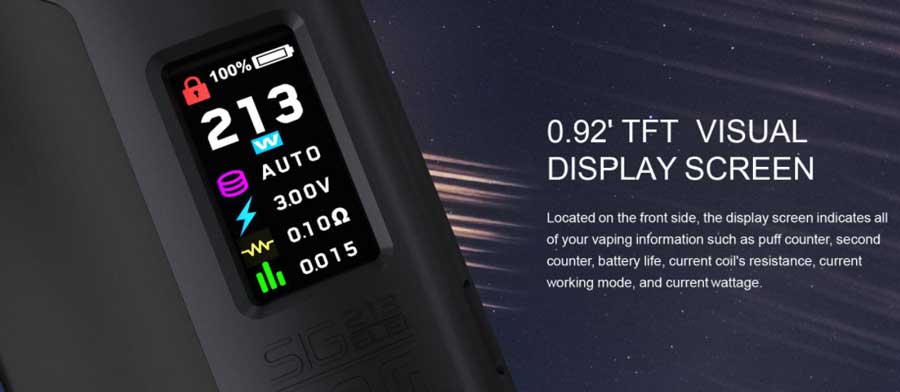 Dual 18650 Mod 
The Sigelei 213 Fog Kit is portable and ergonomic, but that doesn't mean it is not powerful.  In fact, it works with dual 18650 batteries for long vaping times, especially if you consider the decent capacity of the Fog Tank.  Moreover, there's a Type-C Flashtech supercharge USB port to recharge the batteries at an incredible rate with the included cable.   This results in more vaping and less charging.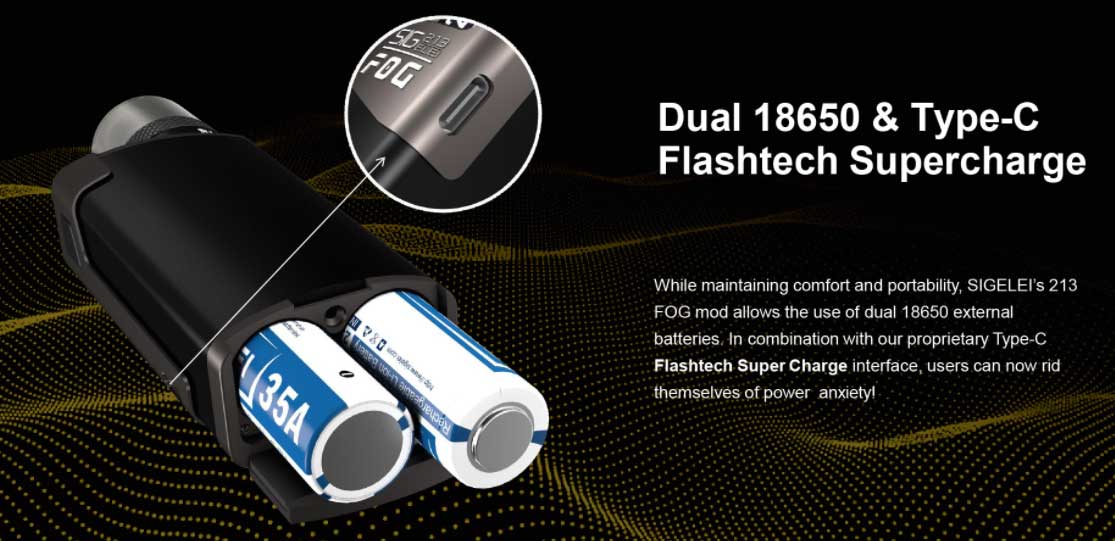 Massive Power
Thanks to the chipset, the 213 Fog Mod automatically recognizes whatever coil is in the attached atomizer and recommends the best wattage for an optimal vape experience.  And, with smart mode, the mod will  remember the last setting, so you don't have to make any adjustments when swapping out the batteries via a convenient bottom panel. But that's not where the technical capability of the Sigelei 213 Fog ends.  You see, the device has a maximum output of a whopping 213 watts and can function down to 0.1ohm resistance.  Although more technical details are not available, we are also pretty sure there is also a wide range of temperature control modes and even a TCR mode.  After all, these were available on the previous devices in the Sigelei line of mods and kits.  And, for safety, there is a myriad of safety features that include reverse polarity, overheat, over-discharge, overcharge, short circuit, and overtime protection.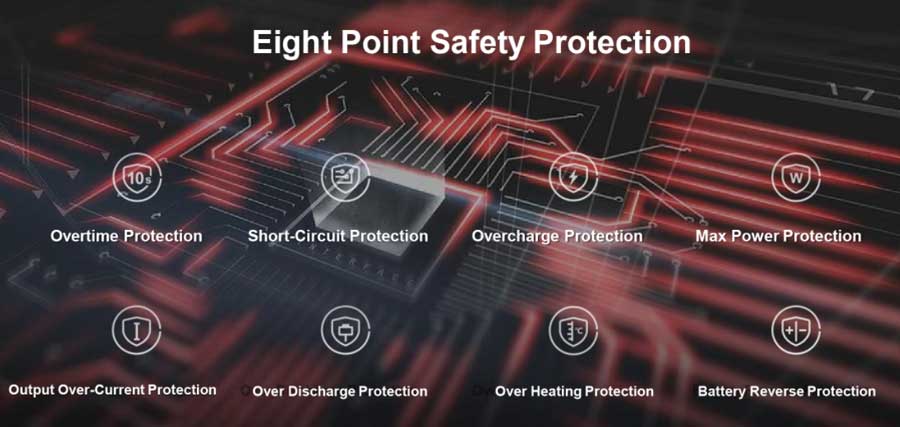 Transformable Fog Pod Tank
With the Sigelei 213 Fog Kit, you will also receive a tank that can be transitioned into a pod and vice versa for extreme versatility.  Paired with the mod, this tank brings an experience you may not want to miss because changing coils and adding e-juice to the 5mL reservoir is absolutely effortless.  And, there is adjustable airflow control to produce the vapor that you enjoy most.  To use the Sigelei 213 Fog as a tank, simply remove the included 510 adapter.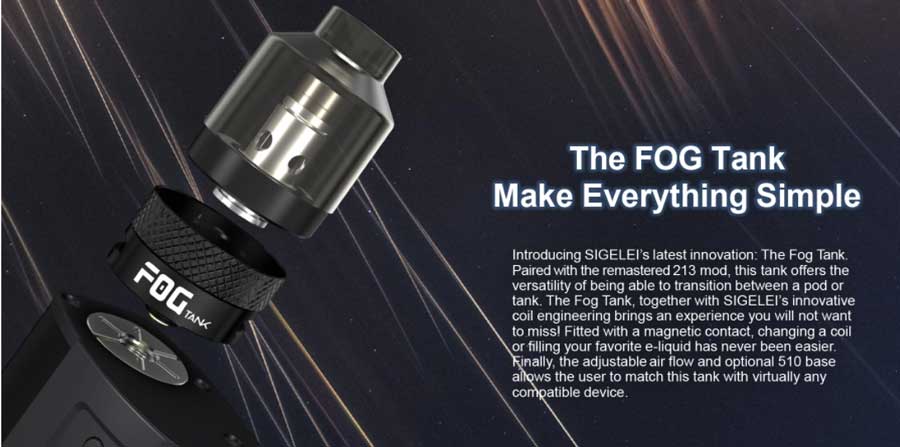 Fog Mesh Coils
The Sigelei 213 Fog has three coil options, all of which utilize mesh heating elements for fast heating and incredible flavor production. Included in the package, you will get the 0.2ohm coil that has a range of 40 to 60 watts and the 0.3ohm head that fires between 32 and 40 watts.  If these are not to your liking, you may separately buy the higher power 0.15ohm Fog coil that operates from 60 to 80 watts.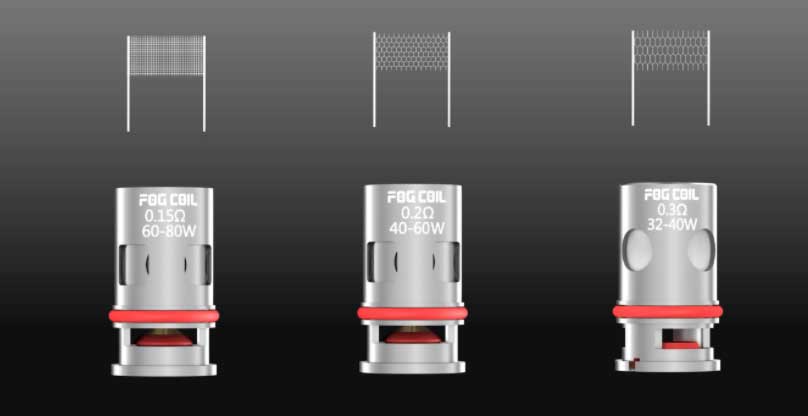 Features & Specifications
Mod Constructed from aluminum alloy and zinc alloy
Full-color 0.92″ TFT display
Vertical user interface
Power output range:5W – 213W
Temperature control range:100℃ – 300℃ | 200℉ – 600℉
Resistance range:0.1Ω – 3.0Ω
Operating modes: power | TC SS | TC ti | TC Ni | TCR
Curve preheat mode
Works with two 18650 batteries
Type-C fast charging
Effortless battery installation
Short circuit protection
Overtime protection
High input voltage warning
Reverse polarity protection
Overcharge protection
Overheat prevention
Over-current protection
Max power protection
Over-discharge protection
5mL Fog Tank
FOG 0.2ohm mesh coil | 40-60W
FOG 0.3ohm mesh coil | 32-40W
Bottom refill system
Transform pod into a tank with 510 base
Fog pod material: PCTG
In The Box
With the purchase of the Sigelie 213 Fog Kit, you will receive the mod, a Fog Tank with 0.3ohm coil pre-installed, a 0.2ohm coil, a 510 adapter, a USB cable, a manual and a warranty card.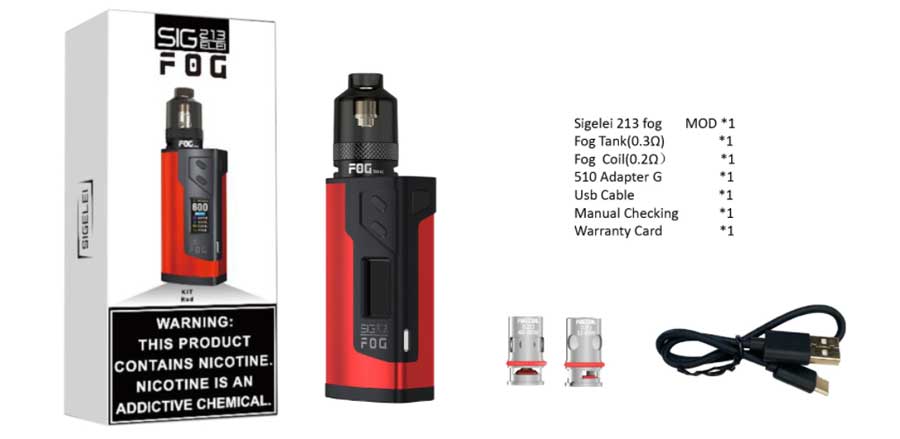 Similar Products
Total Views Today: 1 Total Views: 1,595