Update: The Infinix 2 Has Been Discontinued – Check  Newer Smok Pod Systems

Check out these cheap deals for the Smok Infinix Kit.

Overview
The Smok Infinix 2 Kit is an all-in-one stealth vape setup that features a sleek appearance, a mini design, an ergonomic cube body, an integrated 450mAh battery, 2ml juice pods, and air-activated firing.
With a size of 12.5mm x 11mm x 110mm and a cube shape chassis, this Infinix is tiny and more easily held in hand than cylindrical vape systems. The unit is made from PC and aluminum alloy materials and can be purchased in red, blue, or gunmetal. Inside the device, a 450mAh capacity cell is effortlessly recharged thanks to the onboard charging system that connects the USB port and any wall outlet or computer. An LED light in the middle of the unit will flash when a recharge is needed.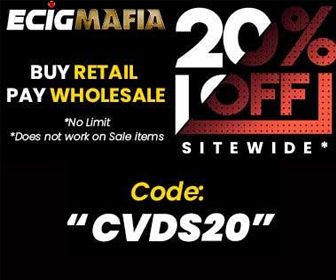 This Smoktech kit utilizes refillable juice cartridges built into the mouthpiece and can hold 2ml of e-juice. To add e-liquid, remove a side-located rubber plug and squirt e-liquid into a juice slot.
On the technical level, this kit can have a power output of 16 watts and a voltage output of 4.2V.  When using the Infinix, you don't need to press any power or fire button.  To fire the device, all you do is draw on the mouthpiece, making it easier than ever to engage in stealth vaping.   Vapor production is said to be quite decent for a low-wattage starter kit. For safety, there are myriad protections on the software and hardware levels. These include short circuit protection, low voltage protection, and an 8-second cutoff.
Features & Specifications
Dimensions: 12.5mm x 11mm x 110mm
Weight: 22g
Colors:  blue, gunmetal, red
Tiny and portable
Ergonomic cube-shaped

Easily held in hand, unlike a cylindrical vape system

Made from PC and aluminum alloy
Works with juice cartridges

Capacity: 2ml
Refills: remove the side plug and squirt juice into the slot

Internal 250mAh battery

Bottom micro USB charging port
Flashing battery LED if charge needed

Air-driven firing system
Voltage: 3.3V to 4.2V
Power: 10W to 16W
Standby current: <200uA
Safety features

8 second over puff protection
Low voltage protection
Short circuit protection
Total Views Today: 1 Total Views: 1,230