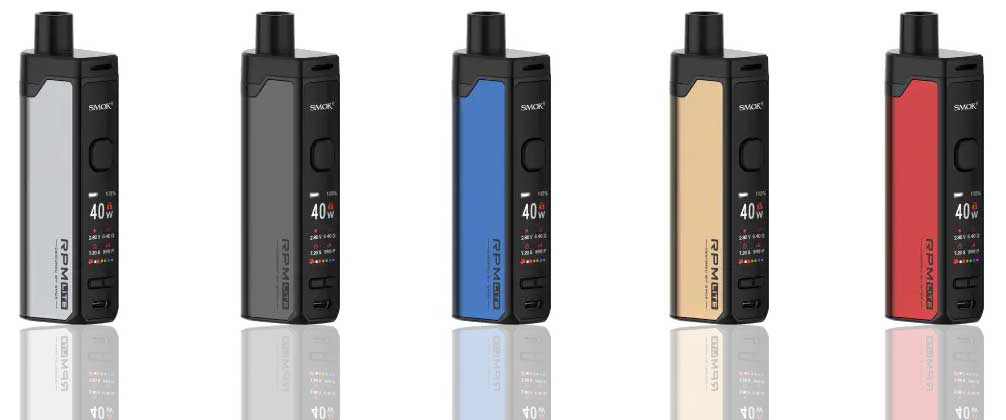 Here are cheap deals to buy the Smok RPM Lite, the latest pod system in a long line of RPM devices such as the RMP40 and RPM80.  The RPM Lite features a 1250mAh internal battery, portability, 40 watts of adjustable power, a 0.96 inch TFT color screen, 3.2mL juice capacity, an RPM mesh coil, a MTL coil, and an RBA option.  It is for sale in silver, gunmetal, blue, gold, and red. Also, check out the brand new Smok RPM 5 or RPM 5 Pro.
RPM Lite Mod
With measurements of 21mm by 32mm by 75mm, the RPM Lite mod also weighs just 50 grams for extreme portability.  Therefore, it is much smaller than other RPM pod systems which you are sure to notice when holding it in the hand or putting it in your pocket. But, the overall design looks very similar to its predecessors and so are color options of red, gold, blue, gunmetal and silver.  On the control face of the RPM Lite, you'll see an identical screen to other Smok devices. And, the menu is shown in full color and color themes can be set to white, red, yellow, green, blue or pink. Vape data includes a battery bar and percentage, current output, current voltage, current atomizer resistance, last puff time, and total number of puffs taken. You may press up/down buttons to change power output and settings.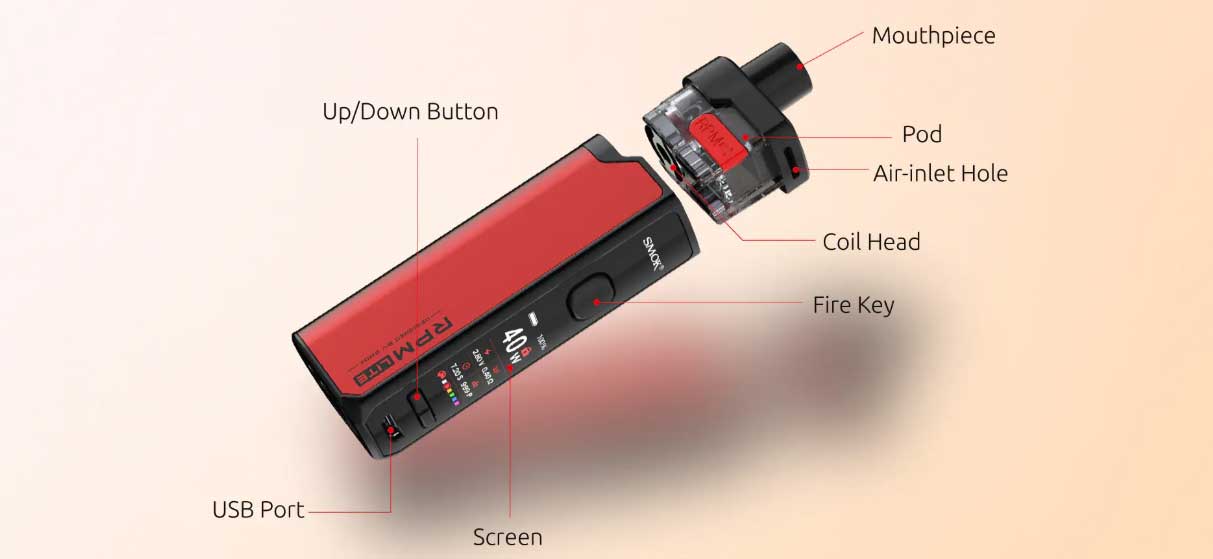 Under the hood, Smok RPM Lite also does not disappoint. Built with a 1250mAh battery for long vape times, it is recharged by plugging in a micro USB port with an included cable.  Because the cell is quite powerful, you may enjoy long running times without frequent recharges. Unfortunately, power mode is the only way to operate the Smok RPM Lite and highest output of 40 watts is adjustable in increments of 1 watt.   And, this kit provides multiple security measures to avoid potential risks such as short circuits, low voltage, long puffs, and high temperatures.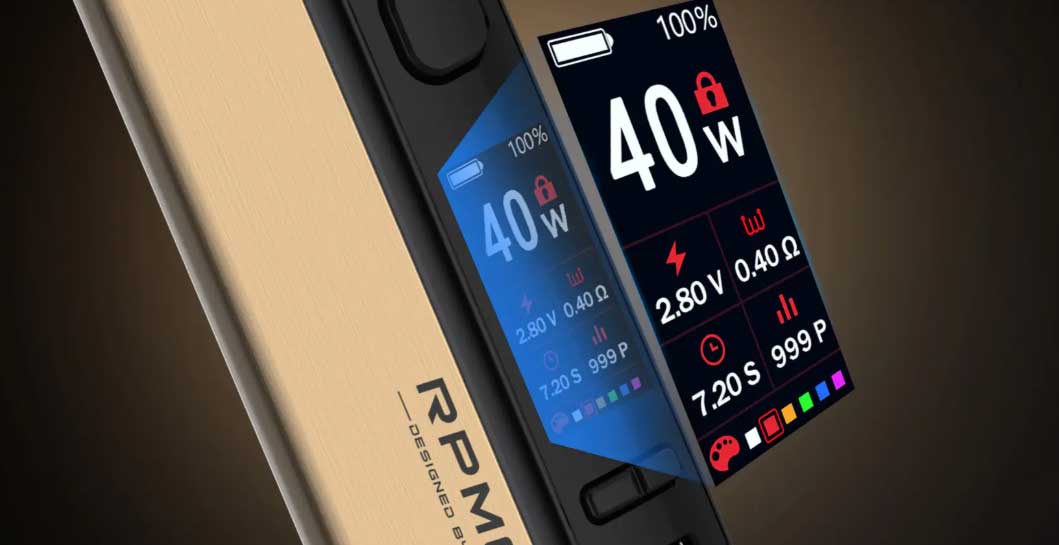 3.2 mL RPM Lite Pods & True Flavor Coils
Built with a massive 3.2mL reservoir, the Smok RPM Lite pods are sufficient to produce long vape times, without a need for continuous refilling. To add e-liquid, pull out the pod, remove a rubber side plug and add vape juice through a slot. Always be sure to carefully press the plug back into the slot and to not immediately take a puff. By waiting 2 to 3 minutes,  cotton inside coil will become fully saturated, thus avoiding dry puffs or potential damage to the heating element.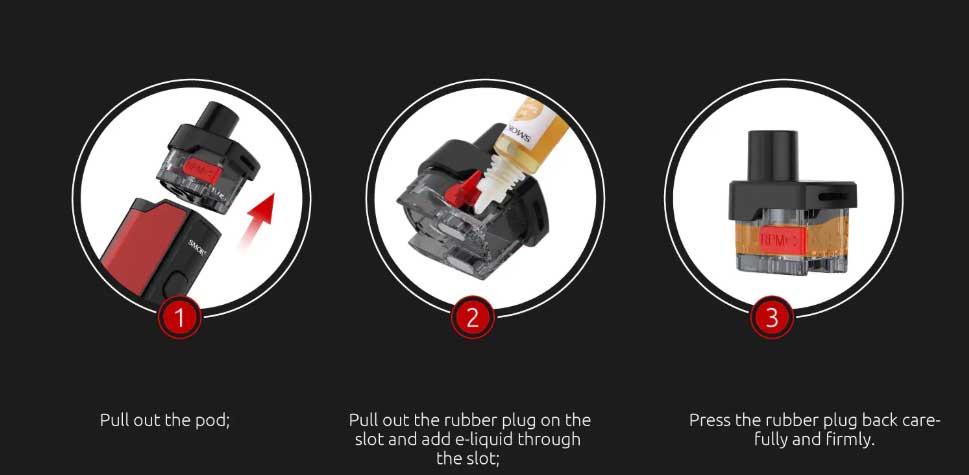 Coils easily insert into each 3.2mL cartridge via a bottom slot and you'll receive 1 RPM Mesh 0.4ohm and an RPM DC 0.8ohm coil with purchase. The DC0.8ohm is for mouth-to-lung style vaping and features dual coils with a large surface for additional fast heating and incredible coil saturation to bring superb flavor at 16 watts of power.  Meanwhile, the RPM Mesh 0.4ohm coil operates at 25 watts and also produces incredible flavor with standard e-liquids. There are also numerous optional coils for the Smok RPM Lite, including an RBA coil for more experienced vapers.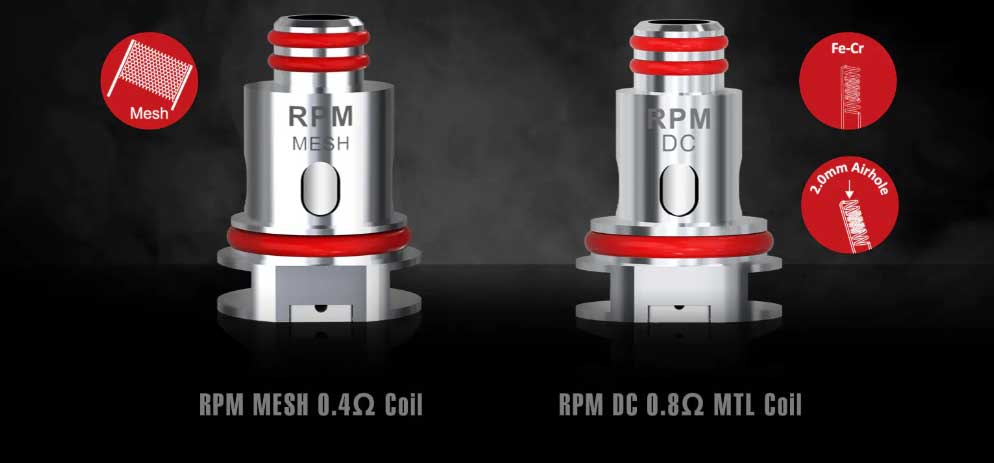 Smok RPM Lite Features & Specifications
Box mod type pod kit
Mod Measurements: 32mm x 21mm x 75mm
Mod weight: 50g
Colors: red, gold, blue, gunmetal, silver
0.96″ TFT  screen
IQ-R chipboard
1250mAh internal celly

1.2A USB port on the control face
Overcharge voltage: 4.3V
Over-discharge voltage: 2.4V
Overcharge current: 2.0A
Charging voltage: 5V

Refillable cartridges

4.3mL capacity
Side-fill system

Coils

Included: 0.40ohm RPM Mesh
Included: RPM DC 0.8ohm

Adjustable power output: 1W to 40W
Standby current: <140uA
Output voltage: 0.5V to 4.0V
Input voltage: 3.3V to 4.2V
Resistance range: 0.3Ω-2.0Ω
Safety features

High temperature protection
Low voltage protection
Short circuit protection
8s overpuff protection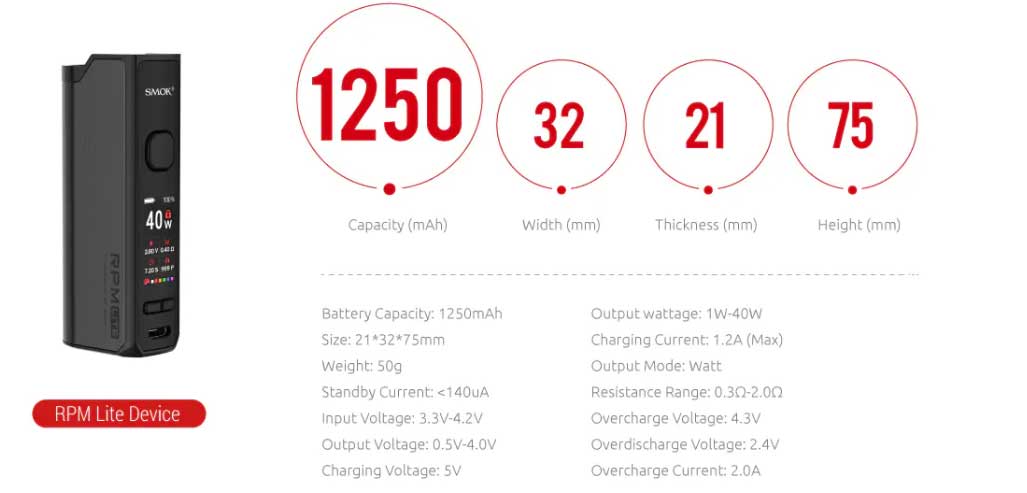 In The Package
With purchase, you will receive the Smok RPM Lite Mod, one 3.2mL pod, one RPM Mesh 0.4ohm coil, one ROM DC 0.8ohm MTL coil, a USB charging cable, and a manual.

Related Deals
Total Views Today: 1 Total Views: 996