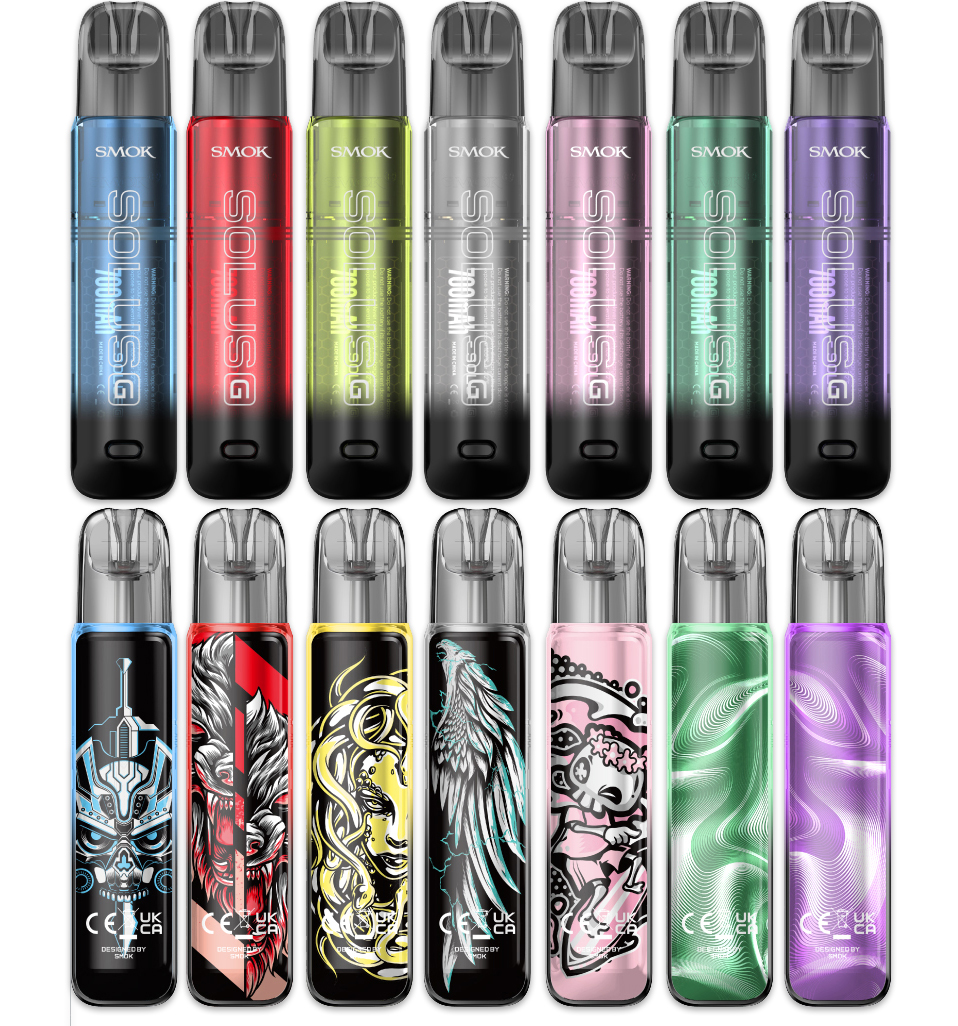 Here are cheap deals to buy the Smok Solus G Kit.  It features durable construction, a modern appearance, breathing lights, a lanyard, smooth vapor production with pure taste, a 700mAh battery, a Type-C charging port, and a 2.5mL cartridge with a side-filling slot.
Overview
The Smok Solus G Kit looks like an even more portable tube version of the Smok Solus G-Box Pod Kit and features the same transparent chassis, exquisite patterns and logo, a lanyard, and breathing lights shine when you take a puff or to monitor the battery charge level.  Choose from the following colors: transparent green, transparent purple, transparent pink, transparent yellow, transparent red, transparent blue, or transparent.
A 700mAh battery with an integrated USB-C charging port ensures the cell never runs out.  As previously mentioned, several LEDs indicate the cell's charge level:   a green light means more than 70% of battery voltage remains, blue suggests more than 30 percent voltage and red implies the Smok Solus G should be plugged in for a recharge.  The power button is used to power the device on/off and to change the lighting effects.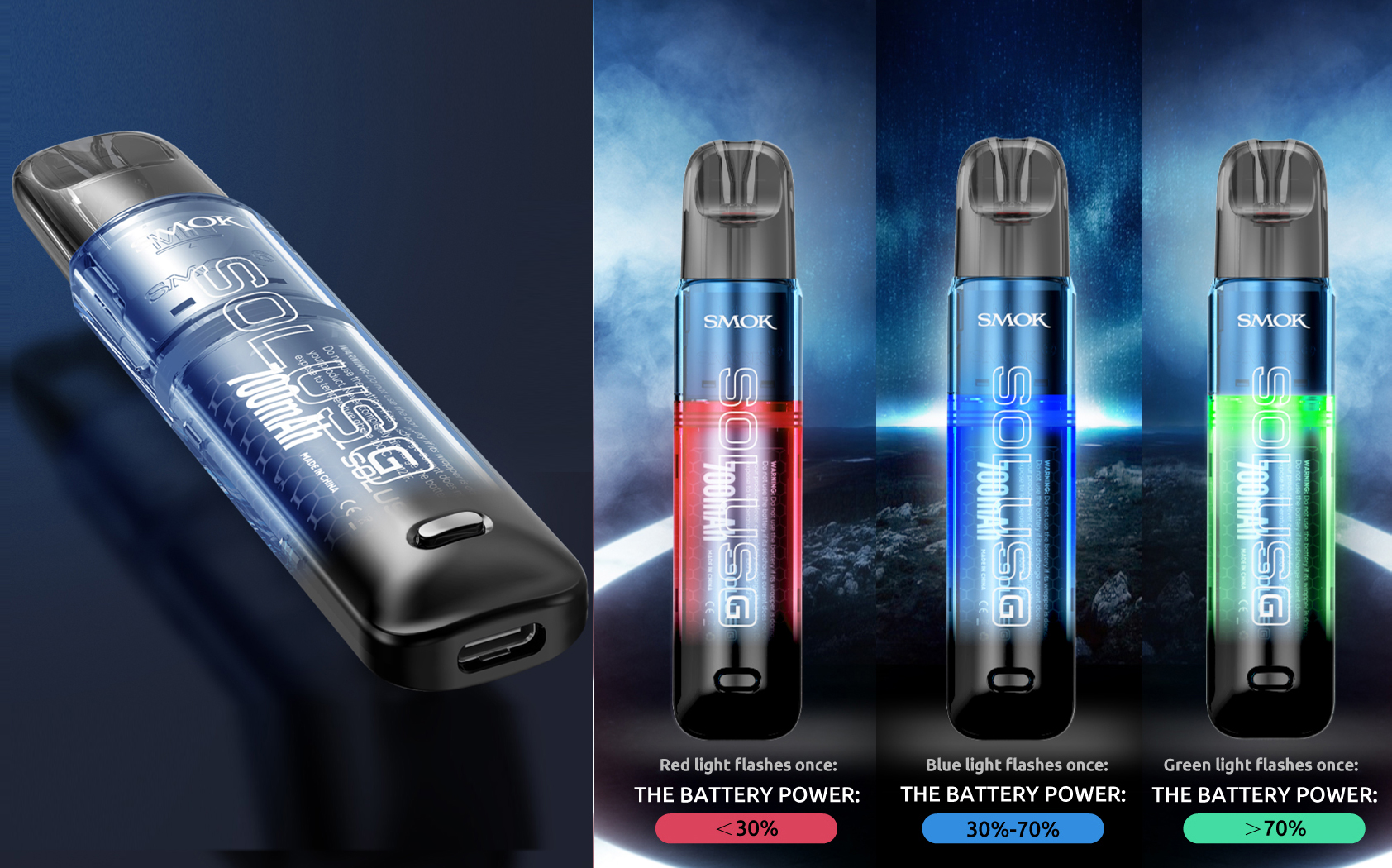 Compatible with all Solus pods, the Solus G comes with a 2.5mL edition mesh coil and features effortless refills.  The cartridge operates with a 0.9ohm resistance, indicating compatibility with nicotine salt vape liquids and freebase vape juices.  Reverse the pod to switch between a mouth-to-lung and restricted mouth-to-lung style puff.  And there is also a 3mL optional edition of the pod, but it must be purchased separately.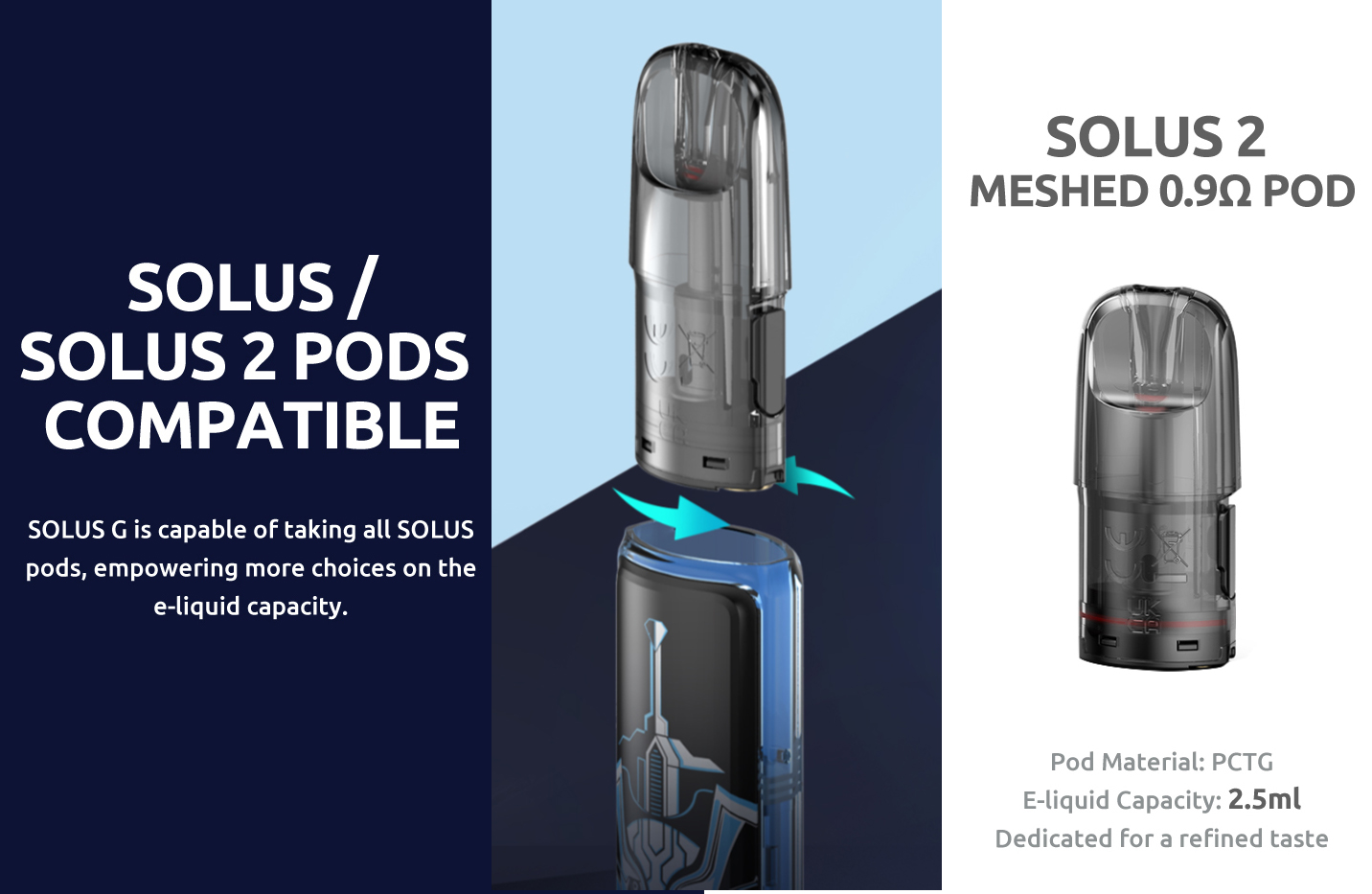 Features & Specifications
Design

Dimensions: 115.5mm x 24mm x 16.1mm
Weight 37.5g
Colors: transparent, transparent blue, transparent green, transparent red, transparent pink, transparent yellow, transparent purple
Longevity
Breathing lights
Lanyard included
Power button

Take a puff
Change LED settings

Battery

700mAh integrated
Type-C charging system: 5V | 0.57A
3-color battery LED

Chipset

Power button: power on/off | switch LED effects
Max power: 18W
Input voltage: 3.3V-4.2V
Output voltage: 3.30V-4.0V
Standby current <50uA
Resistance range: 0.8Ω-3.0Ω
Over-discharge voltage: 2.4V
Safety

8-second cutoff
Short circuit protection
Low voltage protection

Pod

Constructed from PCTG
Compatible with Solus 1 & 2 pods
Solus 2 Mesh 0.9Ω pod in the package
2.5mL reservoir
Side-fill system
MTL or RDL vaping (flip pod)

Package

Solus G Battery Device
Solus 2 Meshed 0.9Ω 2.5mL Cartridge
Type-C Cable
Lanyard
Manual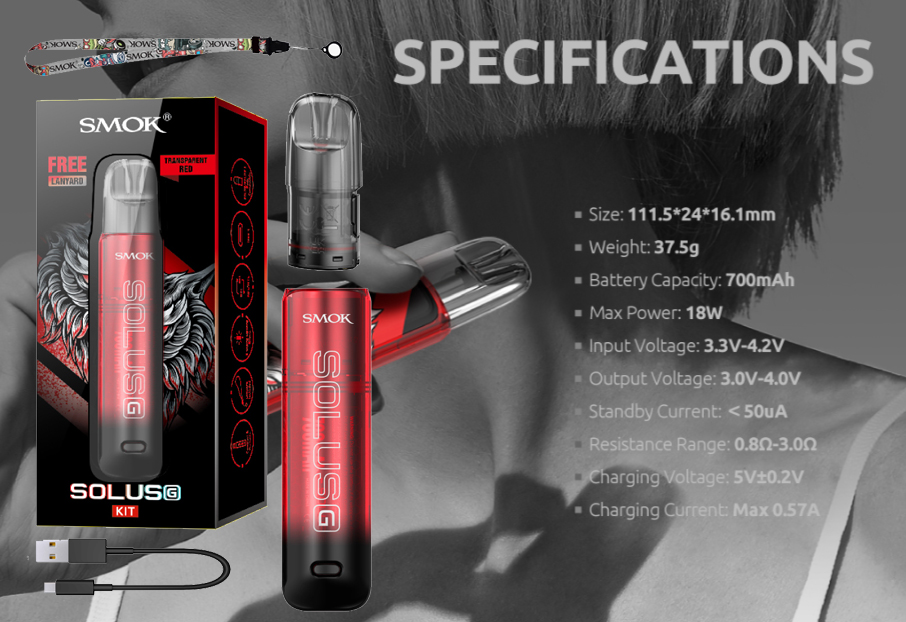 Total Views Today: 1 Total Views: 505