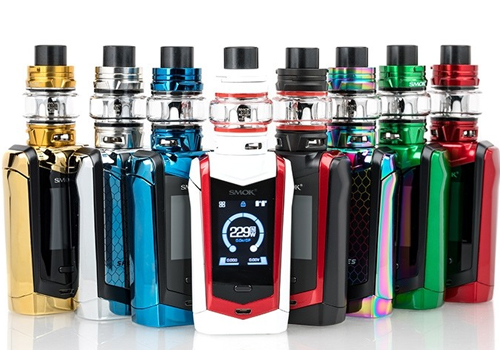 Smok Species: 230W Touch Screen Mod or Kit
Here are cheap deals for the Smok Species Mod Kit.  The Species box mod in this kit features 230 watts of power, a 1.45-inch high definition touch screen, a screen lock button, a brand new user interface, dual 18650 battery compatibility, fast 1.8 amp charging, and an effortless bottom battery door. The TFV8 Baby V2 tank included with the Species Kit features small dimensions, a 5ml tank capacity, a mesh coil with large heating surfaces for excellent vapor with flavor, a 16mm wide bore delrin drip tip and triple bottom adjustable airflow slots.  Also, check out the G-Priv 4 by Smok.
Deals
Overview
Design-wise, the Smok Species Mod is somewhat different from previous devices by Smok. The theme is an armor type design that utilizes colorful decorative strips on the front and back. Available finish colors include black/red, red/black, gold/black, prism blue/black, prism chrome/black, green/black, white/red and 7 color/black. The zinc alloy mod also seems compact thanks to measurements of only 82.1mm x 49mm x 30.6mm and a weight of only 155 grams, without batteries.
What sets the Species Box Mod apart from the crowd is the massive touch screen on one of the large sides of the mod. It displays vape indicators in color font and the menu system is manipulated with a simple touch of the screen. The touch technology is said to be quite responsive, making it very easy to navigate the menu system.
On the main interface, which is displayed only while the mod is unlocked, you will see the Smok logo, dual battery bars, a lock/unlock indicator, a speedometer like wattage/temperature indicator, current mode, current puff time, total puffs taken, atomizer resistance and voltage. There are several sub-menus that can be accessed simply by touching the menu icon. One of the secondary interfaces is the output mode menu where you can set the device to power or temperature control and change settings for each. While the Species Kit is in power mode, you can set the wattage here and also choose your favorite preheat preferences which have the option of soft, normal, hard, max. If you put the Smok Species Kit in temperature control mode, you can choose the atomizer heating material (Ti, Ni200, SS or TCR).  Another menu is the puff setting interface which the ability to set a puff limit or reset the puff statistics. Next, there is the screen settings menu in which you can choose the screen on time and display's theme colors to blue, purple, brown, red, white or green. The system settings sub-menu lets you know your UUID (Universally Unique Identifier) number. Here, you may  also choose to fine tune the resistance value, power off the device or restore it to factory settings. To ensure settings are never changed, there is a simple screen lock button underneath the display that is long pressed to unlock or lock the touch screen.
On the technical level, the Smok Species utilizes two 18650 batteries which are installed via a bottom battery cover that effortlessly slides open. The unit supports charging and upgrading of the firmware via the micro USB port on the control face. Charging takes place at 5V/1.8A, so the process shouldn't take too long.  The Species Mod is quite powerful as it can put out 230 watts of power or 600 degrees Fahrenheit during variable temperature operation. The unit is compatible with atomizers down to 0.1ohm in power mode and 0.05ohm in temperature modes. Multiple safety protections are built into the device to avoid potential risks. These are intelligent atomizer recognition, puff monitoring, short circuit protection, overheat protection, 10 second cutoff protection and over discharge protection.
If you decide you would like the full Smok Species Kit, you will also receive the brand new TFV8 Baby V2 Tank. It features stainless steel construction, measures 30mm x 54mm, weighs 65 grams and is made from stainless steel with pyrex glass. The unit's color matches the Smok Species Box Mod. The tank can hold up to 5ml of e-liquid and is refilled by sliding the top cap to reveal a leak free filling slot you can squirt juice into. At the top of the TFV8 Baby V2 in the Species Kit, you will see a 16mm wide Cobra/Resin drip tip that not only looks amazing, but also features a simply press installation process. This drip tip works in perfect combination with the triple air slots at the bottom for maximum vapor and flavor. These can be widely adjusted from all the way open to closed.
A new coil system was released for this new tank in the Species Kit. The first is the Baby V2 A1 which features a mesh heating element covered with antibacterial medical grade cotton. This head is pre-installed, has a super large heating area, fires with a 0.17ohm resistance and is rated 90 to 140 watts (best between 110 and 130 watts). The second new head is the Baby V2 A2 coil that features dual cores for large vapor production. Its heating element fires with a 0.2ohm resistance in the range of 50 to 80 watts (best at 65 to 75 watts). These coils are silver in color, but also are available in gold and rainbow for a brand new appearance. There is also an optional Baby V2 A3 coil that is said to produce intense vapor with pure flavor. It is a 0.15ohm triple coil that fires in the range of 60 to 100 watts, but should be used from 80 to 90 watts for best performance.
Smok Species Features & Specifications
Species Mod
Measurements: 82.1mm x 49mm x 30.6mm
Weight: 155g
Armor-like accent lines
Colors: black/red, red/black, gold/black, prism blue/black, prism chrome/black, green/black, white/red and 7 color/black
510 threaded connector
Color touch screen display

Responsive touch screen technology
Lock/unlock screen button underneath to prevent accidental settings changes
Easy menu icon to access secondary menus

Main menu (with Species Mod unlocked)

Smok logo
Two battery bars
Lock/unlock status
Current temp/wattage
Current mode
Last puff time
Total puffs
Atomizer resistance
Current voltage

Output settings menu

Choose power or temperature mode
Put in taste settings in power mode (normal, soft, hard, max)
Choose atomizer material in temperature mode (nickel, titanium, steel, TCR)

Puff settings menu

Reset puff statistics
Choose puff limit

System menu

See your UUID
Fine tune resistance settings
Power Species on/off

Large ergonomic/hidden fire button spans entire side of mod
Utilizes dual 18650 batteries

Bottom sliding battery cover
Micro USB 5V/1.8A charging system
Micro USB upgrades

Input voltage range: 6.4Vto 8.4V
Output voltage range: 0.5Vto 8.2V
Power mode output: 1W to 230W
Minimum atomizer resistance capability: 0.05Ω in temperature modes | .010Ω in power mode
Temperature range: 200°F to 600°F
Standby current: <500uA
TFV8 Baby V2 Tank
Made from stainless steel
Measurements: 30mm x 54mm
Pyrex glass section

5ml capacity
Easy sliding top cap exposes juice port
Leak free filling slot

Triple bottom adjustable airflow
16mm wide bore cobra/resin Delrin drip tip
New coil system

Pre-installed: 0.17ohm Baby V2 A1

Silver color (optional gold/rainbow colors)
Large mesh heating area
Rated: 90W to 140W
Best: 110W to 130W

Included: 0.2ohm Baby V2 A2

Silver color  (optional gold/rainbow colors)
Dual heating cores for huge vapor production
Rated: 50W to 80W
Best: 65W to 75W

Optional: 0.15ohm Baby V2 A3

Silver color  (optional gold/rainbow colors)
Triple heating cores for thick vapor and tons of flavor
Rated: 60W to 100W
Best: 80W to 90W
Pictures
Similar Products
Total Views Today: 1 Total Views: 15,585