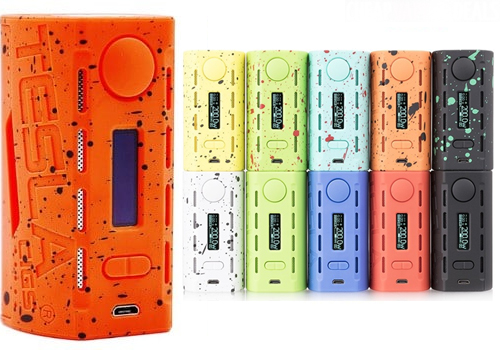 Here's a discount for the Tesla Wye Box Mod.   
Deals
Unfortunately, the Tesla Wye Box is quite old and out of stock. Please check similar 200W mods below.
Tesla Wye Review
Overview
The Wye is Tesla's newest high power box mod.  It features 200 watts of output, dual 18650 cells, light weight material, colorful appearance, splatter effects, many temperature control options and a wide range of safety features.
Because it is constructed from ABS & PC material, this mod is very light, ergonomic and highly resistant to damage.  The mod weighs just 64.5g and  and measures only 82mm x 42mm x 39mm making it easily transported.  The design is also colorful and features a splatter design for a modern look.  Available colors include green/red splatter, blue/red splatter, black/green splatter, white/black splatter, yellow/black splatter and orange/black splatter.
Powering the Wye Mod is dual 18650 cells that are sold separately and should have a discharge current above 35 amps.  The cells are accessed by effortless removal of the back panel and are also chargeable via a micro USB port.  Best of all, this device has a pass-through charging system so you can continue to vape while it's plugged in.
The control face features a large round firing button, two adjustment buttons, a micro USB port and an OLED of which the dimensions are unknown.  The menu is horizontally configured and includes data such as battery level, mode, voltage, wattage, temperature, resistance and much more.
On the technical level, the Wye box mod is very capable.  Output modes include power, TCR, TC with nickel coils, TC with stainless steel coils and TC with titanium coils.  The maximum output of the device comes in at 200 watts, temperature control can reach 600 degrees Fahrenheit and the lowest atomizer resistance is just 0.1ohm in power mode and 0.05ohm during variable temperature operation. Also, you may store your favorite settings in three alternate memory slots.
This mod also has several taste control during power vaping. These include normal, soft, hard and user mode.  The latter taste mode allows for setting higher power output for specific time intervals while the mod fires. Finally, there are also 6 built-in protections so you'll never worry about safety when using this device.
Features & Specs.
Measurements: 82mm x 42mm x 39mm
Weight 64.5g
Light, impact resistant and portable
Soft in the hand due to ABS & PC material
Splatter effect design
Colors: green, blue, black, orange, white, yellow
Springloaded 510 connector
OLED screen with horizontal vape data
Three memory slots
Powered by dual 18650 batteries
Easy battery access
Micro USB 1.5A charging
Pass-through vaping
Output Modes: VW, TCR, TC-SS316, TC-Ni200, TC-Ti
Taste modes: user, hard, soft, normal
Power output range: 7W to 220W
Power mode resistance range: 0.10Ω to 3.0Ω
Temperature control resistance range: 0.05Ω to 1.0Ω
Temperature control range: 100℃ to 315℃ or 200℉ to 600℉
Maximum output voltage: 8.4V
Maximum output current: 45A
Overpuff protection
Low voltage protection
No atomizer warning
Atomizer short protection
Reverse polarity protection
Over-temperature protection
Pictures
Total Views Today: 1 Total Views: 1,150