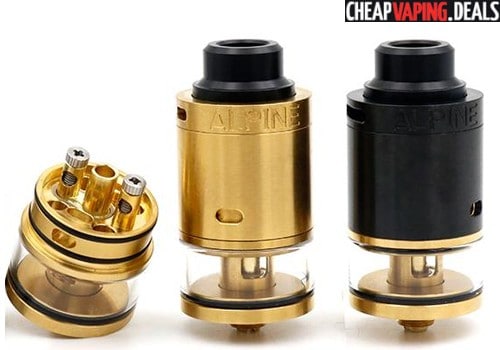 Update: The Syntheticloud Alpine RDTA Has Been Discontinued – Check  Newer RBA Deals Below
Alpine RDTA Review
Overview
The Syntheticloud Alpine RDTA  was made specifically to combine amazing performance and effortless usability.  The RDTA features amazing craftsmanship, a dual post deck, massive wire terminals for large builds, a 3ml tank reservoir, a center fill system, top adjustable airflow and bottom adjustable airflow.
The rebuildable dripping tank atomizer has a diameter of 24mm and is constructed from gold plated brass, stainless steel and glass.  The device can hold 3ml of e-juice and is built with a 3mm center fill hole in the middle of the deck to allow refills with any size bottles.  With the chuff cap installed, the fill port is said to be leak-proof. Anti-spitback protection is also part of the design to prevent e-juice traveling thru the drip tip to the mouth.  Included with purchase, you will receive a 10mm Delrin drip tip.
By removing the chuff cap, you'll be able to access the Alpine RDTA's two post deck with a single 3mm terminal per post to easily allow for intricate/large builds.  To clamp down the wire, top located titanium Phillips head screws are used to allow for intricate or large builds. Four wicking ports –4mm across — ensure you can use this RDTA at high wattage.  Both the base and the deck are made with 24 karat gold plating for maximum conductivity while PEEK insulation adds to the longevity of the unit.
External airflow is located on both the bottom and and side for maximum versatility.  Two adjustable 5mm x 2mm bottom air intakes direct air directly onto the deck, while two 12mm x 2mm top air slots on the top cap result in a tornado airflow effect.
Features & Specs.
Diameter: 24mm
Made from stainless steel, gold plated brass and glass
10mm Delrin wide bore drip tip
Tank capacity: 3ml
Center refill system via large 3mm port
Minimal leaking
Gold plated 510 connection pin
Gold plated base
Gold plated dual post deck with a single 3mm terminal each
Compatible with dual coil builds
Top mounted Phillips head screws with knurling
Distance between posts: 11mm
PEEK insulated
Four 4mm wicking ports
Dual bottom adjustable air slots: 5mm x 2mm
Dual adjustable air slots on top cap: 12mm x 2mm
Total Views Today: 1 Total Views: 281