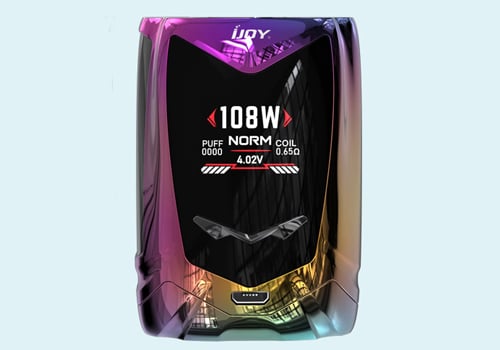 Here are cheap deals for the iJoy Avenger Baby Box Mod.  This device features an AI voice control system, an exquisite appearance, a large lateral fire button, a screen with color, adjustable RGB LED lights, 108 watts of power, 20350 batteries for 2800mAh of power, ramp vaping in power mode, versatile temperature control, a pod mode, TCR modes and a low atomizer resistance capability.
Overview
In the design department, the Avenger Baby Box Mod is the more portable version of the iJoy Avenger 270 Mod. It is much smaller than its predecessor thanks to dimensions of only 48mm x 34mm x 66mm and the available colors include rainbow, white, green, gold, purple, gun metal, stainless steel, black, red, blue and orange. At the top of the Avenger Baby Mod, you will see a spring-loaded 510 threaded connection that is compatible, without overhang, with builds or tanks up to 30mm wide. On the side, you will see a large fire button that spans almost the entire side of the mod.
The control face of the iJoy Avenger Baby Box Mod is located on the large front side which features a 1.3 inch color display, although it is uncertain if you can actually change the font color. The screen's menu looks to be identical to the one found on its larger predecessor with vape data such as current wattage or temperature, a puff counter, power intensity mode setting, atomizer coil resistance, voltage and two modern battery bars at the bottom. Surrounding the display are colorful RGB lights that can be set red, green, blue or white. There is also a sound mode where the LEDs light up when you speak via the voice control system.
Another really cool aspect of the Avenger Baby Mod is the upgraded "artificial intelligence" voice control system which allows control of the mod settings via voice commands such as soft mode, normal mode, hard mode, lock device, unlock device, high power, twenty watt, thirty watt, forty watt, fifty watt, sixty watt, seventy watt, eighty watt, ninety watt, power low, auto watt, turn on light, music light or light off.
Powered by dual 20350 batteries, you should be able to vape a long time with the iJoy Avenger Baby as the cells combine for a decent 2800mAh capacity. The batteries are recharged with the included cable via the micro USB port which also functions as an upgrade port to update the mod's software. Accessing the batteries occurs via a bottom hinged battery door.
On the technical level, this mod can operate in power mode, pod mode, LED mode, temperature control with nickel, titanium, stainless steel (2 memory slots), TCR mode with two memory slots and standby mode. In power mode, you may set the intensity to your liking (soft, regular, hard) or engage in ramp vaping in custom user mode. Pod mode is said to be a perfect taste experience that has an adjustable output of 2.5 to 3.8 volts. It is perfect for mouth-to-lung style vaping with high nicotine or nicotine salt e-liquids. Output on this small mod is possible up to 108 watts, temperature control tops out at 600 degrees Fahrenheit while the resistance value range is from 0.05 to 3ohm. There are also a myriad of safety protections such as short circuit protection, low power protection and reverse polarity protection.
Avenger Baby Box Mod Features & Specifications
Measurements:  48mm x 34mm x 66mm
Finish options: mirror rainbow, mirrow white, mirror green, mirror gold, mirror purple, mirror gun metal, mirror stainless steel, mirror black, mirror red, mirror blue, mirror orange
Diamond-like design
Spring-loaded SS 510 threaded connection

No overhang with atomizers up to 30mm diameter

Large lateral fire mechanism
1.3 inch color OLED display

Vertically oriented layout

RGB LED lights

Set to white, blue, green, red
Light up when using voice commands

AI Voice Control System

Mod responds to preset voice commands

Powered by dual 20350 Batteries

Bottom battery door
Micro USB charging port

Firmware upgrades
Operating modes: power | TC-Ni | TC-Ti | TC-SS |TCR | pod mode

Pod mode: 2.5V to 3.8V output

Use nic salt or high nic juices
MTL style vaping

Power mode

Set intensity (soft, normal, hard)
Custom user mode for ramp vaping

TCR mode: 2 memory slots
TC modes: 2 memory slots

Max power: 108W
Temperature control output range: 200° to 600°F
Resistance range: 0.05ohm to 3.0ohm
Safety protections

Reverse polarity
Low power
Short circuit
Avenger Baby Box Mod Pictures
Total Views Today: 1 Total Views: 75