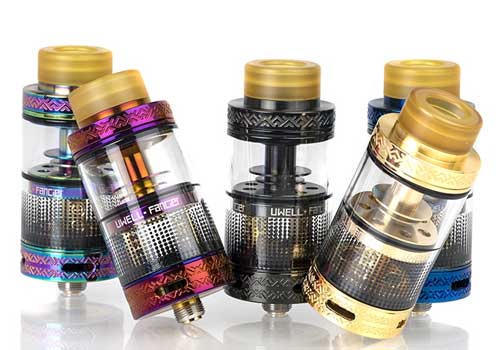 Here's a cheap deal for the Uwell Fancier RDTA (RDA & RTA).
Overview
The Uwell Fancier converts from RTA to RDA and features a 4ml tank capacity, easy top filling, a dual post deck, quad adjustable bottom air intakes and transparent glass to see the build deck and ejuice levels.
Design-wise, the RDTA is made from stainless steel with pyrex glass, measures 24mm x 56.3mm and is available in black, gold, purple, blue, stainless steel and rainbow colors. The tank reservoir at the top, above the build deck, can store up to 4ml of e-juice and is refilled by removing the top cap to expose a fill port.  At the top, you will see a PEI drip tip that is heat resistant.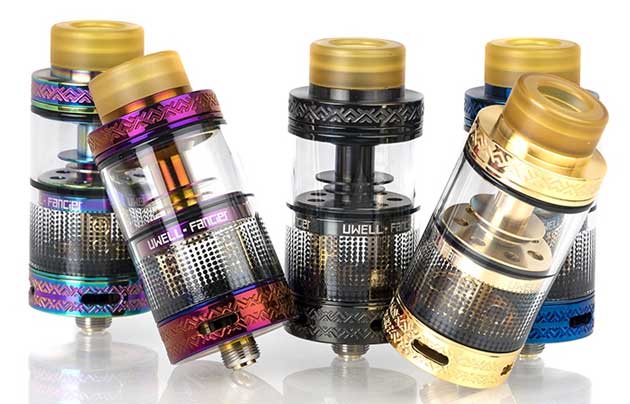 What's unique about the Fancier is that by removing the entire tank section and installing the included chuff cap, you can use it as a dripper. Unfortunately, it seems that the juice well is not very deep resulting in a need for more frequent dripping. As an RDA, the cross plate above the deck was  designed to prevent e-juice spit back.
As an RTA, the Fancier's build deck is completely visibile due to transparent glass that surrounds it. Now you can show off and monitor your builds. The gold plated deck is built with dual posts that have two wire terminals each and wicking is said to be easy.  Airflow travels to the deck via four adjustable external air intakes at the bottom.
Features & Specifications
Dimensions:  24mm x 56.3mm
Weight: 48.5g
Colors: rainbow, grey, blue, purple, gold, black
PEI drip tip
RTA mode

Visible build deck
Visible e-juice reservoir
Tank capacity: 4ml
Top fill system

RDA mode

Stainless steel chuff cap
Spitback prevention system
Shallow juice well

Quad bottom adjustable air slots
Dual post build deck

Gold-plated
Dual wire terminals each post
Easy wicking

With purchase:

Fancier RDTA
Extra glass tube
 Extra stainless steel RDA top cap
2 x 0.8Ω NiChrome wire
Extra screws
Wrench
Japanese organic cotton
Extra o-rings
Manual
Total Views Today: 1 Total Views: 1,498