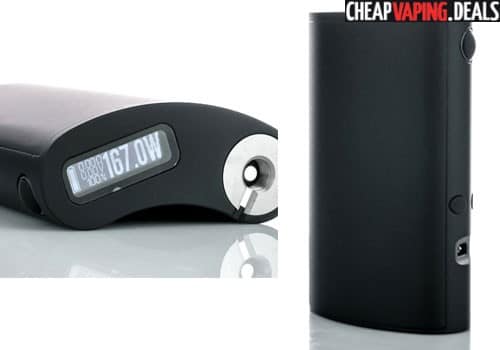 Here's a great deal on the Vapor Shark Vapor Flask DNA 250 Box Mod.  This device is also listed as the Vapor Flask DNA 166.  However, it is built with a DNA 250 chip board that reaches 167 watts because it is powered by only two 18650 batteries.
Update: This Item Is Out Of Stock Everywhere – Check  Similar Evolv DNA Mods Below
Upgraded with a chip board from Evolv, The Vapor Shark Vapor Flask DNA 250 still looks very similar to less expensive Vapor Flask mods.  The new DNA version features faster charging, 167 watts of output, a wide range of presets, a top-situated OLED display, more precise operation and is built with high quality materials.
This device has an identical form factor and design to previous versions. It features an oxidized matte black finish with rubberized coating that  allows for a comfortable hand feeling while ensuring device longevity.  The black buttons on the side are tactile and are semi-hidden resulting in a modern look.  Surrounding the large fire button, there's an LED that lights up while the mod is in operation.  The OLED screen can be found at the top for easy viewing and fast modification of settings.  Adjacent the display, there's a springloaded 510 for flush atomizer attachments in no time.
Behind the magnetic panel on the back, you will find the battery bay that stores the two external 18650 cells that permit the Vapor Flask DNA 250 to reach up to 167 watts of output.  The on-board charging system utilizes zip charging to top off the two batteries in less than 90 minutes.  Balanced charging technology ensures both cells achieve equal voltage levels when plugged into any USB wall or computer outlet.
The box mod can be fired in a wide range of modes and features 7 presets that include four temperature control  profiles with nickel, titanium, stainless steel support and a sweet spot titanium mode.  The Vapor Flask is also capable of firing any build or tank down to 0.08ohm during variable temperature operation or 0.10ohm in power mode.  Best of all, there's an entire suite of protections allowing for the safest vape experience possible.
Overall, if you like other Vapor Flask mods by Vapor Shark, you are sure to love the Vapor Flask DNA 250 mod that features the same amazing design and materials.  But, this mod is built with the latest Evolv chip board for more precise operation, amazing customization via Escribe software and 97% efficiency.
Features
Evolv DNA 250 chip
Same modern design with curved form factor as previous versions
Black matte finish
Rubber coating for durability
Ergonomic
Springloaded 510 threaded connection
Stealth fire and adjustment buttons
Fire button LED
Top-mounted/large  OLED with DNA 250 menu
Utlizes dual 18650 external batteries
Magnetic battery door on back
Micro USB 2A fast/balanced charging
Future USB upgrades
Power output range: 1W to 167W
Temperature range: 200°F to 600°F
7 preset operating modes including Ni2oo, SS, Ti, Sweet Ti, kanthal
Resistance range in power mode: 0.1Ω to 2.0Ω
Resistance range in variable temperature modes: 0.08Ω to 1.0Ω
Voltage ouput range: 1V to 7.4V
Maximum continuous output current: 50A
Peak maximum ouput current: 55A
Input voltage range: 9V to 12.6V
Input current range: 0.5A to 28A
Power down current: 5uA
Screen on vurrent: 21mA
Quiescent current: 3.5mA
Escribe customization on computer
Vapor Shark optimized modes
Cell balancing
Cell by cell monitoring
Lock mode
Lock resistance
Power lock mode
Stealth mode
97% efficient
Video Review
Coming soon
Total Views Today: 1 Total Views: 218