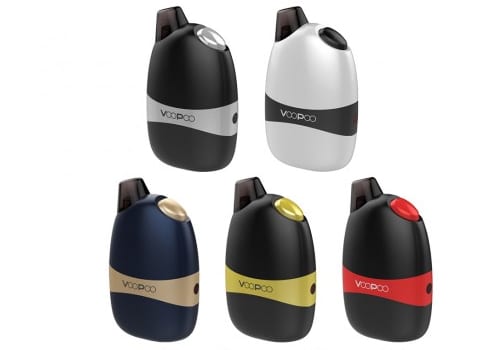 Here are cheap deals for the Voopoo Panda Pod Starter Kit 5ml/1100mAh. If you like vaping nic salt juices, this kit looks really great because of its large battery and massive 5ml pods that won't need to refilled too often.
Update: This Item Is Out Of Stock Everywhere – Check  Similar Pod Starter Kit Deals Below
Overview
The Voopoo Panda Pod Kit is perfect for beginners or those who enjoy a mouth to lung vape experience with high nicotine or nicotine salt juices. This new setup is very portable thanks to dimensions of 75mm x 47.5mm x 27.4mm and is available in silver/black, white, red/black, gold/black and gold/blue. The finish is rubber so it won't slip in the hand and is comfortable to hold. Most pod systems can hold only 2ml of e-liquid, but the Panda's cartridges feature a massive 5ml capacity for very long vape times without any refills. Each pod has either a 1.2ohm/8 watt or a 0.8ohm/12 watt coil built into it, allowing those who enjoy nicotine salt e-liquids to safely use this setup.
Inside the Voopoo Panda, you will find a powerful 1100mAh battery resulting in less frequent recharging. The cell is recharged via the USB port and the process only takes about 1.5 hours to finish. Best of all, you may continue vaping while the unit is plugged in. On the performance side, this new setup utilizes a new vertical e-juice injection system which utilizes more airflow to produce huge vapor and flavor. Plus, a myriad of safety protection prevent an unsafe experience.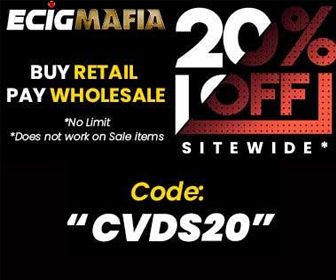 With purchase of the Voopoo Panda Pod Starter Kit, you will receive two pods, an o-ring, a micro USB cable, a manual and warranty information.
Panda Features & Specifications
Portable All-In-One Pod System
Ergnomic and portable
Measurements: 75 x 47.5 x 27.4mm
Coils: 1.2ohm/8W or 0.8ohm/12W

Use with high nic and nic salt e-liquids

Pod capacity: 5ml

Easy refills
Long vape times

 1100mAh integrated battery

Micro USB charging
1.5 hour recharging process
Continue vaping while charging
Charging current: 1000mA

Working Voltage 0V to 4.2V
Increase airflow for massive vapor/flavor
Multiple safety features
Total Views Today: 1 Total Views: 778