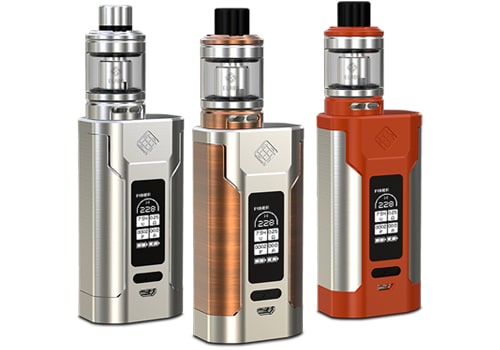 Here's some awesome deals on the Wismec Predator 228W Box Mod.  This is a powerful 228 watt mod with a fast charging system, buck boost technology for steady power, versatile temperature control, TCR mode and the device can serve as a power bank. If you get the kit, you will also receive the 4.9ml Elabo tank with a retractable top fill system, a childproof lock and massive adjustable airflow.
Deal
Comparable Wismec Products
Overview
The Predator 228 Mod is designed by US company Sinuous Designs.  It features 228 watts of output, many temperature modes, fast 2A charging, firmware upgrades and can be used as a power bank.  Best of all, it's inexpensive!
For an affordable mod, the Wismec Predator 228 has plenty of power and all the technical specs you could possible need.  There's several presets including variable wattage mode, 3 temperature control modes (Ni, Ti, SS) and TCR operation for best resistance settings for your coil.  And, the Predator has a resistance range of 0.05ohm or higher in variable temperature mode and 0.10ohm or higher in power mode.  With these features, the device is bound to work with 99% of atomizers in the marketplace.
The box mod is available in gold, silver, white, black and red.  For a 228 watt mod, the dimensions are quite small at 43.6mm x 29.0mm x 86.7mm and the unit is light with a weight of just 166.2g.  At the top, there's a 510 spring-loaded connector in which you can easily install any atomizer.  The compact firing button is located on the side and has an ergonomic shape for easy firing and a comfortable grip.  The Predator's OLED screen is located on the front and features a vertical menu with all the info displayed in a concise way.  Included on the menu are indicators current mode, current wattage, current voltage, current atomizer resistance, a puff counter, amperage and two battery bars that display current charge levels of the cells.
A battery compartment for the dual 18650 batteries is located on the botttom of the box mod and features an easy flip door with ventilation.  Its cover's hinge is engaged by pressing a button to reveal the two external batteries that power the Predator 228.  The USB port on the front features on-board charging technology that supports a fast 2A charging current if you use the optional Avatar Quick Charger.  A balanced charging system also ensures each cells achieves equal voltage for safety. The device can be utilized as a power bank in case of emergencies such as a low battery on your cell phone or tablet.  To use the reverse charging setup, simply insert the optional RC (reverse charging) adapter into the 510 connector on the top.
Overall, the Wismec Predator 228 Box Mod will probably be popular because if its low cost, nice design and amazing technology. If you are looking for a powerful device that is inexpensive, this mod definitely deserves a look.
Video Review
Features & Specifications
Measures 43.6mm x 29.0mm x 86.7mm
Weighs 166.2g
Compact and light
510 springloaded/threaded connection bezel
Hinged bottom battery door
Vertically oriented front OLED display
Intuitive Menu
Ergonomic firing button
Flip-open bottom battery cover with lock
Battery ventilation for heat dissapation
Utilizes dual 18650 high rate batteries (not included)
Micro USB charging
Fast 2A charging with optional Avatar quick charger
Balanced charging system
Reverse charging with optional adapter
Micro USB firmware upgrades
Preset output modes: VW/TC Ni/TC SS/TC Ti/TCR
Power mode output range: 1W to 228W
Temperature range: 200°F to 600°F or 100°C to 315°C
Resistance range: TC 0.05Ω to 1.0Ω / VW 0.10Ω to 3.5Ω
Max output current: 50A
Voltage output range: 0.5V ti 9.0V
Innovative buck-boost technology for steady output
Dual circuit protection
Reverse polarity protection
Included: USB cable
Included: User manual
Included: warning card
Pictures
Total Views Today: 1 Total Views: 1,101