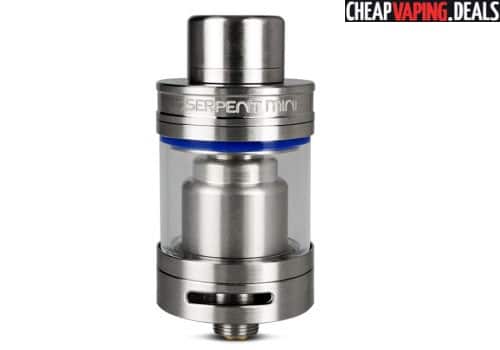 Here's are some fantastic deals on the Wotofo Serpent Mini RTA.
Update: The Wotofo Serpent Mini RTA Has Been Discontinued – Check  Similar RTA Atomizer Deals Below
Overview
The Wotofo Serpent Mini is a portable and cost-effective RTA that features one of the best single coil systems for its price. With unique terminals on the deck,  large wick ports, peek insulators and an internal airhole, the Serpent Mini being is the perfect setup for high wattage vaping.
The stainless steel RTA with glass tank tube features a length of only 31mm and a diameter of just 22m, making it a small device.  The tank capacity is adequate for a portable unit and refills are simple due to its top fill system.   To add e-liquid, just remove the top cap and add e-liquid through either one of the two juice large juice ports.  At the bottom of the device, there's a gold plated 510 connection pin which allows for improved conductivity, while making it compatible with almost every mod in the marketplace.
The Serpent Mini has a two post single coil build deck design.  It  features unique terminals on three sides that effortlessly fit large leads and in which wire is placed down & secured rather than passed through a wire hole.  This makes it much easier to build intricate coil configurations.  Best of all, the Mini has a build deck that is separate from the e-liquid in the tank.  This allows mess-free access to the deck at any time and without a need to empty the tank's e-liquid.
On the exterior, the tank features two adjustable airflow slots that measure 1.5mm x 10mm and feed into the gold plated 4mm internal airflow to the deck.
Overall, the affordable Serpent Mini seems to deliver what its specs indicate.  For a portable RTA, it is said to produce excellent vapor, amazing flavor and is easily refilled.
Features & Specs
Dimensions: 31mm x 22m
Materials: stainless steel and glass
Gold plated 510 connection pin
Tank capacity: 3ml
Top fill sytem with two large fill ports
Two post single coil build deck
Secure wire with unique three sided horizonal setup
Peek insulator
4mm gold plated internal airflow
Dual adjustable 10mm x 1.5mm exterior/bottom airflow
Access builds without emptying tank
Video Review
Total Views Today: 1 Total Views: 156