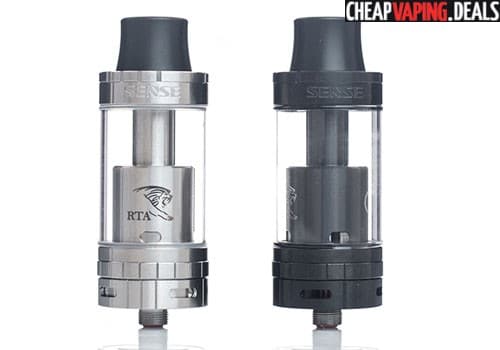 Here's a great deal on the Sense Herakles RTA.
Update: The Sense Herakles RTA Has Been Discontinued – Check  Newer RTA Deals Below
Overview
Sense seems to continuously bring out high quality products and the brand new Herakles RTA is no exception.  This rebuildable tank atomizer is said to be one of the best performing RTAs in its class.  It features a huge tank, an easy build deck and amazing airflow.
The RTA combines durable construction and features a 25mm diameter so it is compatible with virtually every powerful box mod in the marketplace.   There's a copper 510 connection on the bottom to ensure it fits the majority of mods and to improve electrical conductivity.  And, it's built with a PEEK insulator to keep the device cool.  Included with purchase, you also get a 10mm wide bore drip tip which features straight channel airflow to improve vape delivery speed.  Or, you can use your own mouth piece with the 510 drip tip adapter.
The tank capacity for the Herakles RTA is a massive 6ml which eliminates the need for constant refills.  When it is time to add e-liquid, it's been made quite simple with a top fill system.  Simply close the wicking ports to prevent leaking, remove the threaded top cap and add juice.
The Herakles RTA's build deck features a two post set up with two 2.5mm terminals on each post.  The positive post is adjustable but this is recommended for seasoned vapers only.
Airflow is also amazing on this tank. On the build deck, there's four 4.5mm x 3mm airflow holes to produce massive internal intake unrivaled in the marketplace.  On the outside, you will  find four external airflow slots that measure 7mm x 2mm.  The exterior airflow in combination with the build deck's airflow holes allows for the RTA to fire at much higher power ranges than competing devices.
Overall, the Sense Herakles RTA looks like an amazing rebuildable tank.  Airflow is massive, the tank is huge, building is easy  and the device can fire at higher wattage compared to similar RTAs.
Features & Specs.
Diameter: 25mm
Tank capacity: 6ml
Top fill system via large fill holes
Adjustable wick ports to prevent leaking
Two post deck with two 2.5mm terminals each
Rotate positive post
Quadruple internal airflow 4.5mm x 3mm
Quadruple adjustable exterior airflow 7mm x 2mm
Quadruple wicking channels
Peek insulator
10mm threaded wide bore drip tip
510 drip tip adapter
Copper 510 connection pin
Video Review
https://www.youtube.com/watch?v=vA2RPxpZuEE
Total Views Today: 1 Total Views: 40