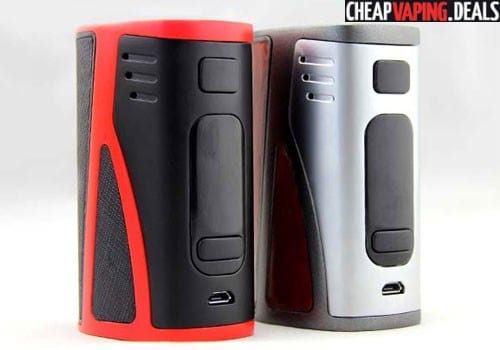 Here's a fantastic price for the Yoko Vape Buster DNA250 Box Mod. 
Update: This Item Is Out Of Stock Everywhere – Check  Similar Evolv DNA Mods Below
Overview
The Buster by Yoko Vape is made with a DNA 250 chip board and packs a whopping 250 watts of output.  It features a leather battery cover, accurate temperature control, amazing customization with Escribe and a design that stands out from the crowd.
The mod utilizes triple 18650 batteries to allow for a total power output of a massive 250W. Batteries can be recharged while stored inside the mod thanks to an on-board charging setup that features fast 2A charging to top off the batteries in no time.  The cells are easily retrieved for external charging by taking off the leather magnetized battery sleeve on the back to expose the battery bay.  It features clearly marked +/- and gold plated contacts for amazing conduction.
The Buster is built is with a DNA 250 chip board which allows it to operate with extreme precision in temperature control in the range of 200°F to 600°F.  Variable temperature functions with atomizers that use stainless steel, titanium or nickel coil heads and have a resistance of 0.10ohm or more.  These specifications result in amazing compatibility with a wide variety of builds or tanks.  Although there are eight firing modes pre-programmed into the device, these are easily modified to your liking by installing Escribe software by Evolv  on your personal computer or mac.
This DNA250 device is also safe to vape with as it is made with low voltage, low resistance, short circuit, high temperature and reverse battery protections.
From a design perspective, the mod looks very modern. It is available in either black with red or silver.  The lines on the Buster look amazing and the form factor is round, further adding to the uniqueness of the mod.  The device is made from zinc alloy and stainless steel and the back & side covers both feature genuine leather for additional comfort and a premium look.
The top of the device is made with a springloaded 510 connection that sports a gold plated pin to minimize voltage drop.  On the control face, you will see a large rectangular fire button with rounded edges, a 0.91 inch OLED screen, two adjustment buttons and a USB port for charging, upgrades and customization.  The OLED and adjustment buttons integrate well with their black background to really make the Yoko Vape Buster stand out.
Features & Specs.
Built with a DNA 250 Chip by Evolv
Measurements: unavailable
Weight: unavailable
Constructed from stainless steel, zinc alloy with leather side and battery cover
Colors: black/red or silver
Threaded/springloaded 510 connection
Gold plated pin for best electrical conduction
0.91″ OLED screen
Magnetic battery cover made of leather
Powered by triple 18650 batteries
Fast micro USB at 2 amps
Balanced charging setup for safety
Micro USB firmware upgrades
Convenient customization via Escribe
Passthrough capable: continue vaping while charging
Temperature control range: 200°F to 600°F or 100°C to 300°C
TC mode functions with SS / Ti / Ni200
Power output range: 1W to 250W
TC modes lowest resistance: 0.10Ω
Power mode lowest resistance: 0.20Ω
Voltage input range: 9V to 12.6V
Voltage output range: 0.5V to 9.3V
Maximum current output: 55 amps
Efficiency: 97 percent
Low resistance
Short circuit protection
Low voltage protection
High temperature protection
Reverse polarity protection
Pictures
Total Views Today: 1 Total Views: 183