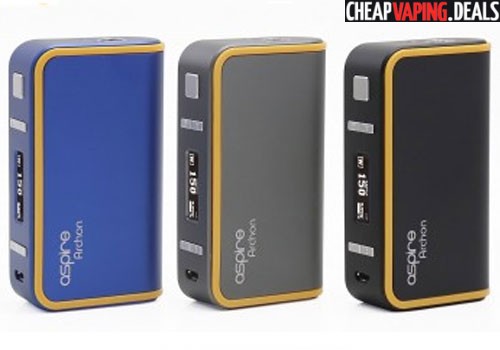 Here's fantastic prices for the  Aspire Archon 150W Box Mod.
Overview
The Archon is a powerful new box mod that features a beautiful ergonomic design,  easiest navigation between modes and is powered by dual 18650 batteries to produce up to 150 watts of power.  You can get one in black, navy grey or navy blue.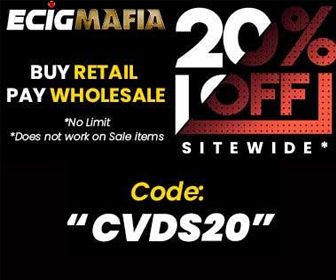 The mod features an aluminum construction and measures 23mm x 88mm x 50mm.  The device was made to fit comfortably in the hand and features curved corners with a beautiful gold trim encompassing the edges.
At the top of the device, there's a spring-loaded 510 connection for convenient atomizer installation. The control face has a large rectangular silver-colored fire button.  Underneath, there's a unique "W" button to easily change the mode between variable voltage, variable wattage, bypass and CFBP modes.  Adjacent, there's a "T" button which allows for conveniently changing coil type in temperature control mode including Ni, Ti, SS and three TCR modes.  The adjustment buttons and USB port can be found on the bottom.  The 0.86″ OLED screen in the middle has all the flexibility you need to know the mod's current statistics.   The logo is also changeable.
The Archon utilizes dual 18650 batteries which can be swapped out by removing the sleeve of the unit.  The USB port allows for on board battery charging and also firmware upgrades.
In addition to the convenience of use, what really sets the mod apart is the Customizable Firing Button Profiles which allow for customization of heat ramp-up levels.  In other words, when firing, you can input a wattage level for a certain time period which then ramps up/down to the set power level. The maximum output power of the Archon is 150 watts and temperature control modes work in the range of 200 to 600 degrees Fahrenheit.  Unfortunately, the lowest atomizer resistance is not available.
Review 
Features & Specifications
Dimensions: 23mm x 88mm x 50mm
Weight: 250g
Made from aluminum
Ergonomic design
Modern look
510 threaded connection bezel
Springloaded center pin
0.86″ OLED screen
W and T buttons for convenient mode changes
Modes: VW/VV/Bypass/Temp-Ti/Temp-Ni/Temp-SS/TCR(M1,M2, M3)
Customizable firing button profiles to change power ramp
Power range: 1W to 150W
Temperature control: 100°C to 315°C or 200°F to 600°F
Uses dual 18650 batteries
Micro-USB charging
Micro-USB firmware upgrades
Gallery
Similar Products
Total Views Today: 1 Total Views: 321