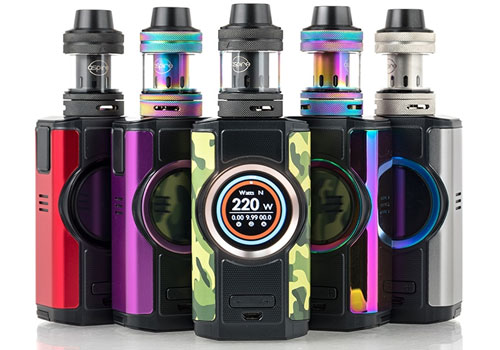 Aspire Dynamo Kit
Here are cheap deals for the Aspire Dynamo Kit 220W With Nepho Tank.  This kit consists of a 220 watt mod and 4ml Nepho Tank. The Aspire Dynamo mod has 220 watts of output, a color screen, a analog watch type menu, works with 21700/20700/21700 cells, features onboard 2 amp lightning fast charging, is built with a wide range of safety protections and can operate in a wide range of modes. The Nepho Tank features a 4ml tank reservoir, easy top fill system via a sliding top cap, triple bottom adjustable airflow and two different coil options (including a mesh coil) with effortless push/pull installation. The retail price for this item is $84.99.
Update: This Item Is Out Of Stock Everywhere – Check  Similar 220W Box Mod  Deals Below
Video
Full Color Display With 11 User Interface Options
The entire Dynamo kit including Nepho Tank measures 137mm x 34mm x 49mm. You may obtain the kit in camo with black, purple, rainbow, red with black and dark grey and a complimentary color on the tank.
The interface on the Dynamo Kit really stands out as it features a big circular display screen that has 11 different watch style interface options. Vape data is displayed in a crystal clear fashion and two adjustment buttons underneath the screen make the menu effortless to navigate. There are a total of five different menus which include an about interface, a system interface, a data interface, a time interface and a mode settings interface. On the mode menu, you will see indicators for current operating mode, current power output or temperature output, current voltage output, total puffs, atomizer resistance just to name a few. For effortless menu navigation, two adjustment buttons are found underneath the screen while an oversized rectangular fire button on the side is easily accessed for effortless operation. At the top, you will see a 510 threaded connection bezel that is compatible with most atomizers in the marketplace.
220 Watts Of Power & Taste Modes
On the technical level, this mod is said to be quite capable with 220 watts of power and a maximum of 600 degrees Fahrenheit in temperature modes. The minimum resistance value has not yet been released, but we imagine it to be quite low since the included tank's coils fire down to 0.15ohm.The Aspire Dynamo Kit can fire in many modes include variable power mode, variable voltage mode, bypass mode, customizable power settings mode for ramp/taste capability (CPS – C1/C2/C3), variable temperature control with titanium, nickel, stainless steel and a TCR mode with the capability to save settings in three memory slots. A wide range of safety features such as overcharge protection, automatic cutoff, short circuit protection, over-discharge protection, overheating protection and reverse polarity protection ensure a safe vape experience.
Powered By Dual 21700/20700 & 18650 Batteries w/ Fast Charging System
Powering the Aspire Dynamo Starter Kit are either 18650, 20700 or 21700 cells (not included). To use 18650 batteries, you need to use the included battery adapter sleeves and using 21700 batteries is recommended as it will result in the longest possible vape times without a recharge. The Dynamo Kit utilizes a 2 amp fast charging system to complete the process very fast. To charge the onboard cells, simply plug the micro USB port into any USB outlet and the screen will indicate the Dynamo is charging via two battery icons that will get greener, a circular outer ring that will rotate a green line and data such as charge level for each battery and a live charging current indicator. Batteries are located in the bay which is accessed via a bottom hinged door.
Nepho Tank Included
The Aspire Dynamo kit also includes the Nepho Tank. It works with two different coil options. The first is a 0.5ohm head that fires in the range of 65 to 75 watts and utilizes a kanthal heating elements. Or you may enjoy the 0.15ohm Mesh coil that is sure to provide exquisite flavor and fast heating. It fires in the range of 60 to 75 watts. Both coil options are going to fire well thanks to four massive wicking ports. Inserting coils is said to be simple thanks to plug style installation. To swap out the head, simply unscrew the base, pull out the used coil and insert a new one. This make the installation process a lot easier and less messy.
The Nepho is made from stainless steel and has a 4ml juice reservoir that is made from Pyrex glass. To add juice to the tank, the top cap slides over and you can squirt juice into the exposed fill port. Airflow on the tank occurs via triple bottom air inlets that are easy to adjust to your liking. Flavor is said to be produced quite adequately, especially since it works in combination with a wide bore delrin drip tip at the top and the massive wicking ports on the coils. This results in what Aspire calls a "breath easy" airflow system that prevents dry hits and results in plenty of flavor, especially with the mesh coil installed.
With purchase of the Aspire Dynamo Kit, you will receive the Dynamo, the Nepho, an extra glass tube, 8 o-rings, two coils, a micro USB charging cable, a warning card, a manual and two 18650 battery adaptors.
Aspire Dynamo Kit Features & Specifications
137mm x 34mm x 49mm
Colors

Dark grey, red/black, rainbow, purple, camo/black
Complimentary tank color

 Aspire Dynamo

Dimensions: 49mm x 34mm x 91mm
Comfortable in the hand
Circular full color TFT screen with watch user interface and 11 themes
5 menus including about, time, system, data, mode
510 threaded connection
Large rectangular fire button
2 x adjustment buttons
Output modes: bypass, VW, VV, CPS(C1/C2/C3), TC (Ni/Ti/SS), TCR (M1/M2/M3)
Power output range: 1W to 220W
Temperature output range:200℉ to 600℉ or 100℃ to 315℃
Resistance range: unknown
Compatible with dual 21700/20700/18650 batteries (not included)

2A charging system for short process

Hinged bottom battery door
Charging interface

Dual battery icons that fill green as charging completes
Charging level of each cell
Total charging time
Charging current
Circular ring on screen edge rotates while charging

Safety protections

Overcharging prevention
Over-discharge prevention
Reverse battery prevention
Overheating prevention
Reverse battery prevention

Nepho Tank

Height: 46mm
Made from stainless steel and glass
Juice capacity: 4ml
Delrin wide bore drip tip
Triple bottom air inlets

"Breath easy" airflow for exquisite flavor

Exquisite flavor output especially with mesh coil
No dry hits

Fully adjustable

Coil system

Plug style mess-free installation
Massive wicking ports for ultimate flavor production
Included: 0.15ohm mesh coil | 60W to 75W

Fast heating
Large heating surface
Exquisite flavor
Large wicking ports

Included: 0.5ohm kanthal coil | 65W to 75W

Aspire Dynamo Kit

Dynamo mod
Nepho Tank
Charging cable
2 x 18650 battery sleeves
Extra glass reservoir
8 x o-rings
Two coils

1 x 0.5ohm kanthal
1 x 0.15ohm mesh
Gallery
Related Aspire Deals
Total Views Today: 1 Total Views: 420