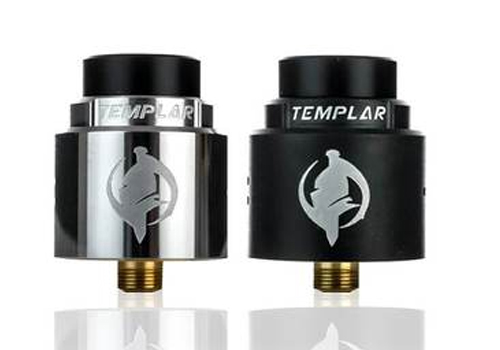 Here are cheap deals for the Augvape Templar BF RDA.
Review
Similar Products
Overview
The Templar RDA features a two post build deck with Velocity clamp snag system for easy building, dual airflow control, an 810 Delrin drip tip and a beautiful design.
This RDA has a 24mm diameter and is available in black or silver. The chuff cap looks to be amazing thanks to its 304 stainless steel construction and a beautiful CNC engraving. Included with purchase, you will get an 8mm drip tip that is made from Delrin material which resists heat. At the bottom of the RDA, you will find a 24 K gold plated BF connection pin for best possible electrical conductivity when used with your favorite squonk mod.
Upon chuff cap removal, you will see a 22mm wide build deck that has a 4mm deep juice well underneath for less frequent dripping. The deck is made with dual posts and features a velocity clamp snag system that uses Phillips head screws to easily secure wire inside the 2.5mm x 1mm wire holes. Peek insulation is used and the deck is also gold plated.
Airflow on the Templar RDA occurs via 3mm x 1mm long air intakes and 2mm x 1mm short intakes. With purchase, you'll also receive a frosted top cap that has a redirected airflow system that measures 3mm x 2mm.
Features & Specifications
Made from stainless steel construction
Diameter: 24mm
24K gold plated build deck

22mm diameter
Velocity Clamp System for effortless coil installation

Triple adjustable side airflow
Bullet shaped frosted cap with smooth airflow
810 Delrin drip tip & 510 drip tip adapter included
Ultem single coil blocker for single coil build
Comes with gold plated squonk pin
Gallery
Total Views Today: 1 Total Views: 157