The S-Body Elfin Box Mod is built with a DNA 40 chipset to achieve 40 watts of power, a wide range of modes including temperature control, replay mode, portability, a display screen, and 18650 battery support. This mod is old, so check out newer box mods instead.
Overview
The Elfin by S-body is the world's smallest DNA 40 box mod.  It has the ability to reach 40 watts of output from an Evolv chipboard which is renowned for producing the most accurate and stable box mods out there.
With measurements of just 65mm x 32mm x 22m, the Elfin is the most portable DNA box mod in the marketplace.  It is constructed from zinc alloy with a unique rubberized finish to make it ergonomic and give it a one-of-a-kind look in three colors.  At the top, there's a springloaded brass/gold 510 connection pin and ventilation holes on the bottom.  Find a stainless steel clicky fire button on the control face and two smaller SS adjustment buttons at the bottom.  In between, a larger DNA OLED screen is identical to what you would find on the latest DNA 200 box mods.  It displays current voltage, mode, battery level, resistance, temperature, and wattage.
The Elfin is powered by one internal 18500 battery with a 1400mAh capacity and takes about 2 hours to charge via the USB port fully.  The battery's capacity should be plenty to power the device at its highest output of 40 watts over an extended period of time. Temperature modes allow for control in the range of 200℉ to 600℉ with Ni200 wire, and the unit can fire all the way down to 0.16ohm in power mode and 0.1ohm in TC modes.  This ensures the mod will work with virtually any build or tank.   Overall, this seems like a nice little DNA device to take with you when you leave the house.  Simply attach a small tank, place it in your pocket, and you're ready!
Features & Specifications
Made from zinc alloy

Measurements: 65mm x 32mm x 22mm
OLED display screen
Evolv DNA 40 chipset
Utilizes a single 18650 battery
Micro-USB charging port

Power range: 1-40W

Output voltage: 1-9V
Output current: 16A
Power mode resistance: 0.16Ω-2.0Ω
Temperature modes resistance: 0.1Ω-1.0Ω

Temperature control range:  200-600℉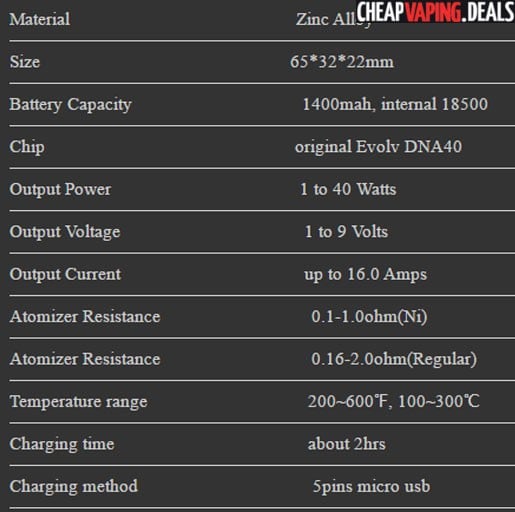 Total Views Today: 1 Total Views: 167