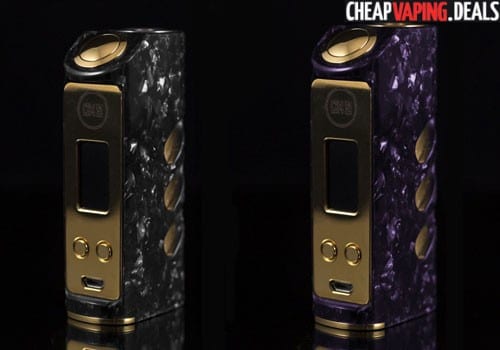 Overview
The CKS X Asomodus Stride is an amazing box mod with a pleasing design and premium materials.  It features temperature control with all coil types, an OLED with the ability to change the background/ font color and up to 80 watts of output.
With a black or purple marbled finish, the mod is eye candy at a low price. The control faceplate, fire button, adjustment buttons, bottom battery plate and three large cutouts located on both sides are all gold plated for a premium look that you may find in mods that cost over $200. Purchasing this mod is sure to turn heads when you take it out of the house!
At the top of the unit, there's a 510 connection bezel with a spring-loaded center pin that can easily handle atomizers up to 25mm wide.  Adjacent the bezel, you'll see the large gold-plated firing button that is slanted for easy operation and ergonomics.
An LCD display on the control face shows all the info about the mod including current mode, puffs, temperature, resistance and more.  Both the font and the background color can be changed to either red, green or blue.
The CKS X Asmodus Stride Box Mod also has different modes with which to fire atomizers such as power mode, soft mode, bypass mode and three temperature modes (nickel, titanium, stainless steel).  The lowest resistance is 0.1ohm in both power and temperature mode, while the maximum power output in variable wattage mode is 80 watts.  The mod is also said to have a conversion efficiency of 93%.
The device utilizes a single 18650 battery that is bottom loaded by opening the gold-plated battery panel that is controlled with an easy ball bearing.  The installed cell can be topped off while inside the Stride via the USB port for convenience.
Video Review
Features & Specs
Diameter: 25mm
Beautifully made premium mod that is affordable
Marbelized finish
Black or purple
Gold colored firing button, faceplate, adjustment buttons, battery door & slits
Utilizes single 18650 cell
Easy bottom battery door with ball bearing
Micro USB charging
510 threaded connection
Springloaded/gold plated center pin for conduction and flush installs
Modes: Bypass/Power/Soft/TC Ti/TC Ni/TC SS
Atomizer resistance range TC modes: 0.1Ω to 0.5Ω
Atomizer resistance range bypass/power  modes: 0.1Ω to 0.5Ω
Continuous output current: 15A to 20A
Battery input voltage range: 3.3V to 4.2V
93% conversion efficiency
Bright screen/shutdown current: 0.3mA
Pictures
Total Views Today: 1 Total Views: 202