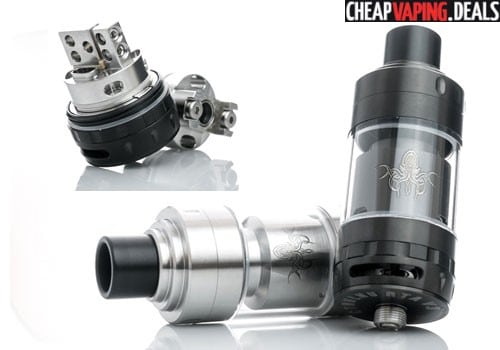 Update: The Cthulhu V3 RTA Has Been Discontinued – Check  Newer RTA Deals Below
Overview
The Cthulhu V3 is the next generation device in the Cthulhu series of  rebuildable tank atomizers. Compared to the V2, it has been completely redone with a larger dimensions, two interchangeable decks and giant 3mm wire terminals.
The V3 is made from 304 stainless steel & glass, has an increased diameter of 26mm and an e-liquid capacity of 5ml.  The tank is easily refilled with a simple top fill system.  Unlike many similar RTAs, the deck and tank are separated to allow for easy building without emptying the tank.  Inside the device, you'll also find four wicking ports to ensure proper juice flow when vaping.  Included with purchase, you'll get an 8mm bore drip tip and a drip tip adapter to attach any 510 mouthpiece.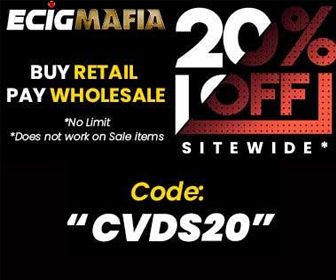 The RTA has a huge 19.8mm diameter swappable build deck system that was made specifically to produce amazing vapor clouds.  There's two interchangeable decks that are included with the device.  The first one features a dual post setup with two wire terminals each that measure a gigantic 3mm across and should be used for dual coil setups.  You'll also receive another dual post build deck that utilizes durable allen keyed M3.5 round heads, has a 6mm diameter airhole and was made specifically for single coil builds.   Both decks are easily exchanged and use PEEK insulation to resist heat and durability.
The Cthulhu V3 also has amazing adjustable airflow control with two 15mm x 2.5mm  air slots directing air intake directly to the deck. 
Video
Features
Diameter: 26mm
Made from 304 stainless steel and glass
Amazing machining
Cthulhu Engraving
Tank capacity: 5ml
Easy top fill
Independent tank and deck for mess free rebuilding
Juice flow wicking ports
Two build decks included
Deck 1: 19.8mm diameter, dual post, 3mm wire holes, 3mm center airflow
Deck 2: Dual post allen keyed M3.5 round heads for single coil build, 6mm diameter airhole
Peek insulation
Dual adjustable airflow control slots 15mm x 2.5mm
8mm Delrin drip tip
510 drip tip adapter
Total Views Today: 1 Total Views: 169