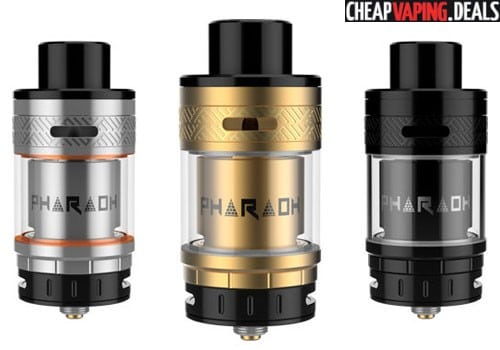 Check out these deals on the Digiflavor Pharaoh RTA. 
Update: This Item Is Discontinued So Check Out SimilarDeals Below
Overview
The RTA version of the Pharaoh is here!  The Digiflavor Pharaoh RTA by Rip Trippers features a wide range of decks, a brand new ingenious tank design, bottom and top-angled airflow, a dome-like top chamber & shorter shaft for improved flavors.
The Pharaoh RTA's size is 25mm x 46mm.  It is made from stainless steel and a Pyrex glass tank that can hold up to 4.6ml of e-juice with the included tank expansion tube.  You can get the RTA in all black, black/gold or black/silver.
Airflow is state-of-the art with control of airflow that is changeable at both the top and bottom. Dual adjustable top air intake slots measure 3mm across and are angled in a downward direction to prevent condensation & noise.  The top airflow's channels direct air from the top cap to the specially designed chamber to increase airflow and, in combination with the unique short shaft, improves vape flavor.  Both top and bottom air slots are freely adjustable.  For best flavor, use only the bottom air intakes and for bigger vapor production, both the top & bottom airflow should be opened.
There's four interchangeable decks available for the Pharaoh RTA.  All look to be dual post deck with either 1 or 2 wire terminals per post and differently configured single or dual internal air holes under the deck.  The decks easily screw into the base for fast swapping.
In addition to the Digiflavor Pharaoh RTA, you'll receive the expansion tube, a spare glass tube, an allen key, spare parts and a drip tip adapter.
Pharaoh RTA Review
Pharaoh RTA Features & Specs
Dimensions: 25mm x 46mm
Stainless steel shell with Pyrex glass tank
Colors: gold/black, silver/black, all black
Included: extension tube for 4.6ml e-juice capacity
Designed by Rip Trippers
Innovative tank design
Wide range of dual post decks available
Easily screw into base
3mm adjustable dual adjustable top airflow
Prevents noise and condensation
Dual bottom adjustable airflow
Bottom airflow only for flavor / Top & bottom airflow for vapor production
Short shaft & unique domical top chamber for improved vape taste
 Pharaoh RTA Pictures
Total Views Today: 1 Total Views: 238