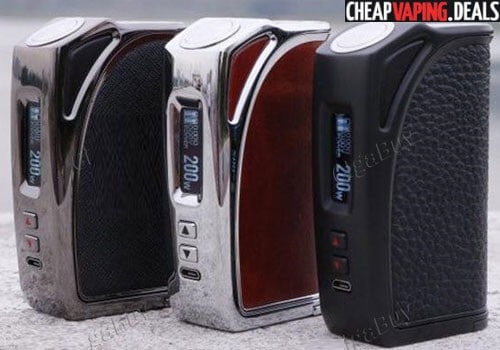 Update: The
ThinkVape MKL200 200W Box Mod
Has Been Discontinued – Check  Newer 200W Box Mod  Deals Below
Or
All Mod/Kit Deals
Overview
The MKL200 is the newest box mod from ThinkVape.  It features a 0.91″ display,  a full set of temperature modes, a maximum 200 watts of output and supports fast 2 amp charging.
The mod is available in black, brown and elephant black and is built from zinc alloy with leather and carbon fiber.  The dimensions come in at  87mm x 54mm x 27mm and the device weighs 145g, so it is portable and lightweight.  The large fire button is located at the top and is angled down for effortless firing.  Adjacent, there's a 510 connection bezel that is springloaded for level build or tank installation.  On the control face, you will find a 0.91″ OLED display with a horizontal menu.  The menu conveniently incorporates vape data such as current power/temperature output, two battery bars, current voltage, current atomizer resistance, current mode and more.
At the bottom of the control face, you will see the micro USB port that is utilized for charging the dual 18650 batteries that power the MKL200 box mod.  The process can take place at 2 amps of current, so the cells will achieve full charge very quickly. While it is not listed in the specs, this mod is bound to have easy access to the cells for external charging.
The mod can fire with a low resistance of 0.1ohm for maximum atomizer compatibility.  Moreover, the maximum power output is a whopping 200 watts, the highest temperature output is 600 degrees Fahrenheit and is compatible with nickel, titanium and stainless steel coils.  The MKL200 by Thinkvape is also built with multiple protections that include low voltage protection, short circuit protection, overheat protection and reverse polarity protection.
Features & Specs
Dimensions: 87mm x 54mm x 27mm
Weight: 145g
Constructed from zinc alloy, carbon fiber, leather
Colors: elephant black, black, brown
Portable
Ergonomic oversized fire button
Two rectangular adjustment buttons
0.91″ OLED with horizontal vape data
Springloaded 510 connection
Fast 2 A USB charging
Powered by dual 18650 cells
Power mode range: 5W to 200W
Input voltage range: 6.4V to 8.4V
Output voltage range: 0.1V to 7.5V
Input current: 0.5A to 30A
Temperature control range:  212° to 662°F or 100° to 300°C
TC mode compatibility: with nickel and titanium coils
Resistance range: 0.1Ω – 3.0Ω
Low voltage protection
Over temperature protection
Reverse battery protection
Total Views Today: 1 Total Views: 76