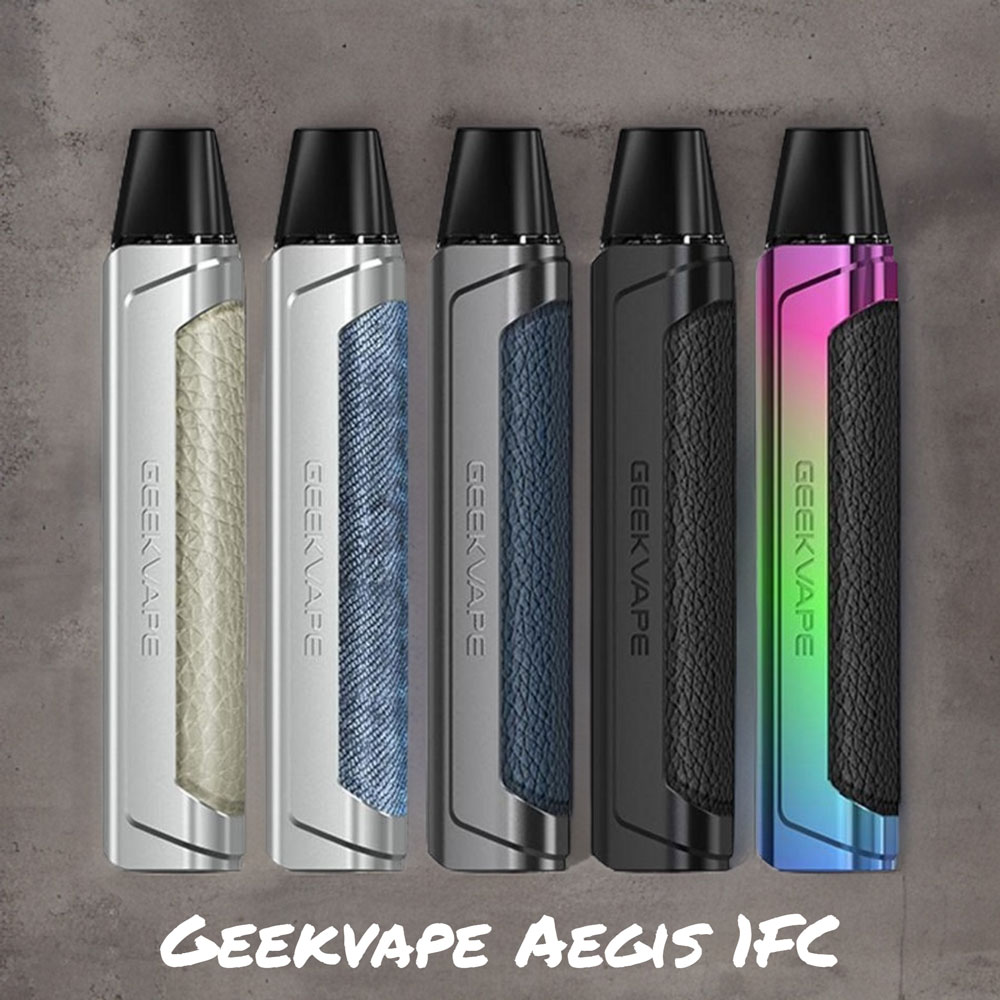 Here are cheap deals to purchase the Geekvape Aegis 1FC Kit.  This pod system is almost identical to the Aegis One, but has an optional fast-charging adapter that can complete charging in less than 15 minutes.  Additionally, this setup features kit features a slightly less capable 550mAh battery, USB-C 2amp charging, a compact/shock-resistant design, mouth-to-lung style vaping, a battery light to monitor the three power settings, 2ml cartridges, incredible airflow, and easy refills.
Deals
Overview
The Aegis 1FC is unique in that it is one of the first devices in the Aegis line of Geekvape products that features a fast-charging system, but the adapter to do so is not included.  But, the pod kit does have a USB-C charging port that should complete the process quite fast as well.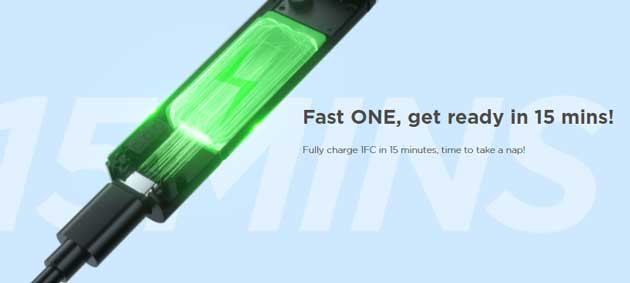 Another important aspect of the 1FC is that it is the first Geekvape pod kit that features the familiar Aegis design thanks to a durable zinc alloy shell.  This means it also has the popular shock and scratch resistance properties of other Aegis kits but is missing the waterproof capability.  Taking the pod system into wet or dusty environments is not advisable.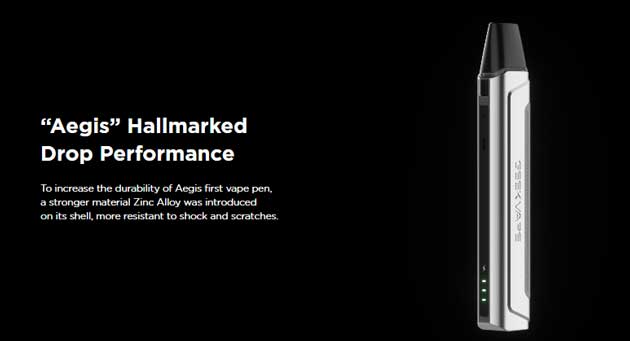 If you are looking for versatility, the Aegis 1FC  does not disappoint.  This small setup has three power modes, changeable by pressing the fire button three times.  Battery status can be confirmed by way of three LED lights.  A green light means battery output is set at 3.5 volts, blue indicates 3.3 volts, and red means the 1FC operates at 3.1 volts.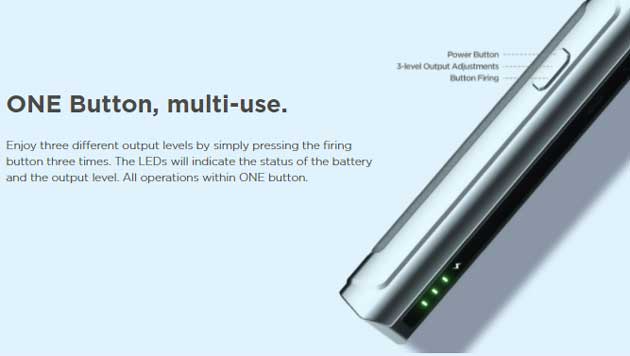 A pod can be found in the package that has a 2ml juice reservoir and two top-fill ports that are easily accessible.  The process of adding e-juice is mess-free, and the cartridge will never leak during use.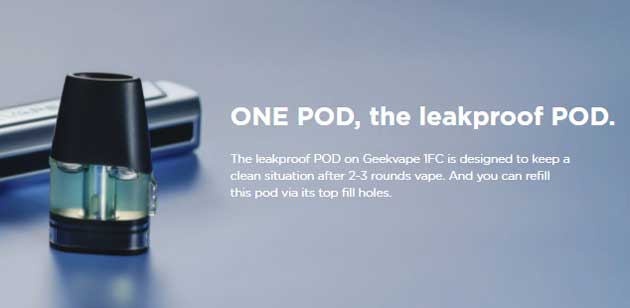 Airflow on the Geekvape Aegis 1FC Kit features mouth-to-lung vaping with strong throat hit.  And you may take puffs via a draw-activated system or by pressing the power button, whichever way you prefer.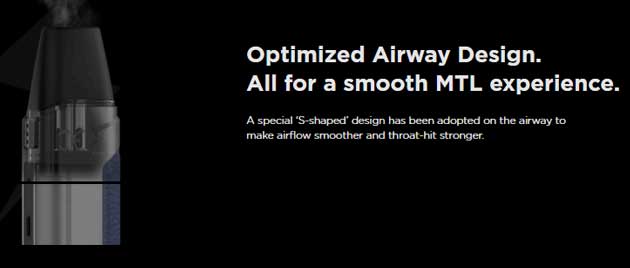 The coils should also perform quite well.  You'll find a pre-installed 0.8ohm head in the box that works from 12 to 16 watts. Or, you may prefer the included 8 to 12-watt/1.2ohm coil. Both are ideal for mouth-to-lung vaping with high nicotine e-liquids or nic salts.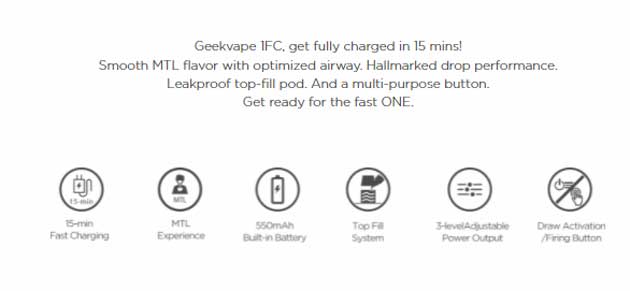 Features & Specifications
Small pod kit
First fast-charging pod kit in the marketplace
Colors: black, rainbow, gunmetal, blue/silver, silver
550mAh internal battery
15-minute charging time with adapter (not included)
Output current: 5A max
Output voltage: 3.7V max
Battery LED
Three power settings
Puff-activated or button firing
2ml cartridge
Top refill system
Coils

0.8ohm | 12W to 16W (pre-installed)
1.2ohm | 8W to 12W
Nic salt compatible

U-shaped  airflow system

Incredible throat hit
Huge, smooth vapor production

Package
Geekvape 1FC Battery
Geekvape Cartridge 2ml
Type-C  cable
Pre-installed coil: 0.8Ω 12~16W
Spare coil: 1.2Ω 8~12W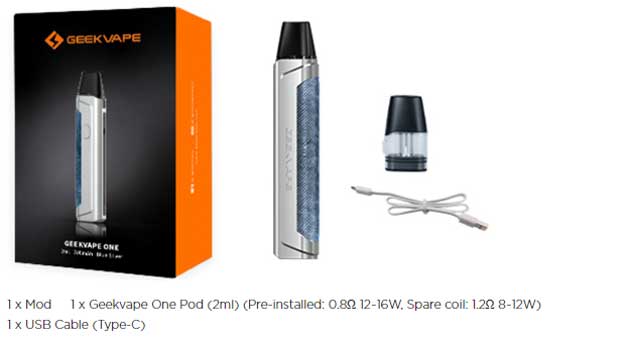 Total Views Today: 1 Total Views: 1,118