Here are cheap deals to purchase the Geekvape Aegis X Box Mod or Aegis X Kit, the next generation in the long line of Geekvape Aegis series of devices.  The box mod is shockproof, waterproof, and dustproof. And it features a brand new design, a 2.4-inch full-color display screen, a powerful AS2.0 chipset, fast-firing response, stable operation, full temperature control, dual 18650 batteries, several taste modes, first-grade safety features, fast micro USB charging, firmware upgrades. If you buy the kit, receive the Cerberus Tank with a 5.5mL juice capacity, 2 super mesh coils, easy refills, and bottom adjustable airflow control. If you like squonking, it may be a good idea to check out the brand-new Geekvape Aegis Squonk. This mod or kit is for sale in silver, black, gunmetal camo, green/black, gold/black, red/black, rainbow/black, and signature orange.
Deals
Aegis X Box Mod
The new Geekvape Aegis X looks somewhat different from its influential predecessors, such as the Geekvape Aegis Legend, the Aegis, and the Aegis Legend Limited Edition.  This is mainly due to a brand new shape, newly placed button positions, and the updated user interface.  The available colors for the mod and kit are stealth black, gunmetal/camo, classic silver, gold/black, green/black, rainbow/black, red/black, and signature orange.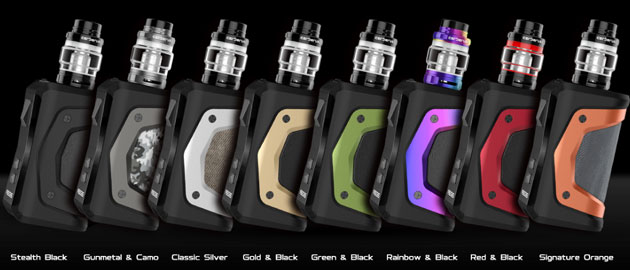 At the top, notice a 510 connection bezel and a micro USB port to charge the dual 18650 batteries that power the device. On the side is a trigger-style firing button and two adjustment buttons designed to be ergonomic and easy to operate. At the bottom, a hinged battery cover and some ventilation holes ensure the mod stays cool. The kit includes the Cerberus tank or Z Sub-Ohm Tank with a drip tip, top cap, chamber, silicone glass section, mesh coil, and base with airflow control.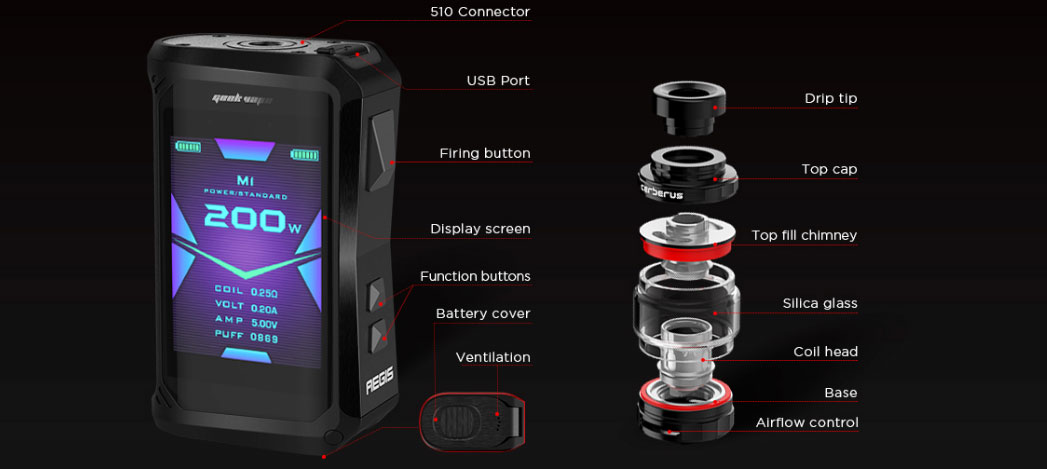 A 510 connector at the top is perfectly molded into the chassis for an amazing appearance and durability.  The buttons on the control face are also updated to be optimal, permitting the effortless single-hand operation.

Six different materials went into the manufacturing of the Aegis X. The bezel is constructed from stainless steel, the body is from durable zinc alloy, the grip uses leather material, the metal bands that surround the grip are made from die-cast aluminum, the fire adjustment buttons use die-cast zinc alloy, and the battery door is made with 40 HRC carbon steel. This means the device is durable and results in an amazing user experience.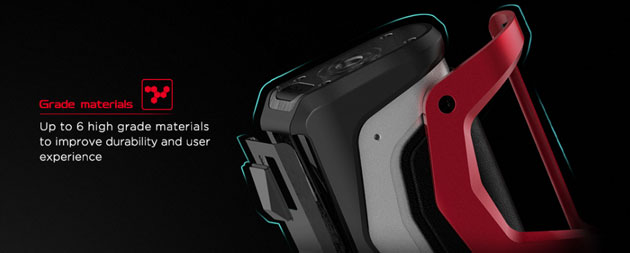 One of the complaints about the previous Aegis box mods was that the display screen looked dull and small. The new mod fixes this problem with an integrated 2.4-inch full-color display that is vivid and can be customized to your favorite color. Change the theme's color to red, green, blue, yellow, or orange. The interface is also completely different and looks quite pleasing to the eye.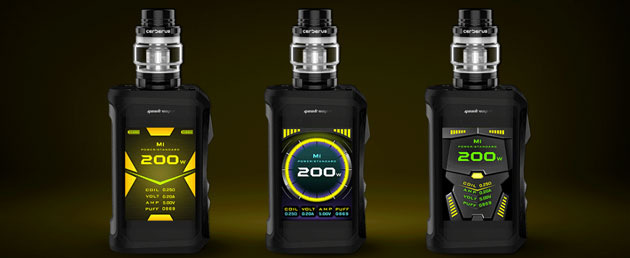 The Geekvape Aegis X has an IP67 waterproof design which signifies it can be immersed in 1 meter of water for as long as 30 minutes.

This setup is also dustproof to withstand dirty situations. An added benefit is that it is safer and easier to clean or maintain.

If you accidentally drop the device, there is no need to worry because it is shockproof.

Built with the latest AS 2 chipset, the mod has a faster firing response and more stable operation. The device supports precise temperature control with nickel, titanium, and constant power output in variable wattage mode. And there is a mechanical mode and a TCR mode with four memory slots in which you may save your favorite settings.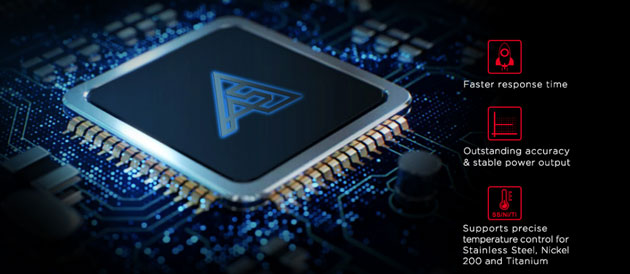 Powered by dual 18650 cells, they are accessed at the bottom of the mod via a hinged battery panel with clearly marked polarities. In power mode, new taste modes also allow for a more personalized vape experience. You may choose a powerful, standard, or soft output setting.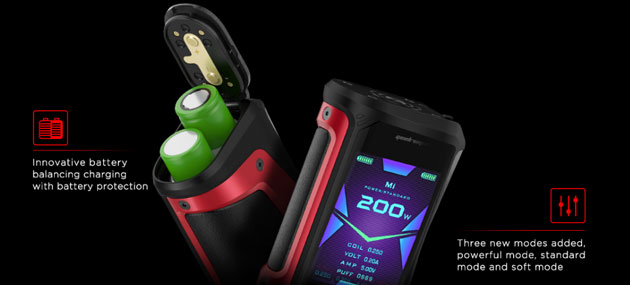 The micro USB port is moved to the top and has two different functions. The waterproof shell of the port is made from steel and will recharge the batteries in a safe, balanced way with up to 2 amps of current to finish the process superfast. The USB interface is also used for future firmware upgrades when Geekvape releases a new operating system.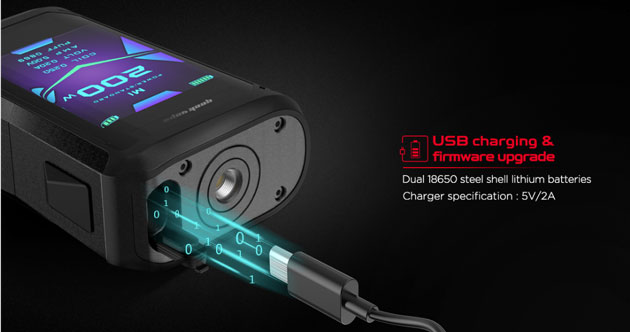 Parameters
If you purchase the kit, it measures 41.2mm x 128.9mm x 31.5mm. It can fire up to 200 watts or 600 degrees Fahrenheit in temperature mode down to a 0.05ohm resistance. The settings are temperature control with SS, Ni200 or Ti, TCR, VPC, mechanical, and power modes.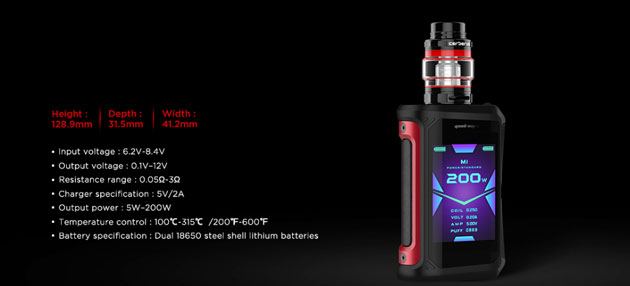 Safety Features
With this new mod, there are six different ways that you will enjoy a worry-free vape experience. These are 10-second cutoff protection, short circuit protection, overcharging/over-discharging protection, overheat protection, over-current protection, and anti-dry protection in temperature control mode.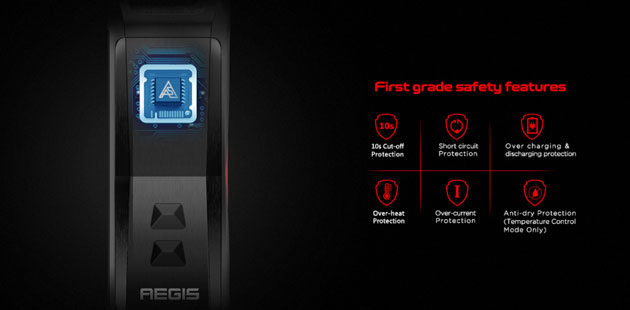 Aegis X Kit w/ Cerberus Mesh Tank
The Geekvape Aegis X Kit includes the Cerberus Tank, which matches the mod's color. The central characteristic of this atomizer is that it utilizes mesh coils which are famous because they heat up very fast for exceptional vapor generation with impeccable taste. With purchase, you will get the super mesh X1 head with 0.2ohm heating elements and the ability to fire from 30 to 45 watts. It is best used between 30 and 40 watts. As an added benefit, the Cerberus also operates with TFV8 Baby coils.
The Cerberus Tank can store up to 5.5ml of e-liquid inside the bulb Silica glass tube. An effortless top-fill system permits easy refills via a large fill port. At the bottom, dual adjustable airflow slots can be set from wide open to completely closed.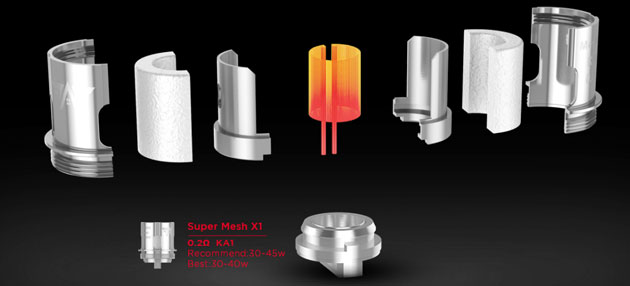 In The Box (Standard Edition)
With the purchase of the kit, you will get the mod, a Cerberus tank, a pre-installed Super Mesh X1 coil, an extra Super Mesh X1 coil, a micro USB charging cable, spare parts, a manual, and a spare standard 4mL  glass tube.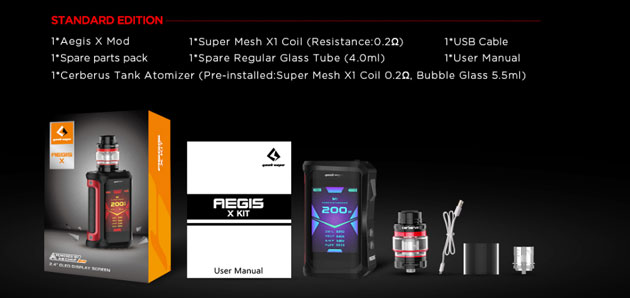 Features & Specifications
Aegis X Box Mod
Dimensions: 90.0mm x 31.3mm x 56.1mm
Colors: stealth black, gunmetal/camo, classic silver, gold/black, green/black, rainbow/black, red/black and signature orange
6 durable construction materials

Zinc alloy buttons
Die-casting aluminum lines
40hrc carbon steel bottom door
LSR silicone surface
Leather grips
Unibody-designed 510 SS bezel

Dustproof (IP67)

Withstands dirt and grime
Easy maintenance

Waterproof (IP67)

Can be submerged in 1m of water for up to 30 minutes

Shock resistant (MIL-STD 810G-516.6 military-grade)

Accidental falls are no problem

Newly designed 2.4″ color display screen

More vivid design
Set to colors: blue, red, green, yellow, orange
Vertical orientation UI
Easily viewed

Uses two 18650 batteries

Fast 2A/5V charging system
Micro USB balanced charging
Bottom-hinged battery panel

Firmware upgrades via USB
New AS 2.0 chipset

More steady operation
Stable power and temperature modes
New taste modes: normal, soft, hard
Operating temperature: -40℃ to 80℃
Output modes: Power/ VPC/TC (Ni, Ti, SS)/TCR/Bypass
4 memory slots
Power output range: 5W to 200W
Atomizer resistance range: 0.05Ω to 3.0Ω
Temperature Range: 200℉ to 600℉ | 100℃ to 315℃
Standby Current:<10uA
Aegis X Cerberus Kit (Tank Info)
Measurements: 46.8mm x 27mm
Made from stainless steel with silica glass tube
Easy cleaning/maintenance
510 threaded connection
5.5ml bulb juice reservoir

Top fill setup
4ml standard glass included

Dual adjustable bottom airflow slots
12mm Delrin drip tip
Super Mesh X1 Coil 0.2ohm KA1

Range: 30W To 45W
Best at 30W to 40W
Larger heating surface
Fast even heating
Exceptional vapor and taste
Compatible with TFV8 Baby coils
Aegis X Zeus Kit (Tank Info)
Measurements: 26mm x 42.5mm
Constructed from stainless steel and pyrex
Disassemble for maintenance
5.0ml bulb-style tank

An updated top-fill system with new slot
3.5ml tank included

Top adjustable airflow control
Top-to-bottom internal airflow for massive flavor
810 drip tip
Mesh coils

Sliding coils for mess-free installation
Large surface
Fast heating
Intense vapor/flavor
Pre-Installed: Mesh Z2 | 0.2Ω | 70W to 80W
Included: Mesh Z1 | 0.4Ω | 60W to 70W
Total Views Today: 2 Total Views: 32,672