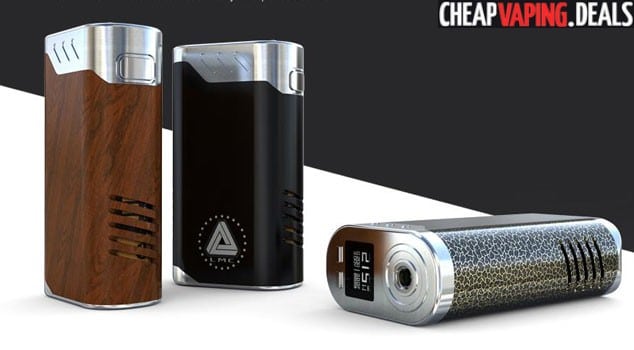 Here's some awesome deals on the iJoy Limitless Lux Box Mod.  This premium mod used to retail for $90 or more! The $60 US store price with expensive batteries included is a steal!
Overview
The iJOY Limitless LUX is powered by two 26650 batteries and can generate up to 215W of power.  It also features accurate temperature control and interchangeable sleeves with different designs.
The mod measures 101.8mm x 57.9mm x 31mm and features interchangeable sleeves.   At this time, the mod is only available with the black sleeve, but you'll be able to buy alternate ones very soon.  The design is said to be durable and ergonomic, so it will fit comfortably in the hand.
At the top of the unit, there's a 510 threaded connection pin with stainless steel threads for durability and best adaptibility with many atomizers.  The adjustment buttons and 0.66 inch OLED is also located at the top, for easy operation and simple access to the mod's information.  The screen displays wattage/temperature, resistance , voltage, mode and battery level.  The menu can also be flipped 180 degrees for left handed use.  The fire button is on the side of the device and is larger than most similar mods.  Opposite the fire button, there's a USB port that can be used for future firmware upgrades.  Unfortunately, the port can not be used for charging the batteries.
To put out its maximum 215W of power with superior battery life, the Limitless Lux utilizes dual 26650 batteries which are located inside an integrated magnetic battery sleeve for easy battery swapping.  Simply lift the mod from the sleeve and put in fully charged cells.  In the future, iJoy will bring out new sleeves, so you can give your device a fresh look.  You can also power the device with 18650 batteries, but that will result in a limited battery life.
The device is built with an IWEPAL chip which allows for  a power efficiency of 95 percent, 215W of power output and temperature control with nickel, titanium and stainless steel coil heads. The temperature can be controlled from 300°F to 600°F and the lowest atomizer resistance is just 0.06Ω.  With these specs, this mod is bound to be compatible with virtually any atty you throw at it.
To make sure the Lux is always safe to use, many protections and warnings are built into the unit.  These include temperature warning, resistance warning, input/output voltage warning, short circuit protection, reverse polarity protection, over-charge/discharge protection, over current protection and  PTC protective circuits.
Video
Features & Specs.
Dimensions: 4.0″ x 2.27″ x 1.2″ or 101.8mm x 57.9mm x 31mm
Swappable sleeves for new look
0.66 inch OLED
Large fire button
510 stainless steel threaded connection
Spring loaded center pin
Battery ventilation
Powered by dual 18650 batteries for long life
Easy battery swapping
USB upgrade port
Utilizes an IWEPAL chip
95% power efficient
Power range: 5W to 215 W
Output voltage: 0.5V to 8V
Output current: 1.0A to 36A
Power mode resistance range: 0.06Ω to 3.0Ω
Temperature range: 300°F to 600°F or 150°C to 315°C
Easy menu operation
Wide range of safety features
Pictures