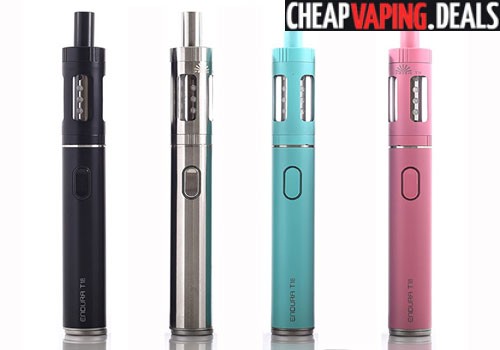 Update: The Innokin Endura T18 Kit Has Been Discontinued – Check  Newer Tube Mod & Kit Deals
Or
All Mod/Kit Deals
Here's an awesome deal that was just posted on the  Innokin Endura T18 Kit.  This kit is the beginner vaper's dream device!
Review
Compact Setup For Beginners
The Innokin Endura T18 starter kit is the perfect starter package for the beginner vaper because it's a simple device that also simulates smoking quite well.  Therefore, it is ideal for those people who really would like to switch from less-healthy cigarettes and try out vaping. You see, the T18 kit won't produce massive vapor clouds like other sub-ohm tanks, and instead produces a direct-to-lung vape experience that is satisfying, especially if used with higher nicotine e-liquids.  Best of all, the Innokin Endura T18 features durable materials, is affordable, and has compact dimensions for easy carrying.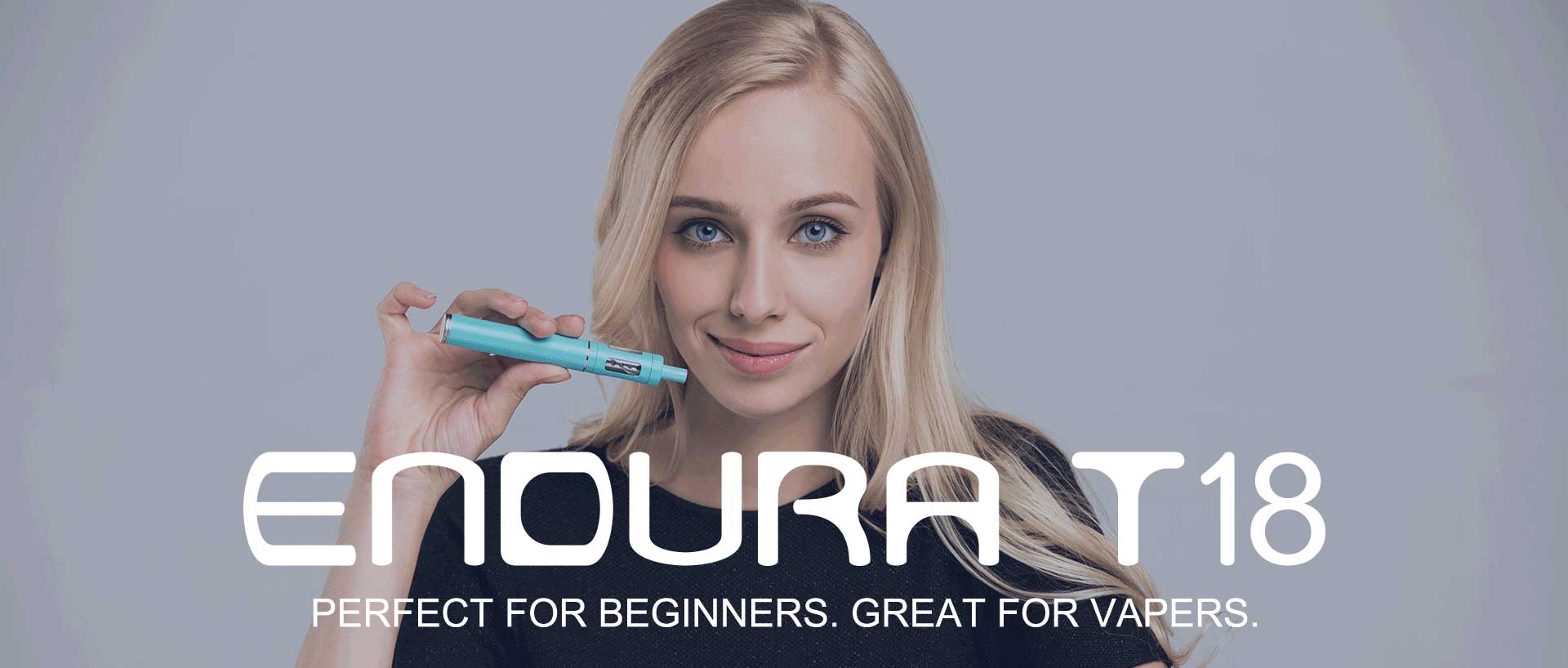 MTL Coil & Easy Refills
With 1.5ohm replaceable coils, the T18 kit produces excellent flavorful vapor and may be used with higher nicotine e-liquids such as nicotine salt based ones.  Each coil utilizes Japanese organic cotton which is known to be both healthy and thoroughly saturate the coil's head for flavor.  Moreover, the tank that sits on top of the Endura T18 battery can hold 2.5mL of e-juice and the top cap comes off to expose a giant juice port for effortless refills.  The combination of the tank's size, the replaceable MTL coils, and the easy top-fill design creates an ideal vape experience, every time.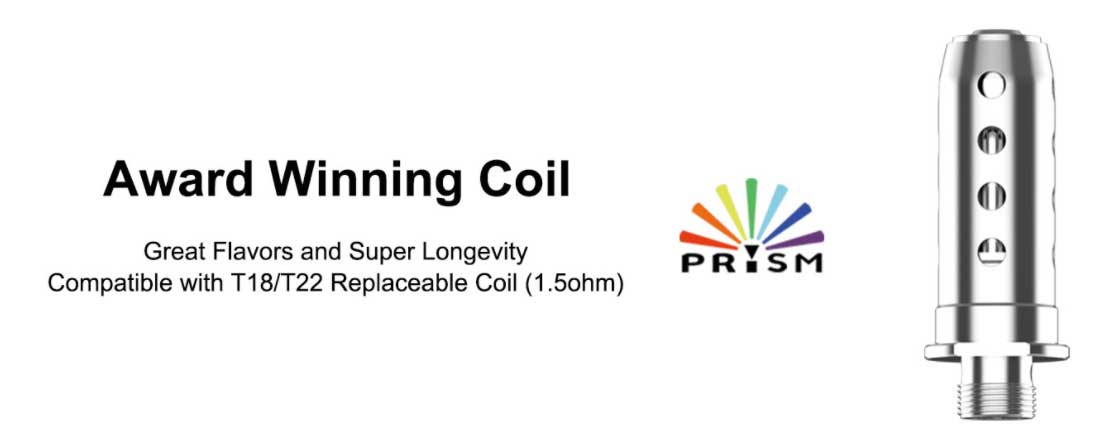 Long-Lasting Battery
Built with a 1000mAh integrated battery, the Endura T18 Kit will last all day on a single charge.  And, charging is convenient as it occurs via Micro USB port hidden behind an easy swivel cap with the cable that you can find in the package.  Perhaps the best aspect of the Innokin Endura T18 is the fact that it has a passthrough charging system which means that you may charge it and vape at the same time.  Finally, advanced safety protections guard against overcharging, over-discharging, and overheating for an overall reliable vape experience.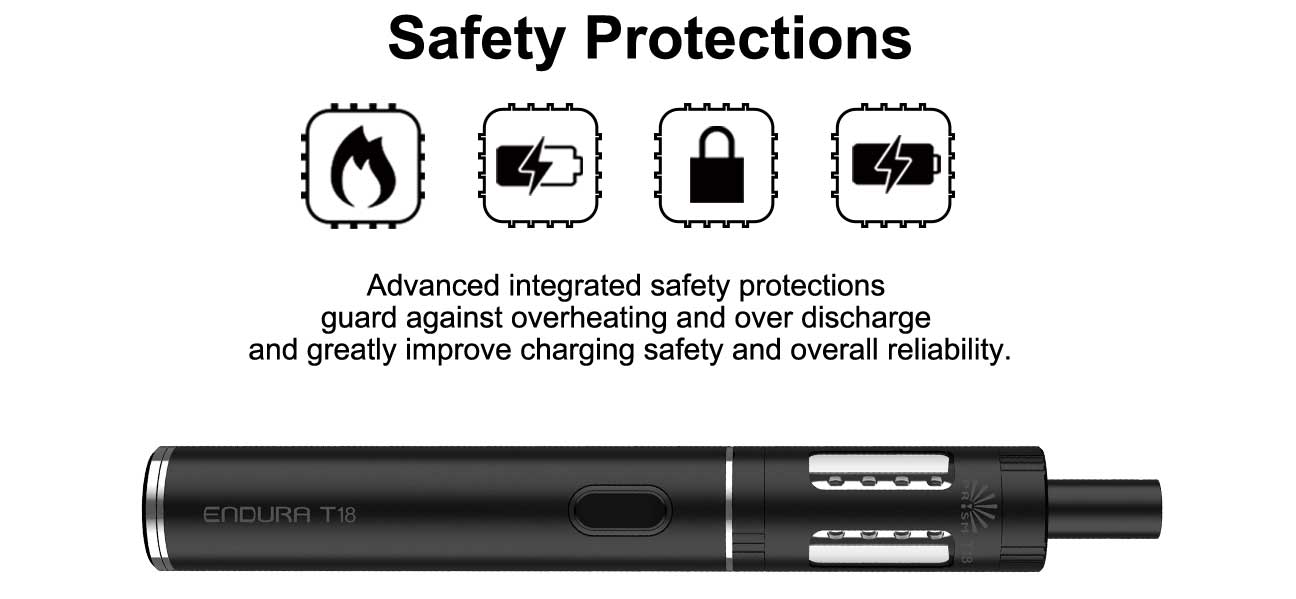 Innokin Endura T18 Features & Specifications
Rewarding vape for ex-smokers
Made of stainless steel
Pyrex glass tank
2.5ml tank capacity
510 connector
18mm Diameter
1000 mAh High-Efficiency Integrated Battery
Regulated power output: 14W
Easy fire button
Power button LED light
Integrated Prism technology
Doesn't guzzle vape juice
Top-fill system
Micro USB charging
Vape while charging
Easy access swivel USB door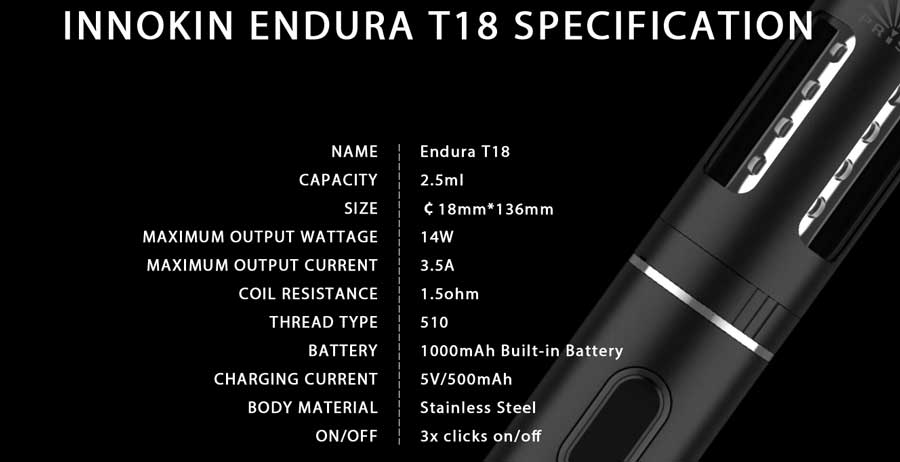 In The Box
The kit is available in black, blue, pink, or silver.  In addition to the Endura T18 & tank, you will also receive a micro USB charging cable, a spare coil, a few o-rings, a user manual, a drip tip, a stand and some Innokin stickers.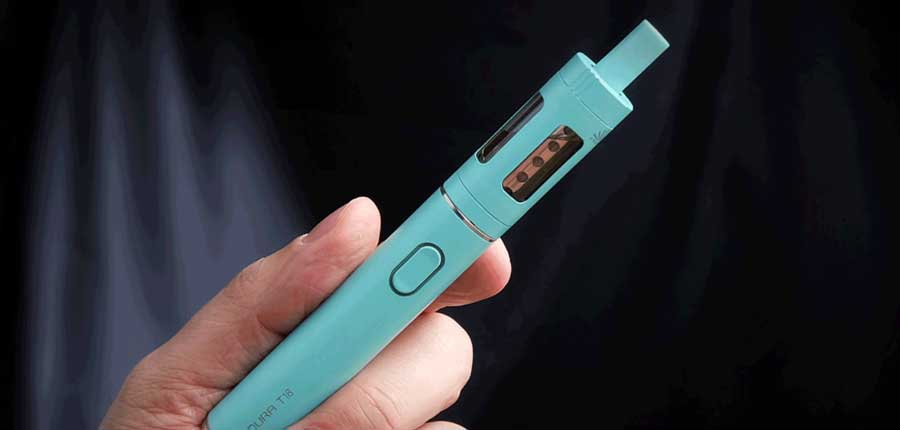 Total Views Today: 1 Total Views: 639