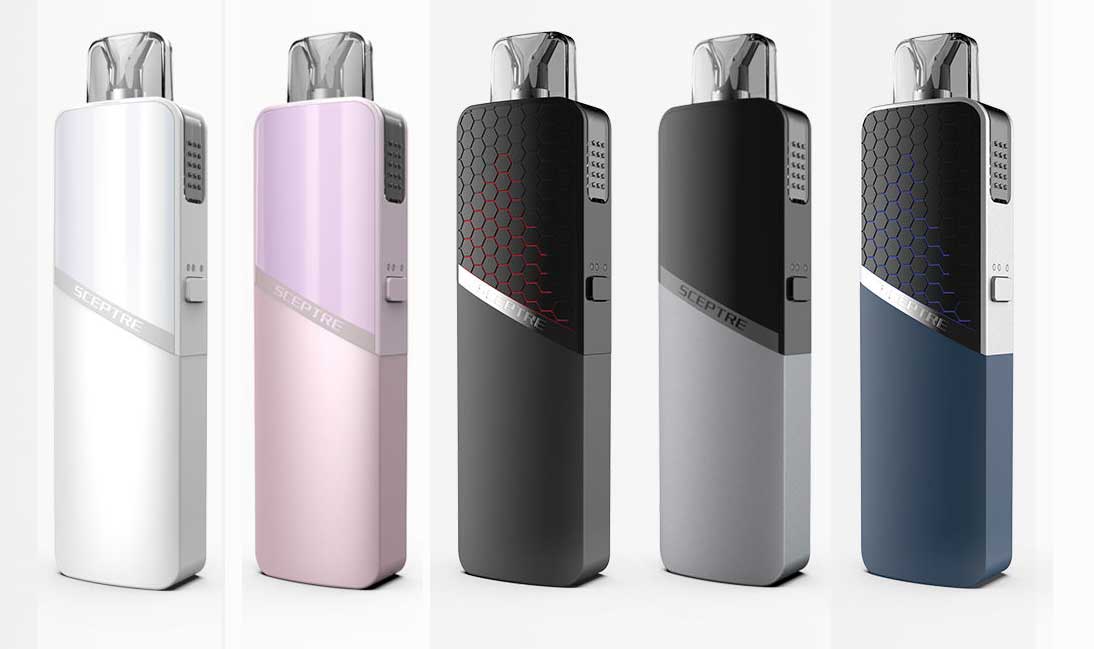 Innokin Sceptre Kit: 1400mAh RDL or MTL  Pod Kit
Here's are cheap deals to buy the Innokin Sceptre Kit.  This new vape system features a small size, an internal 1400mAh battery, a battery LED, 3mL capacity cartridges, a side-fill system, an RDL coil, an MTL coil, adjustable airflow and a micro USB charging system.  The Sceptre Pod Kit is for sale in white, grey, black, pink, and blue.  As of September 2020, Innokin is FDA PMTA compliant, so this pod system is available to buy in the USA.
Review
Restricted Direct-To-Lung or Mouth-To-Lung Style Vaping
Before we get into the design, the battery specs and power capabilities of the Innokin Sceptre,the most attractive aspect we should mention is the different vaping experiences you can get from this pod system. You see, the package comes with a Sceptre 1.2ohm MTL coil which has a very tight draw whenever you take a puff for a satisfying, cigarette-like draw which really brings out the flavor of your nic salt or other high nic vape juice.  Or, you may prefer the included Sceptre 0.5ohm RDL coil that expands airflow delivery for a very flavorful direct-to-lung puff. This setting will also conserve the battery's life and bring even taste with each hit.  Of note is also that airflow is adjustable on the 1.2ohm nic salt coil and that replacing the coil is a fairly easy process.  Innokin has a reminder on their site that you should always ensure a coil is fully tightened and check to see if the LED on the Sceptre mod blinks.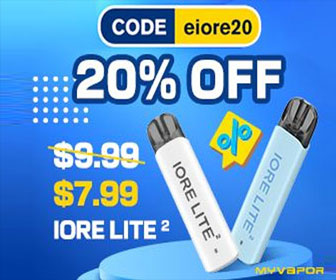 Using The Innokin Sceptre
To fire the Sceptre, you may choose to press the fire button on the control face or simply take a puff which will also engages the device thanks to an auto draw system.  Above the fire button, there are three LED lights. The first 2 indicate whether the Innokin Sceptre is in normal mode (green light is on) or in boost mode (purple light).  In normal mode with 1.2ohm coil, the output is 9 watts, while boost mode results in 10 watts of power. This increased heat and vapor production.   But, if you have a 0.5ohm RDL coil inside the pod, power is 18 watts in normal mode and 20 watts in boost mode.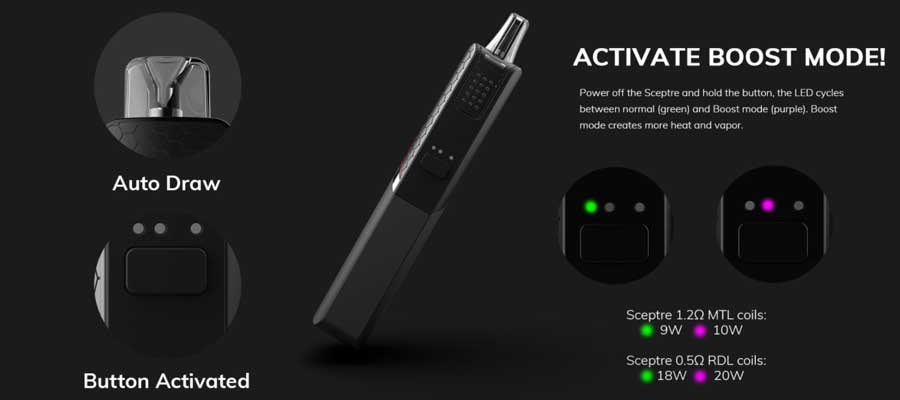 1400mAh Internal Battery & Safety
We just mentioned the two LED lights on the control face of the Sceptre and now we can get to the third LED.  It is used to monitor the battery level of the internal cell so that you may know when it is time for a recharge.  The 1400mAh battery is actually quite powerful for a small pod kit and should last a long time since the maximum output is 20 watts.  Moreover, recharging is effortless as Innokin includes a cable that plugs into any wall outlet and the Sceptre's micro USB port at the bottom.  For safety, there's charging protection and other safety features include overheat, short circuit and over-discharge protection.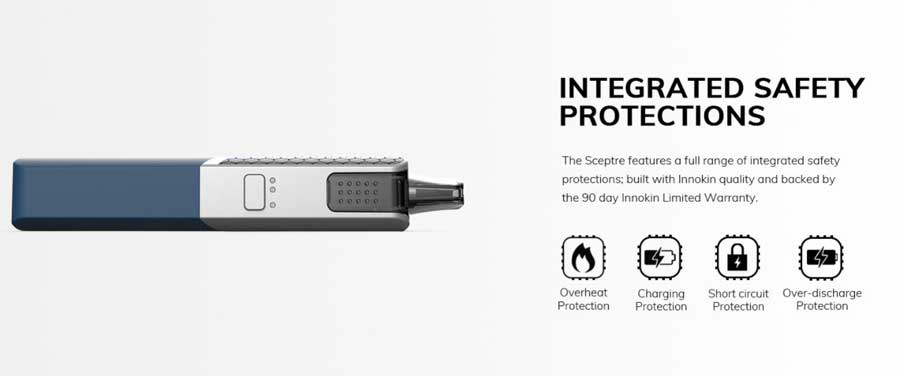 3mL Easily-Refilled Pods
At the top of the Innokin Sceptre, there is a pod that attaches to the mod via powerful magnets.  This cartridge stores up to  3mL of e-liquid and also doubles as an ergonomic mouthpiece.  Best of all, refills are effortless via a side-fill juice port that opens upon removal of a leakproof silicone plug.  It is important to note that whenever you insert the Sceptre Pod into the device, a white LED under the pod lights up so you may see how much liquid remains in the tank.  And, upon removal of the Sceptre pod, you will  see that you may access the coils in case they need to be replaced or have burnt out.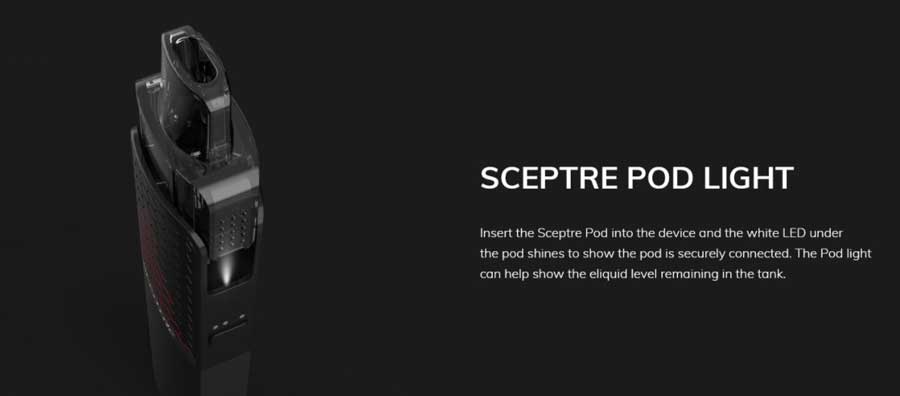 Innokin Sceptre Features & Specifications
Dimensions: 106mm x 29mm x 18mm
Portable pod kit
Colors: white, grey, black, pink, blue
Puff-activated firing
Button firing
1400mAh integrated battery
Micro USB charging: 5V/1A
Boost mode (purple LED
Normal mode (green LED)
Power output range: 9W to 20W
3ml pods
Ergonomic mouthpiece
Easy side fill system
Leak-proof juice port plug
0.5ohm RDL Coil: purple LED 20W | green LED 18W
1.2ohm MTL Coil:  purple LED 10W | green LED 9W
Easy coil swaps
Adjustable airflow control
Charging protection
Overheat protection
Short circuit protection
Over-discharge protection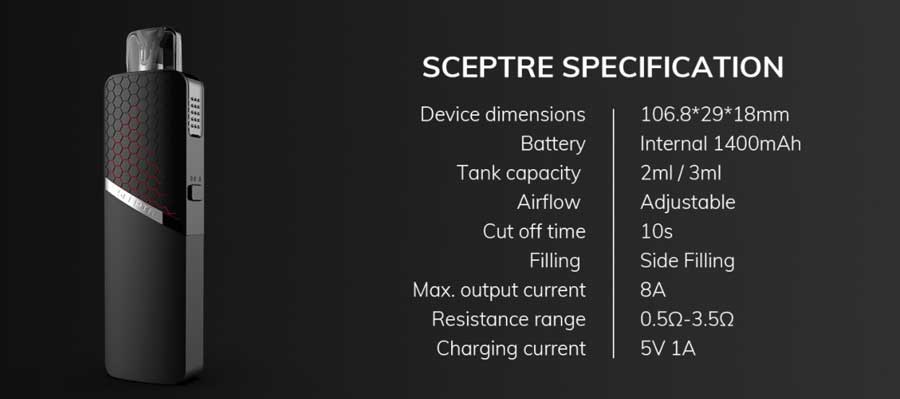 Related
Total Views Today: 1 Total Views: 774