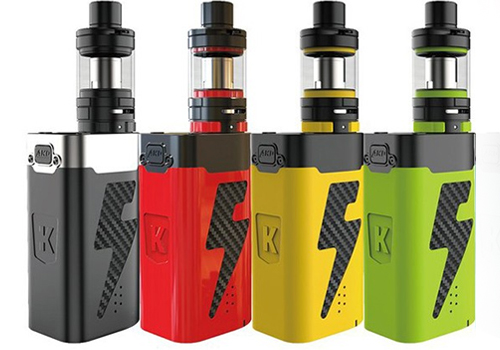 Check out these fantastic prices for the Kangertech Five6 Kit.  The 222 watt mod is powered by five 18650 batteries for extreme vape times without a recharge.
Similar Products
Review
Overview
The Five6 kit is Kanger's latest bundled setup that gets its name because the included box mod works with five 18650 batteries and the included tank that utilizes three dual coils.  This bundle features a patented system that allows for firing either one, two or three coils with automatic mod power adjustment according to your selection.  Extremely long vaping times are possible thanks to five 18650 cells that work well in combination with the massive 8ml tank that is built with a top fill system.
This kit has an amazing appearance with a number five emblazoned chassis that is available in yellow, black, red, green and blue with matching tank color.  While the mod's chassis is made from aluminum, the bottom case utilizes zinc alloy.  The cases and can be swapped out to whatever color you prefer for a customized mod look.
Without batteries installed, the Five 6 box mod still only has dimensions of only 94mm x 40mm x 57mm weighs and a weight of just 160g.  But, with five batteries inserted, it is bound to be quite heavy and a good choice only if you want unprecedented vaping times at 222W of maximum power, without the need to recharge. The five cells can be easily swapped by sliding off the bottom case to reveal the battery bay with clearly market polarities.  The mod can also be used as a power bank for your smart phone or tablet.  Switching between normal and power bank mode is as easy as pressing a bottom on the top/side.
This mod is strictly a wattage vaping device, so there are no temperature control modes.  But, since this is a Kangertech mod, it is sure to have prominent technology including the ability to fire with low resistance.  To effortlessly monitor mod statistics, a small flippable OLED display with vertical menu is located at the top next to the 510 connection bezel.  The display's menu features battery level, voltage, resistance and current power.
A perfect match for the mod in this bundle is the included Five 6 tank.  It features dimensions of 29mm x 50mm, weighs 94g and has a stainless steel/eco-brass body with a replaceable Pyrex glass tank that changes colors as you vape.  The temperature sensitive tank tube can hold up to 8ml of e-juice for long vape times without refills.  Adding juice is easy due to a hinged top fill setup that allows the top cap to swivel open to reveal a large e-liquid fill port.
The heads used in the Five 6 tank combine three dual coils.  By rotating the bottom ring, you may select the number of coils you wish to fire with.  This system is patented and features three LED indicators that light up/extinguish according to how many coils are on/off. Mod wattage will automatically adjust according to the number of coils that are activated.
Two airflow slots at the bottom are easily adjusted.  The airflow control ring is said to be quite loose.
Overall, vapor production is said to be quite intense with three activated coils.  If you like hot and massive vapor clouds with crazy vape times, perhaps the Kanger Five6 kit is just what you are looking for.
Features & Specifications
Five6 Mod
Measurements: 94mm x 40mm x 57mm
Zinc alloy with zinc alloy upper and bottom case
Weight: 160g (without batteries)
Utilizes 5 x 18650 cells
Extreme vaping times
Sliding bottom case to access batteries
USB charging
Can be used as power bank
Power output range: 5W to 222W
Automatic power adjustment according to number of coils used on atomizer
Swap out bottom case for customized look
Colors: black, red, yellow, green, blue
Five6 Tank
Dimensions: 29mm x 50mm
Weight: 94g
Chassis: stainless steel/eco-brass
Heat resistant Pyrex glass tank tube
Temperature sensitive glass changes color
Tank capacity: whopping 8ml
Easy hinged top fill system
Utilizes 3 x dual coils
Select to use either 1/2/3 coils
Three LED indicators for number of coils used
Bottom adjustable airflow control via two air slots
Gallery
Total Views Today: 1 Total Views: 558