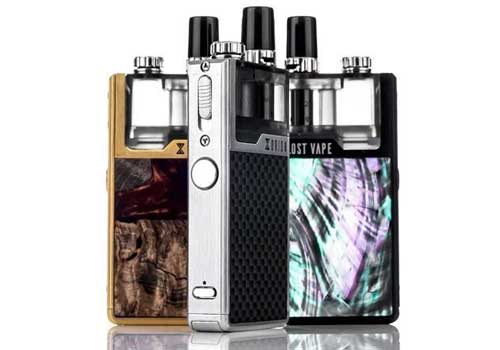 Here are cheap deals for the Orion Plus by Lost Vape,  the updated version of the Orion DNA GO. The new pod system features an updated Evolv DNA chipset, a mesh coil option, five power settings, patent-pending temperature limiting technology, a new power regulation system, power boost functionality, coil resistance auto-detection, DNA GO coil compatibility, top adjustable airflow, and 15 color options including stab wood, resin, and carbon fiber finishes.
Evolv DNA GO Chipset
The DNA GO chipboard on the Orion Plus has been upgraded for better performance. As a result, it now has 5 alternate power settings (compared to 3) and patent-pending temperature control technology. And users can now automatically regulate power if they wish.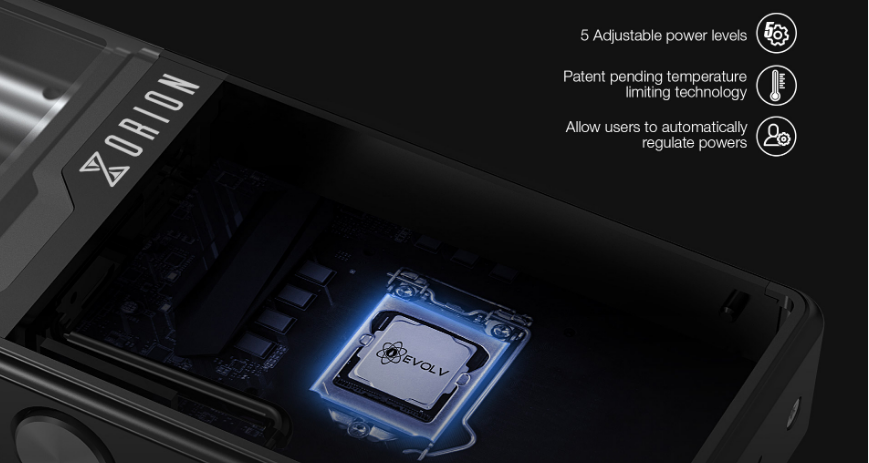 5 Power Levels
To personalize your vape experience, there are 5 power settings. Simply press the power button once to cycle between output levels. With a 0.25ohm coil installed, power will range from 13 watts to 22 watts, while the 0.5ohm head will fire between 10 and 18 watts. To recognize the current output, an LED above the fire button will light white (level 1/lowest output), blue, red, yellow, or purple (level 5/highest output).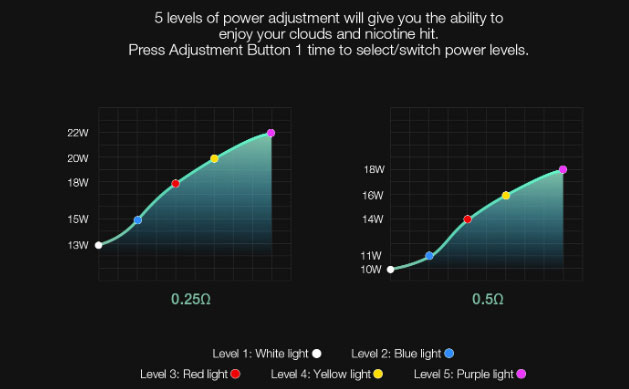 Flavor Replay & Initial Power Boost
Like many Evolv DNA Mods, the chipset features replay technology to lock your favorite flavor setting. This means you can capture the taste of your perfect puff every time and produce consistent vapor while preventing dry puffs or burnt flavors. The chipboard also auto-detects the resistance of your coil to jump to the correct setting automatically. Additionally, a new 40-watt boost system permits a brief increase of power upon initial firing for faster vapor production.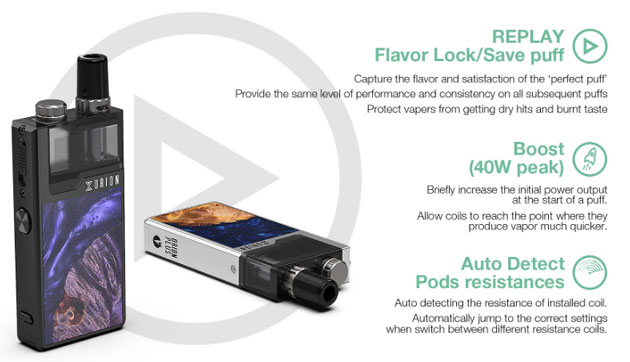 Replaceable Coils
Two new coils are available for the Orion Plus. The first is a 0.25ohm mesh coil which would be best with standard e-liquids. Or, you may prefer the 0.5ohm regular coil, which is more compatible with nicotine salt or other high-nicotine e-liquids.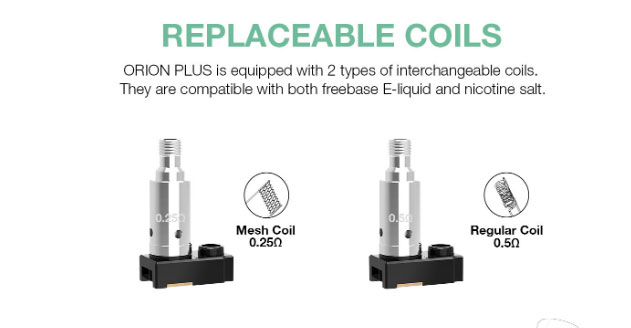 Works With DNA GO Pods
If you already have the DNA GO Pod System, you are lucky, as both the pods and coils are compatible. But, the previous pods and heads are recommended to be used only on the level 1 or level 2 power setting (white or blue indicators).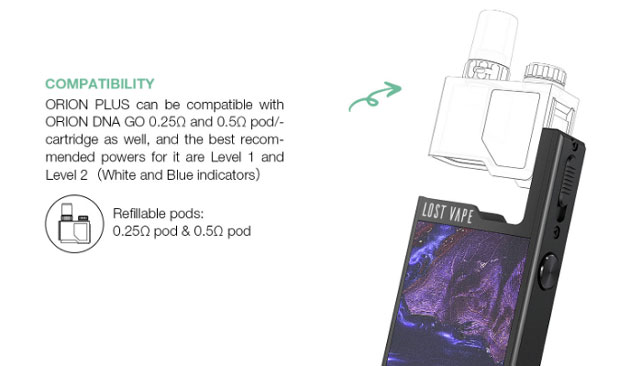 Adjustable Airflow 
At the bottom of the mouthpiece, you may rotate a ring to control airflow. This way, you can set the device to either a mouth-to-lung or direct-to-lung style vape or somewhere in between.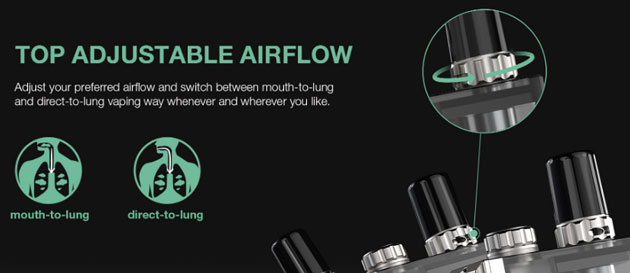 New Colors
A wide range of finishes is available for the Orion Plus. If you are looking for a stabwood or resin pod kit at a great price, you can pick from gold, silver, blue or black. Or, you may prefer your device with a carbon fiber panel in gold, silver, blue, black, or purple. And there are also abalone color options such as gold, silver ocean scallop, blue ocean scallop, black ocean scallop, purple ocean scallop, and purple phenix. You can see all the options here.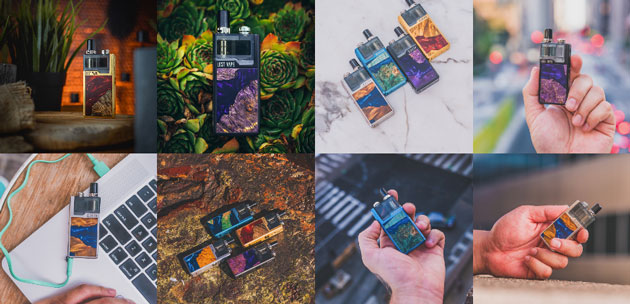 Components
Each kit consists of a 2ml pod and a mod with a 950mAh integrated battery that will fire in the range of 10 to 22 watts. The pod cartridge has a heat-resistant Delrin drip tip, adjustable airflow, and an effortless refill slot. The mod has a lock/unlock button for easy pod installation, a fire button, a light indicator, and a power level button. And near the bottom of the control face, you'll see a micro USB port for easy recharge with the included cable.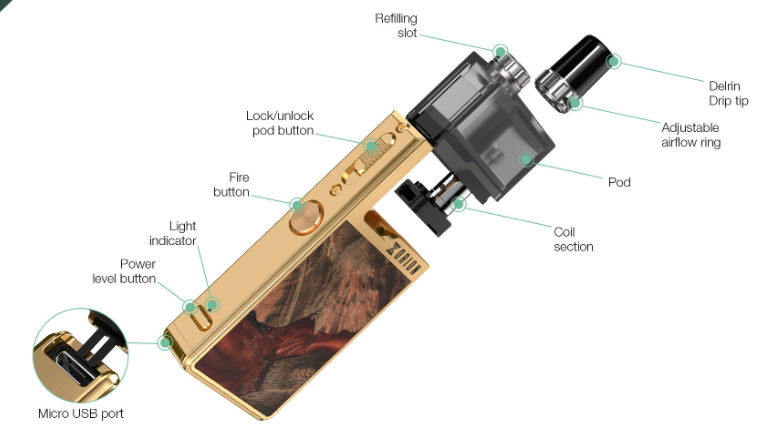 How To Swap Coils
Unlike many other pod systems, the Orion Plus works with replaceable coils, so there is no need to buy entire replacement cartridges. To swap out the head, unscrew the mouthpiece to remove the used coil and install a new one. Putting the pod on its side for about 5 minutes ensures the coil becomes completely saturated.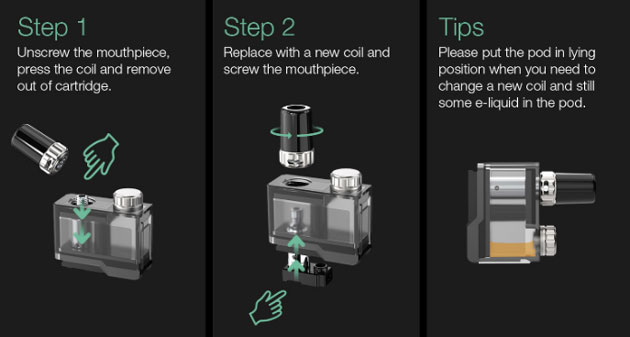 Features & Specifications
Updated DNA GO Chipset
Measurements: 93mm x 37mm x 13.5mm
Weight: 87g
New Finishes

Stabwood Series: Gold, Silver, Blue Black
Carbon Fiber Series: Gold, Blue, Silver, Purple, Black
Abalone Series: Purple Phenix, Purple Ocean Scallop, Black Ocean Scallop, Blue Ocean Scallop, Silver Ocean Scallop, Gold Abalone

950mAh Integrated Battery
Micro USB Charging Port
Wattage Output Range: 10W To 22W
5 Power Settings:  White, Blue, Red, Yellow, Purple
2mL Pods
Top Fill System
0.25ohm Mesh Coil
0.5ohm Regular Coil
Cross Compatibility With DNA Go Pods & Coils
Safety Protections

High-Temperature Protection
Short-Circuit Protection
Low Battery Warning
High Resistance Protection
Low Resistance Protection

Top Adjustable Airflow (MTL or DTL)
Replay Flavor Lock (Save Settings)
40-Watt Initial Power Boost System
Auto-Detect Pod Resistance
Patent-Pending Temperature Control Limiting Technology
Users Can Regulate Power
In The Box
Mod
Lanyard
USB Cable
Warranty
1 x 0.25ohm Mesh Coil
1 x 0.5ohm Regular Coil
Manual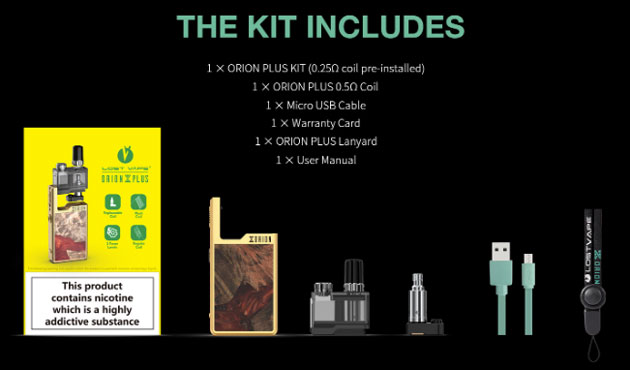 Total Views Today: 1 Total Views: 5,107