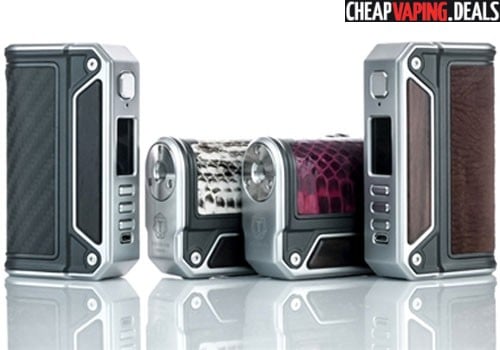 Here's a discount for the Lost Vape Therion DNA 75C Box Mod.
Overview
The Therion DNA 75C is the latest in the long line of Lost Vape DNA mods.  This new device utilizes the latest DNA 75C color chipset that allows for uploading themes and fonts for a detailed customization of the full color TFT display.
Except for the new full color screen, the DNA 75C looks identical to previous versions of this silver mod but features new finishes including carbon fiber, magenta scales, white/black scales or get the brown leather version.  Identical to its predecessors, you will also see ebony wood accent panels.  This mod is compact with dimensions of 90.5mm x 54.0mm x 27.0mm.  The large firing button is octagon shaped and the adjustment buttons are rectangular.  A a third confirmation button has also been added for easier menu navigation.
In addition to the buttons, the control face is built with a 0.96 inch full color TFT display which is brand new to all DNA 75C chipsetst, including this Therion.  Unlike previous versions of this mod, this new device has a vertically oriented menu with easily read indicators such as current profile, power, temperature, resistance, a battery bar and several icons to navigate sub menus.
This mod utilizes dual 18650 cells that are accessed by removing the magnetic sliding back sleeve to reveal the battery bay.  If you prefer to use on-board charging, simply plug the device's 1A micro USB port into any computer or wall outlet.  For safety, the charging process incorporates a balanced system to ensure both batteries end up with the same voltage levels.
The Therion DNA 75C has a power output range of 1 watt to 75 watts, is capable of temperature output to 600 Fahrenheit with nickel, titanium, stainless steel, TCR and firing with a resistance down to 0.15ohm.  This box mod is also able to put out an increased 9 volts versus the lower 6.2 volts of its predecessors.
Video Review
Features & Specs.
Updated Evolv DNA 75C chip board
Dimensions: 90.5mm x 54.0mm x 27.0mm
Colors: brown/carbon fiber, brown/magenta scales, brown with white/black scales, brown leather
Stainless steel 510 threaded connection
Nickel-plated/spring-loaded center pin
Large octagon fire button
Two rectangular adjustment buttons
One rectangular confirmation button for effortless adjustments
Full color 0.96″ TFT screen
Vertical menu
Customize fonts and themes
Easy navigation with vape data and menu icons
Convenient magnetic battery sleeve
Utilizes dual 18650 batteries
Micro USB charging
Micro USB firmware upgrades
Micro USB Escribe customization
Power output range: 1W to 75W
Temperature Control range: 100°C to 315'°C or 200°F to 600°F
Output modes: TC-Ni/TC-Ti/TC-SS/VW/TCR
Resistance range: 0.15Ω to 3.0Ω
Maximum output voltage: 9.0V
Check atomizer warning
Short circuit protection
Low battery warning
Over temperature protection
High resistance protection
Low resistance protection
Total Views Today: 1 Total Views: 16,020