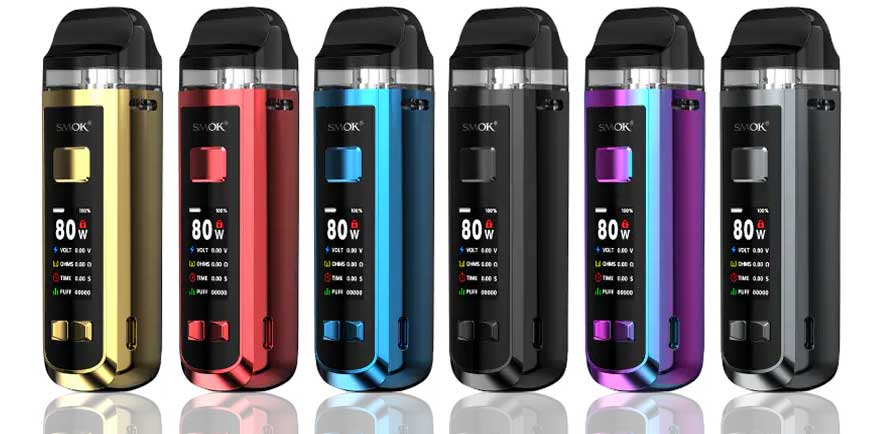 Here are cheap deals to buy the Smok RPM 2 Kit.  It features a built-in 2000mAh battery, 80 watts of power, variable wattage mode, an unprecedented 7mL juice capacity, fast firing, USB-C charging, and 2 mesh coil options for MTL or DTL vaping.  This pod system is for sale in prism gold, red, prism blue, bright black, prism rainbow and prism deep tarnish.  This item is going out of stock fast, so check out the newer Smok RPM 100 Kit or Smok RPM 5 Pro or RPM 5.
RPM 2 Overview
As the follow-up to the Smok RPM80 and Smok RPM40, the Smok RPM 2  has a very similar appearance, yet it is more portable and features a larger fire button, as well as bigger up/down buttons. Plus, the entire setup is easier to operate and the dimensions are such that it is ideal in the hand or in the pocket.  Each RPM 2 Kit consists of a mod section and a refillable cartridge with a replaceable coil. The available colors are prism deep tarnish, prism rainbow, bright black, prism blue, red, and prism gold.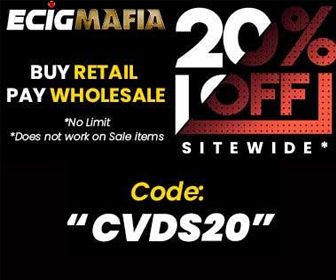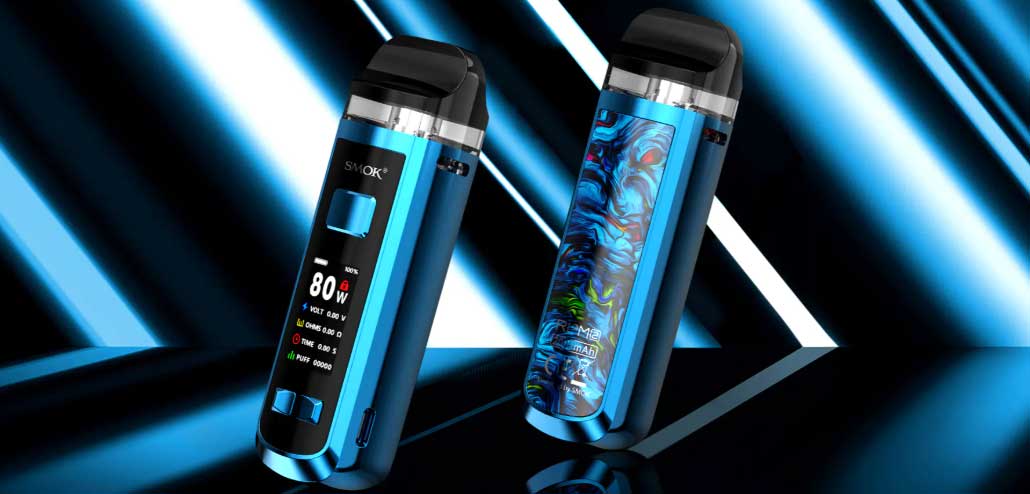 Moreover, the Smok RPM 2 utilizes a powerful 2000mAh internal battery to provide longer vape times which may enable all day long vaping, without a necessary recharge. And, a type-C charging port on the side of the RPM 2 employs a secure, stable connection for a safe and fast recharging process.  This type-C interface is the latest and easiest USB option to work with because you may insert it up or down and it has amazing efficiency that tops out at 100%.  Built-in Lithium/Ion protection also prevents overcharging, high currents, and short circuits for an absolutely safe vape experience.  Best of all, the RPM 2 supports passthrough charging which means you may continue to vape while the pod kit is plugged in.

On the control face of the Smok RPM 2, you can see a massive 1.14 inch display screen that you may navigate with ergonomic up/down buttons. The menu features indicators for vape data such as current battery level, current power, current voltage output, current atomizer resistance, puff time, and the number of puffs taken.  Additionally, you may press the +/- buttons at the same time to get more detailed battery information such as the number of puffs remaining before you need a recharge.  Please note that the remaining puffs are calculated on the basis of the current wattage setting and coil resistance inside the pod.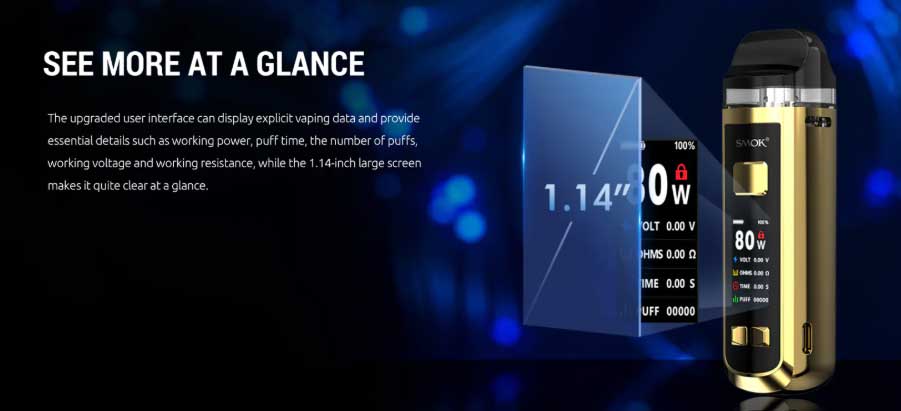 Smok RPM 2 Pods & Coils
A perfect match for the mod are the pods that feature strong magnets to ensure that no matter how hard you shake the RPM 2, they'll never move around or make a sound.  With an unprecedented 7mL e-liquid capacity, each of these cartridges can store 30% more than any of the previous RPM pods,  thus reducing the number of daily refills.  Besides, each RPM 2 mouthpiece is ergonomic and has a massive 9.5mm by 5.6mm oval-shaped opening for more airflow with each puff.  The reservoir is also translucent for better visibility of the current e-liquid level inside.  To insert additional liquid into the pod, pull out the rubber plug on its side and squirt your favorite vape juice into a decent-sized port.  After refilling, it is important to wait 2 to 3 minutes to ensure complete saturation of the coil's cotton.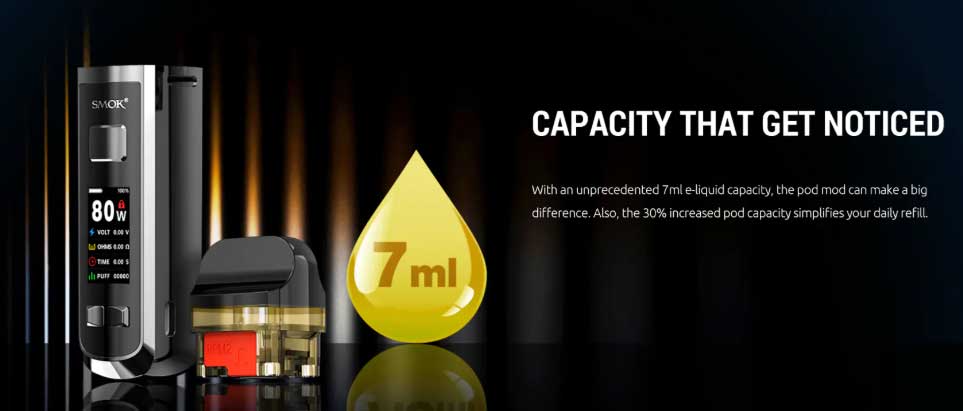 With two new coil options, the Smok RPM 2 permits for both a direct-to-lung or mouth-to-lung vape experience.  The DTL head is the RPM 2 Mesh 0.16ohm which produces dense vapor with incredible flavor and operates within 25 to 50 watts. This coil is best at a setting of 40 watts. Or, you may enjoy the RPM Mesh 0.4ohm MTL coil that produces gentle throat hit with satisfying flavor production. You can use this coil with higher nicotine e-liquids at 25 watts of power.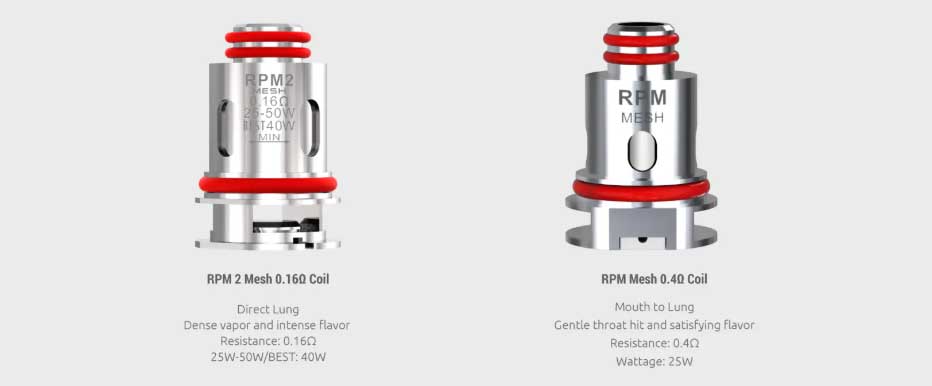 Smok RPM 2 Features & Specifications
The most notable aspect about the Smok RPM 2 Pod System is that it can fire in the range of 1 to 80 watts and that it responds to a push of the fire button within just 0.001 seconds which is virtually instantaneous.   The RPM 2 measures 28.5mm x 31mm by 108.5mm and weighs just 132 grams. And, the charging system operates with a charging current that comes in at a decent 1.4 amps.  For more detailed specs, you may check the infographic below.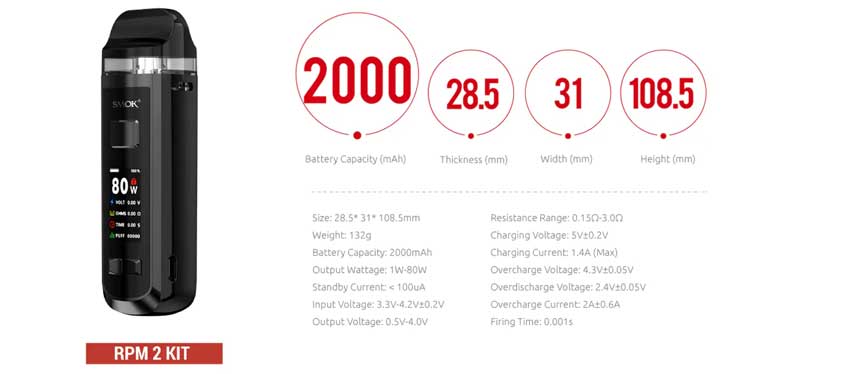 In The Box
With the purchase of the Smok RPM 2, you will receive the RPM 2 device, a pod with 0.16ohm mesh coil preinstalled, a pod with 0.4ohm coil preinstalled, a type-C cable and a manual. Please note that the RPM 2 EU Editions are sent 2mL pods instead of 8mL ones due to regulations.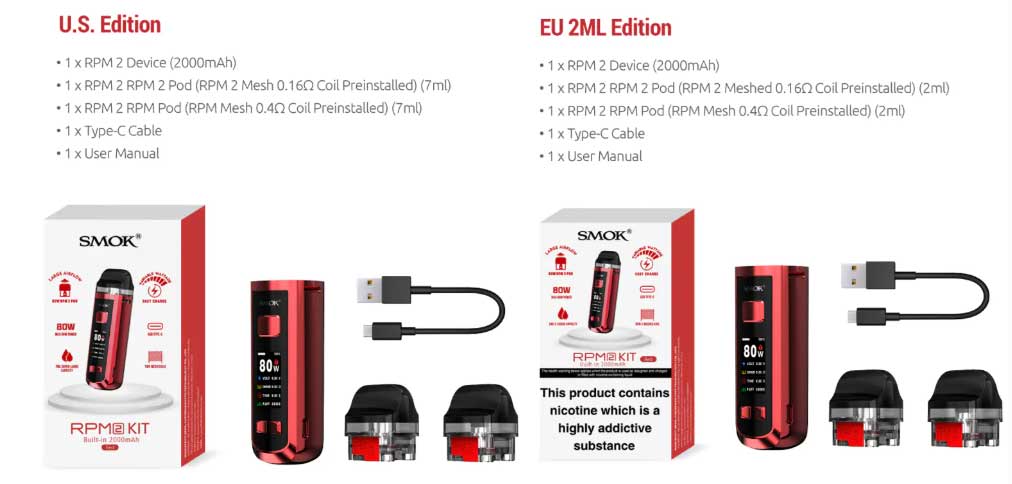 Related Deals
Total Views Today: 1 Total Views: 2,502