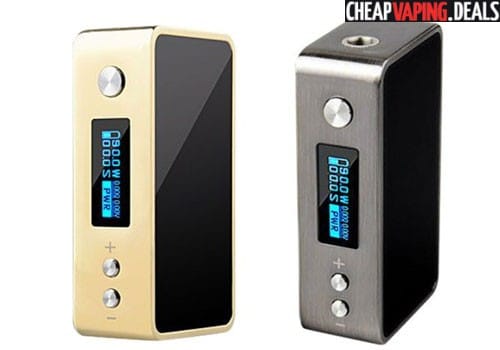 Overview
The Snow Wolf Mini Plus has a new version that now features 80 watts of power, instead of 75W, and utilizes a 3000mAh internal battery for longer vaping times.   It is available in two different colors: flat black, glossy black, gold and silver.
The portable box mod was made from the same high quality materials you are used to in any of the Snowwolf mods.  Its stainless steel chassis features amazing glass panels and a snow wolf illustration on the side.  The device is very shiny, giving  it a very sleek look. And, it's compact so it will easily fit in any pocket or purse.
The Mini mod features a maximum output power of 80W.  With its temperature control technology, the device can fire in the range of 212° to 662°F with nickel and titanium coil heads.  The minimum atomizer resistance for this mod is a very low 0.05Ω, so it will support the majority of RDAs and tanks.
The box mod utilizes an internal 3000mAh battery to power your atty.  The battery can be recharged inside the mod as it features on board charging technology.  For safety and a longer battery life, it is always recommended to charge batteries externally.
On the control face, you will find high quality stainless steel buttons that are clicky and don't rattle.  In between the  fire and adjustment buttons, there's a bright OLED with all the current information you could possibly want.  There's displays for battery level, wattage/temperature, puff time,  resistance, voltage and current mode.  On the top of the Snow Wolf Mini, there's a 510 springloaded connection to ensure atomizer compatibility.
The Mini 80W also has a lot of built-in safety features.  There's output short circuit protection, overheat protection, input high voltage warning, low resistance protection, low voltage protection and reverse polarity protection.
Overall, the Snow Wolf Mini 80W looks pretty much identical to its predecessor, but with more power.  This is bound to be a fantastic & portable box mod with a design that is sure to turn heads!
Features & Specs
Dimensions: 24mm x 45mm x 75mm or 0.94″ x 1.77″ x 2.95″
Weight: 0.135 kg or 4.76oz
Constructed from stainless steel
Tempered glass panels
Compact & portable
Springloaded 510 connection
Atomizer bezel diameter: 24mm
Powered by a built-in 3000mAh battery
Magnetic battery door
Micro USB charging
Power mode range: 5W to 80W
Temperature control range:  212° to 662°F or 100° to 300°C
TC mode works with nickel and titanium coils
Resistance range: 0.05Ω – 2.5Ω
Low voltage protection
Low resistance protection
Output short-circuit protection
Input high voltage warning
Over temperature protection
Reverse battery protectoion
Video Review
Total Views Today: 1 Total Views: 273