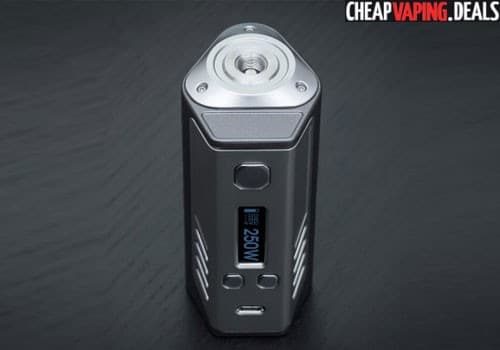 Here's a fantastic price for the Lost Vape Triade DNA250 Box Mod. 
Update: This Item Is Out Of Stock Everywhere – Check  Similar Evolv DNA Mods Below
Overview
The Triade DNA 25o by Lost Vape is an updated version of the Triade DNA 200.  Compared to its predecessor, the Triade DNA 250 features a 50 watt power increase to 250W, faster USB charging at 2 amps, a 55A current output limit, on-board reverse voltage protection, a higher current fuse and an easier stainless steel temperature control system.
Design wise, the box mod is pretty much the same as the previous Triade.  It is built from zinc alloy with a leather back cover, resulting in a high end mod.   At this time, it is only available in deep brown.  The dimensions  come in at 85mm x 50mm x 40mm and there's a large fire button on the control face for convenient operation.
The Triade DNA 250 is built with a solid stainless steel 510 connection that features a spring loaded center pin for convenient attachment of atomizers.  The bezel will accomodate atomizers with a diameter up to 25mm, without overhang.
The mod's control face features a 0.91″ OLED with a menu that is easily navigated.  The menu includes statistics such as current power, mode, temperature, volts and resistance and makes it easy to navigate between preset modes.
To put out the massive 250 watts, the Triade utlizes triple 18650 batteries which are conveniently accessed via the back leather battery panel.  The door is easy to remove, but will stay in place due to two powerful magnets that hold it down.  Just as its predecessor, the mod is also built with on-board micro USB charging, but charging is much faster at 2 amps.  On-board charging is also safer with cell-by-cell monitoring which prevents excessive discharge and  cell balancing which ensures all cells are charged equivalently.  And, the battery bay is made with high quality materials and features gold plated contacts of which the negative one is springloaded to ensure easy battery installation.  Best of all, you can continue to vape while the DNA 250 is plugged in, thanks to a passthrough charging setup.
In addition to its whopping 250 watts of power, the Triade DNA 250 box mod also offers precise temperature operation that will work with all coil types in the range of 200°F – 600°F.  The lowest atomizer resistance is 0.10Ω during temperature operation and 0.20Ω in power mode.
With the new  Triade, you can put in up to eight alternate firing presets.  For more accurate profiles, it is recommended to use Evolv's Escribe software to set your preferences faster with detailed customization.  Escribe has its own manual which can be found on Evolv's website.
This mod also includes many safety protections with warnings for atomizer shorts, weak battery, temperature protection, high resistance, low resistance and overheat protection.  There's also a new reverse voltage protection to prevent blowing a fuse in case the cells are inserted the wrong way.
Overall, if you liked the original Triade, but you are looking for more power, faster charging and smoother temperature control, the Triade DNA 250 may just be the box mod you are looking for.
For more information on the DNA 250 chip board, check out this page.
Features & Specs.
DNA 250 chip board by Evolv
Dimensions: 88mm x 50mm x 40mm
Weight: 320g
Constructed from zinc alloy with leather cover
25mm atomizer bezel
510 stainless steel threaded connection with nickel plated/brass/springloaded pin
Magnetic battery door for convenient access
Powered by 3 external 18650 batteries
Fast micro USB balanced charging at 2 amps
Pass-through capable
0.91″ OLED screen
Power mode range: 1W to 250W
Temperature range: 200°F – 600°F
Power mode resistance: 0.20Ω or higher
Variable temperature mode resistance: 0.10Ω or higher
Input voltage range: 9V to 12.6V
Output voltage range: 0.5V to 9.3V
Maximum output current: 55A
97% efficiency
Use Escribe software for custom profiles
Firmware upgrades to upgrade OS
Many safety features
Pictures
Total Views Today: 1 Total Views: 237