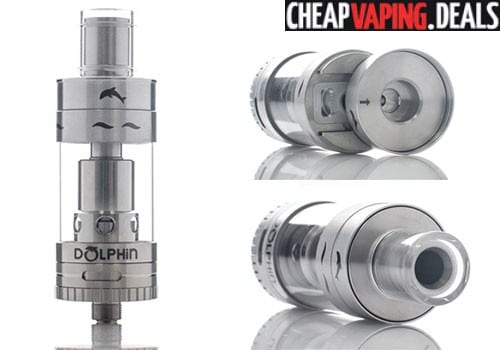 A fantastic deal has just posted on the Surefire Vapor Dolphin Rewickable Ceramic Sub Ohm Tank.
Update: This Item Is Out Of Stock Everywhere – Check  Similar Sub Ohm Tank Deals Below
Overview
The Surefire Vapor Dolphin Sub-Ohm tank is a brand new device that features a ceramic coil to ensure amazing flavor and vapor production.  It is said to be one of the most advanced tank systems in the marketplace today.
The Dolphin is made of a stainless steel body with a glass tank.   It includes a phenomenal glass drip tip which is replaceable in case you want to use your own.
What sets the tank apart from devices with similar specifications is its ceramic core which is said to work for the life of the tank and permits vapors to swap out the wicking cotton inside. This substantially lessens coil expenses and ensures coil durability.  The simple design of the coil is such that you can cut your own cotton to add to the interior kanthal and ceramic core.  But, if you'd rather not mess with DIY techniques, the Dolphin comes with extra pre-cut cotton, extra guide rods and extra guide rings.
In combination with the kanthal heating wire, the food grade ceramic coil is said to put out huge vapor clouds with excellent flavor.  The pre-installed coil head has a recommended wattage of  30 to 80W.  Although it's not listed on VaporDNA, the Surefire Vapor website states that the Dolphin also comes with an Ni200 coil head.
The Dolphin has a 4ml e-liquid capacity that is easily refilled because of its  sliding top fill system.  The fill port is surrounded with silicone to reduce e-liquid spillage.
Airflow is also massive on this tank.  The three 8mm x 2mm adjustable airslots allow for high wattage vaping or can be easily reduced for more flavorful vape clouds.
Overall the Dolphin sub ohm tank seems to have excellent performance and flavor.  And, it's cost effective as there's less of a need to purchase coils.
Features
Body onstructed from stainless steel
Glass tank tube
23mm Diameter
4ml e-liquid capacity
Top fill system with silicone encircled fill port
Ceramic core rewickable with cotton
Core lasts for life of tank
Resistance: around 0.4‎Ω
Output power range: 30W to 80W
Disassemble coil sleeve
Replace core's cotton
Includes cotton shells
Substantial reduction in coil costs
Three 8mm x 2mm adjustable airslots
Heat resistant drip tip
Includes tempered glass drip tip
 Video Review
Total Views Today: 1 Total Views: 106