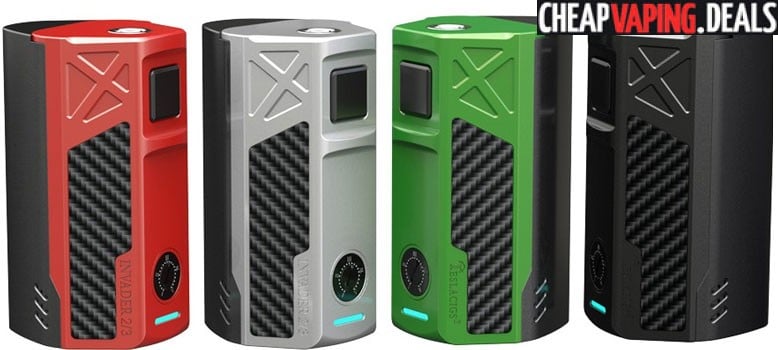 Here's a fantastic deal on the Tesla Invader 2/3.
Overview
The Invader from Tesla is back with more power and a brand new design.  The updated Invader 2/3 is capable of working with dual or triple 18650 cells and a wattage output of 240W or 360W respectively.  Powered by a patented Tesla chip, the unit is said to fire instantly, without delay.
Design-wise, this mechanical mod has been completely revamped with only the familiar X logo and potentiometer to remind you this is an Invader mod.  The unit is made from die cast zinc alloy with carbon fiber panels and is available in four colors: red, silver, green, black.
This is an unregulated, but powerful device that can be used with either two or three 18650 batteries. To achieve this, the mod comes with two battery covers that both stay in place thanks to powerful magnets.  With the smaller 2-battery cover, the dimensions of the mod come in at 35mm×42mm×85mm, while three installed cells results in mod dimensions of 50mm x 42mm x 85mm.  As you can see, both the two or three cell devices are very portable.  
The maximum power output for the Invader 2/3 depends solely on battery charge levels and number of cells installed.  With two fully charged batteries installed, the maximum voltage input is 8.4V and highest output is a massive 360 watts.  With three batteries, the maximum input voltage is 12.6V or up to 240 watts of power.   On the bottom of the control face, you will see a potentiometer knob to adjust voltage and a battery LED underneath monitors charge levels.
The Tesla Invader 2/3 has also been thoroughly tested for safety and includes a number of built-in protections.
Video
Invader 2/3 Features & Specifications
Unregulated/mechanical mod
Patented chip for instant burst of power
Upgraded Invader 3
Constructed from die cast zinc alloy
Carbon fiber paster
Colors: black, green, silver, red
510 threaded connection
Large square fire button
X-logo
Ventilation holes
Potentionmeter knob for voltage adjustment
Battery LED
Utilizes either two or three battery 18650
Receive two magnetic battery covers
Measurements with 2 cells: 

35mm

×

42mm

×

85mm

Measurements with 3 cells: 50mm x 42mm x 85mm
Power output depends on charge level of 2 or 3 cells
Maximum output wattage 2/3: 240W / 360W
Input voltage range 2/3: 6.4V to 8.4V / 9.6V to 12.6V
Wide range of safety protections including overpuff protection, low voltage warning and more
Invader 2/3 Pictures
Total Views Today: 1 Total Views: 15,052